'90 Day Fiancé:' Kalani Calls Asuelu's Sister Tammy the 'Grinch' Ahead of Christmas Visit
On the July 16th episode of 90 Day Fiancé: Happily Ever After?, Asuelu Pulaa tells his wife Kalani Faagata, that his sister, Tammy Acosta, and mother, Lesina Pulaa, want to come and spend Christmas with them. Kalani hilariously compares Tammy to the "Grinch" because she's afraid she's going to ruin Christmas.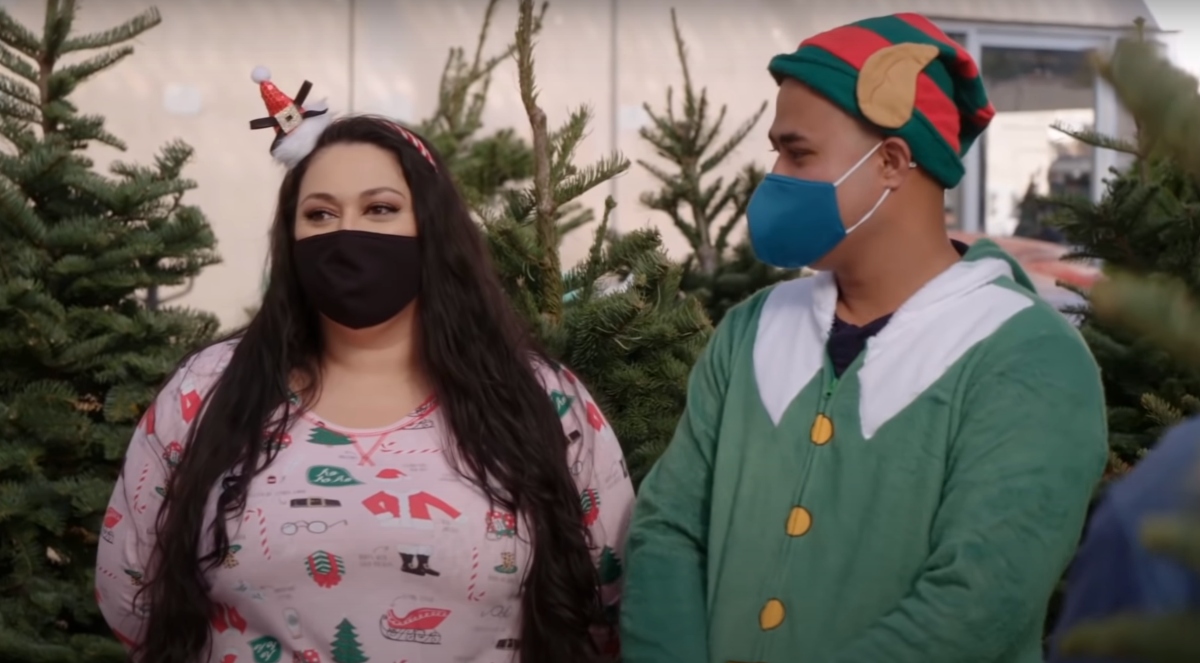 Kalani calls Asuelu's sister Tammy the 'Grinch'
During the episode now streaming on discovery+, Asuelu tells Kalani and her mom, Lisa Faagata, that his family wants to come for Christmastime before returning to Samoa. He asks if it's OK with them. Kalani tells him, "I want you to be able to see your mom before she's going back, but it's not like I'm super excited about it."
She says to the cameras that she's "not thrilled" to have Asuelu's mom come to Christmas. She says, "I don't really have a good relationship with her, so I'm just worried she's going to turn him against me because that's what she does." When Asuelu reveals that his sister, Tammy, will be driving his mom down to Kalani's house, that's when things get complicated. However, Asuelu thinks that this Christmas visit could be a "good chance" for everyone to "talk and fix everything." That's not how Kalani feels at all. "It's like we're willingly inviting the Grinch into our home to ruin everything." To which Asuelu replies, "The Grinch sometimes, he change his mind."
Kalani and Asuelu's family's past conflicts
It hasn't been the easiest road for either family. Last season, Asuelu and Kalani and their two sons went to Washington to visit his mother and two sisters. After Asuelu completely blew out the budget to buy gifts for his family, Kalani was upset. Asuelu convinced Kalani that it wasn't enough, and finally, she agreed to give an extra $100 to Lesina as a gesture of respect, as per Samoan culture.
Later on, Asuelu's sisters, Tammy and Rose, demanded that Asuelu give his mother $1,000. Kalani told Asuelu that he needs to take care of his wife and his two sons first before spending their money on his mom and sisters. He even tried to explain it to them, to no avail.
When Kalani wanted to meet with Lesina, Tammy, and Rose to set the record straight, they refused to listen to her. She calmly tried to explain why they can't give them more money. Eventually, the disagreement turned into a physical fight, and Tammy tried to beat up Kalani, but Lesina held her back. All of the conflicts came to a head on the previous Tell-All episode when Kalani's sister, Kolini, was on a video call with Tammy and Lesina. In response, Tammy threatened to beat up both Kalani and Kolini.
Will Kalani's family and Asuelu's family fight during Christmas?
Kalani told cameras that she wished her and Asuelu's families wouldn't be meeting for the holidays. Specifically, she didn't want their sisters to be in the same home for Christmas. She said, "I don't want my sister to be by Tammy because my sister's not going to take any s—, so this is going to be bad. This is going to be really bad."
When picking out the Christmas tree, Kalani's father, Low Faagata, found out about Tammy and Lesina's holiday visit. He said he's hoping that things will be different between Tammy and Kolini in person than how it was on the Tell-All video call. He says, "I don't think my girls would be making a big scene in front of me."
Then Low says, "But whatever happens, happens. If they have to do what they have to do, they got to do what they got to do." Low is clearly meaning that if his daughters are being provoked to fight, they might have to fight back. He continues, "It's the only way you going to get the laundry out, air it out."
Kalani's mom, however, completely disagrees with Low condoning fighting. She responds, "Yeah, well, they can do that at the laundromat, not at my house. If someone steps out of line, that's not gonna be put up with." When Kolini finds out, she indicates that if Tammy "gets crazy," she will have to put her in her place.
Fans will have to keep watching season 6 to see if there will be a huge holiday fight at the Faagata household during Tammy and Lesina's visit. It will be interesting to see if Tammy takes her role as the Grinch and ruins Christmas or if they will all talk out their differences over eggnog.