'90 Day Fiancé': Kalani Faagata Accuses Asuelu Pulaa of Trying to 'Buy' His Family's Love in Brand-New Sneak Peek
So far, Kalani Faagata and Asuelu Pulaa have struggled in their marriage—and as brand-new parents of two kids under two—on the fifth season of TLC's 90 Day Fiancé: Happily Ever After. Kalani wanted her husband to help more with the kids. Meanwhile, Asuelu argued that Kalani's job as a mom of two was "easy" and even compared her negatively to women from his home country of Samoa.
After Asuelu and Kalani had to cancel their trip to Samoa to see Asuelu's family due to a dangerous measles outbreak, their relationship became all the more strained. Still, Kalani promised her husband they could visit his mother and half-sisters, who were currently living in Washington state. But she wouldn't agree to his mother's request that her son give her $1,000 in cash during the visit.
In a new sneak peek of an upcoming episode of 90 Day Fiancé: Happily Ever After, Kalani and Asuelu went shopping at a local Samoan store for gifts in advance of their trip to Washington. But the couple continued to disagree about how much they could afford to spend on Asuelu's family.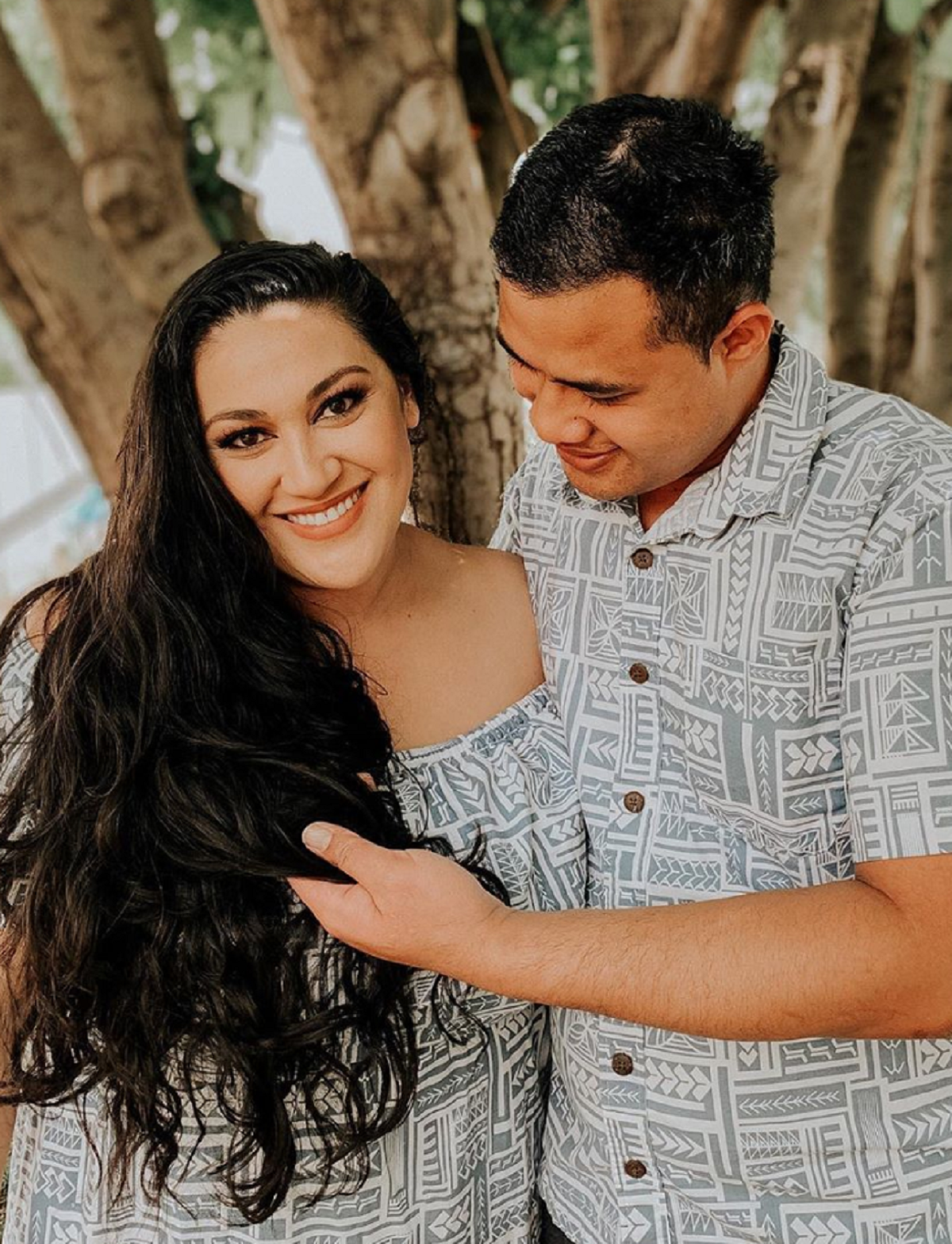 Asuelu and Kalani didn't agree on what they should buy for his family
In a 90 Day Fiancé preview clip, Kalani and Asuelu shopped at a Samoan store in Utah, hoping to please Asuelu's mom and sister with gifts during their upcoming visit. Asuelu explained that it was customary in his culture to bring generous gifts when visiting family and friends.
"In Samoan culture, when you go see your family, you not only just come up and show up to them, but bring some gift, to show some love and support," Asuelu told 90 Day Fiancé producers.
But from the beginning, it was clear that Asuelu and Kalani disagreed about how much to spend on presents for his mother and sister. Kalani wanted to stick to a stricter budget, while Asuelu started gathering gifts in his arms without looking at the prices.
Kalani suggested bringing two or three cans of food, for example, while Asuelu wanted six cans of food—or a larger one that cost a whopping $48. As her husband began to hastily comb through shirts, Kalani pointed out, "Those shirts are $41 apiece."
Asuelu even grabbed "three or four" sarongs, without specifying who they were for. Later, while Asuelu was looking through another rack of shirts, Kalani pushed back again, saying, "That would be over $100 in t-shirts."
RELATED: '90 Day Fiancé': Asuelu Wants to Go to Samoa With Kalani and the Kids Despite a Dangerous Measles Outbreak
RELATED: '90 Day Fiancé': What Happened After Asuelu Called Kalani a 'Lying B*tch?'
RELATED: '90 Day Fiancé': Kalani Faagata Asks Followers Not to Insult Asuelu Pulaa On Social Media
Kalani's husband wanted to give his family both gifts and money
Despite their disagreement when it came to how much they should spend on gifts, Kalani explained, she wasn't averse to bringing presents for her in-laws. The 90 Day Fiancé star told producers that she hoped the gifts would make for a good compromise.
"Asuelu's family was pressuring us to bring them money when we were on a call with them, and we just can't afford that right now," the mom of two revealed. "So instead, we came here with a plan to bring Asuelu's family gifts."
She added, "I think that that's a really sweet gesture, and showing that we're thinking of them, but also not breaking the bank."
Still, Kalani was frustrated with the shopping trip. She didn't think her husband was paying enough attention to the price tags as he picked his way through the aisles.
"But of course, Asuelu's just grabbing everything and not really looking at prices," the 90 Day Fiancé star complained. "We can't just be shelling out hundreds of dollars that we don't have. Hopefully, he'll kind of tone it down, because we do have a budget."
When the couple finally agreed on their purchases—totaling nearly $200, which Kalani said they could barely afford to spend to begin with—Asuelu dropped another bombshell on his wife. He wanted to give his mom the $1,000 she'd requested, on top of the gifts they'd just bought.
Asuelu told Kalani that he hoped the gifts and money would bring his family closer together.
"I really want to contribute this money to make my relationship with my family tight like yours," the 90 Day Fiancé star said sadly.
Kalani seemed disturbed by her husband's comment, pointing out that material items didn't improve relationships. "Money doesn't make family close," she said. "Relationships make family close."
"But that's your family," Asuelu retorted. "My family really close if we give money."
"I don't think you need to be buying your family's closeness," Kalani told Asuelu.
But he shook his head sadly, admitting, "I think that's the only idea to make my family close to me."
Baby, don't you worry. We give money, and God will make a way again.
The '90 Day Fiancé' stars argued about the role of money in family relationships
When Asuelu told his wife that he wanted to give his mom the full amount she'd requested, Kalani was more than a little taken aback. The 90 Day Fiancé star reminded her husband that he only worked part-time at a yogurt shop—and they had two young children to take care of.
"$1,000 is an unrealistic amount of money to give people, especially when you work part-time," she told a skeptical Asuelu. Kalani asked him where the money would come from and how he would pay bills for the month after he gave his mom such a generous amount.
"I think it's come from my pocket," Asuelu retorted.
"And whose pocket is going to pay for our bills for the month?" Kalani shot back. Asuelu responded vaguely, saying that he believed God would take care of it.
Kalani told 90 Day Fiancé producers that she worried about how much money Asuelu was so willing to lavish on his family members, which their growing family was struggling financially. In fact, she said, $1,000 was what Asuelu made in a month of work.
"I don't know on what planet we would just have that to give out randomly, but we certainly don't have it right now," she admitted.
Instead, Kalani suggested giving his mother $50. But Asuelu thought $50 was "like nothing." Asuelu and Kalani reluctantly agreed on $100 (in addition to the gifts they'd already bought).
But Kalani was still concerned about Asuelu's attitude towards money—and his family's "entitlement."
"If someone gave me $50, I'd be like, holy s*it! Thank you!" Kalani told producers. "But for that to not be enough, and for that to be a smack in the face to someone, like, maybe you deserve a smack in the face."
The 90 Day Fiancé star added that she was worried her husband was trying to "buy his family's love," which she believed was an unhealthy approach to his relationship with them.