'90 Day Fiancé': Kalani Faagata Asks Followers Not to Insult Asuelu Pulaa On Social Media
'90 Day Fiancé' star Kalani Faagata recently took to Instagram to defend her controversial husband, Asuelu Pulaa, from fans' criticism.
90 Day Fiancé stars Kalani Faagata and Asuelu Pulaa have always attracted a certain amount of criticism, but the parents of two have become more controversial than ever on the fifth season of TLC's 90 Day Fiancé: Happily Ever After.
Asuelu, 24, has drawn many fans' criticism for the way he talked to and treated his wife, 31-year-old Kalani, on recent episodes. In addition to calling Kalani's job as mom to the couple's sons, Oliver and Kennedy, "easy," Asuelu referred to childcare as "women's work."
Additionally, Asuelu compared his wife (and all American women) negatively to women from his home country of Samoa. During a road trip to California for his son's second birthday party, Asuelu even called his wife a "lying b*tch" in front of her mother. When they arrived, he took off, spending most of his son's second birthday weekend sulking in his room alone.
Still, Kalani recently defended her husband, asking 90 Day Fiancé fans not to criticize him on her personal Instagram account. Fans had mixed reactions to Kalani's request, with some insisting that Asuelu deserved all the criticism he was getting. Others praised the Utah mom for standing by her man.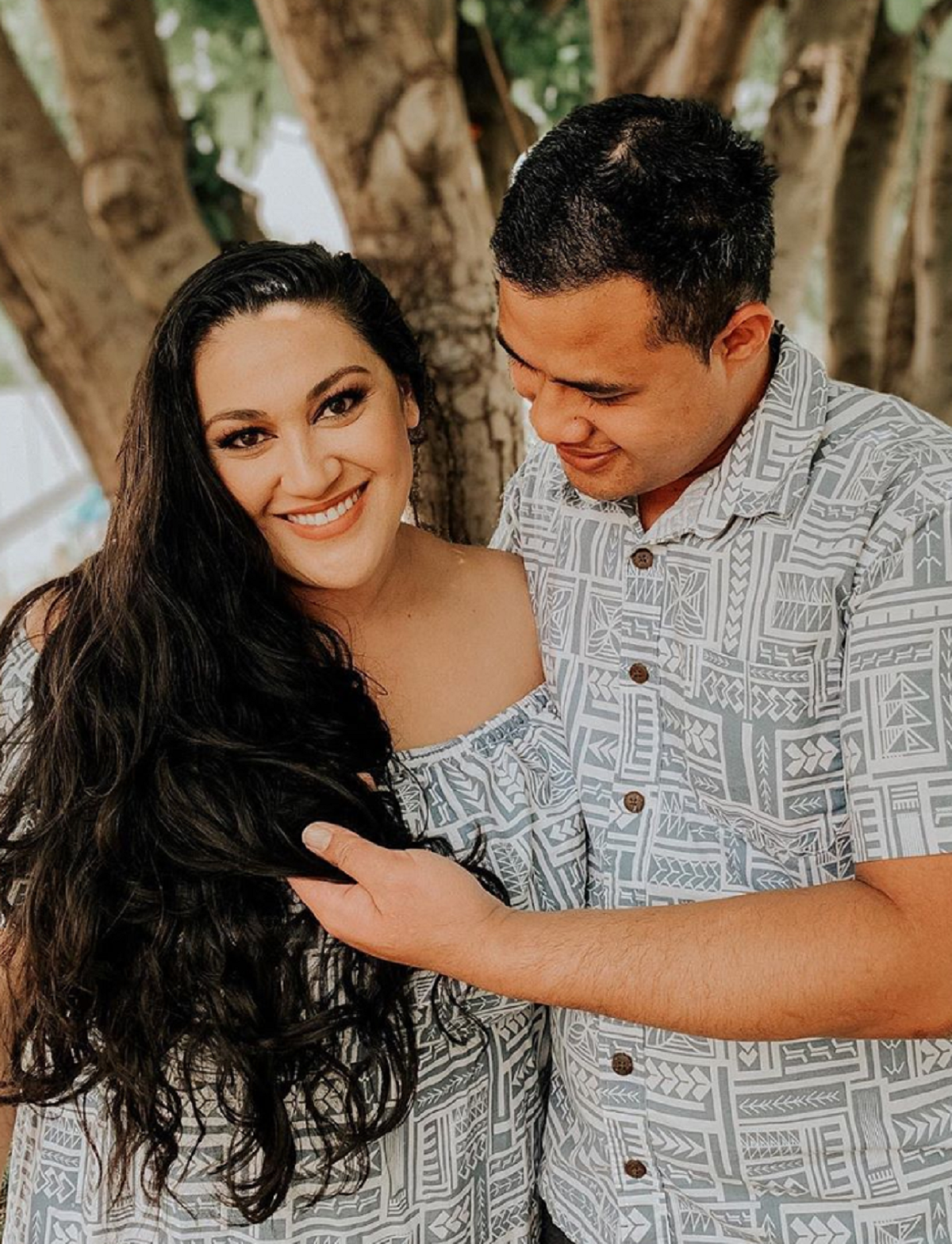 Kalani asked her Instagram followers not to criticize Asuelu
Kalani recently took to Instagram to share a tidbit about her life before she became a wife, mom, and reality TV star.
Before appearing on TLC, Kalani shared, she worked at a group home for teen moms as a mentor. The 90 Day Fiancé cast member shared a series of photos of her son's birthday party in California, including pictures of herself with some of her coworkers from that time in her life. The pictures also included shots of Asuelu and Kalani together with their kids.
"I always get asked about where I worked before 90DF," Kalani wrote in the caption. "I was blessed to work with some of these gals at a group home for teen moms. I'll always be thankful for my time there and for the extraordinary people I met, both staff and residents. Thank you for the memories and friendships—to those pictured and not—I love y'all!"
Kalani often closes her Instagram account for comments, but this time, she left the photo open for feedback. But after a flood of negative comments from 90 Day Fiancé fans about her husband, Kalani asked her followers not to leave any more criticism for Asuelu.
In an Instagram comment, Kalani wrote, "Please remember that this is my personal page. I don't want to read horribly negative and mean comments about anyone, and that includes Asuelu. If you must, use the meme pages for that please—you will be blocked here."
Some '90 Day Fiancé' fans pointed out that Kalani's husband mistreated her on the show
Still, some 90 Day Fiancé fans couldn't help themselves. Some Instagram users defended their criticism of Asuelu, suggesting that Kalani deserved more respect from her husband and they just wanted to look out for her.
"I hope my comment didn't sound mean," one fan wrote in response to Kalani's request. "It just frustrates me to see your hubby acting this way when you have been so patient and kind and you do so much! He has to do better and go back to being the sweet guy we first met."
Another commenter admitted that they just didn't appreciate the way Asuelu treated his wife (at least onscreen).
"Please don't block me for my comment," they wrote. "I love to see your family… just frustrates me to see how your hubby acts."
Others were more blunt, arguing that Kalani and Asuelu had a toxic relationship. One commenter even suggested that Asuelu was "draining" Kalani with his negativity and anger.
"Always assess to be sure the good outweighs the bad," one 90 Day Fiancé viewer wrote to Kalani. "And if you even question your relationship at all then you already know the answer. Please don't let him drain you. You have 2 beautiful children that are not getting all of their mom because daddy is draining her."
Other '90 Day Fiancé' fans praised Kalani for her maturity
While some fans didn't let up on their criticism of Asuelu, others suggested that what we see on TV isn't always the whole story.
One viewer pointed out that Asuelu might have been just as overwhelmed as his wife by their sudden jump from single to married and from childfree to parents of two children. They also pointed out that Asuelu had given up a lot by moving from his home country of Samoa to the U.S. to make a life with Kalani.
"There are 2 sides to every story," the Instagram user wrote. "[Asuelu] surely made a HUGE sacrifice coming to America and I feel like it was underappreciated. Also, I feel like your family teams up on him too much. Yes, he said some bad things to you, but I feel like ALL adults could have done things differently."
Another 90 Day Fiancé fan agreed, writing similarly: "It is my sincerest hope that you to get back on track and work everything out, because you are both good people. You're both just overwhelmed with getting married so quickly, having two children so quickly, and helping Asuelu find his way in America. That wouldn't be easy for anybody."
Many viewers praised Kalani for defending Asuelu and fighting off criticism, when it would have been easier just to let him take the heat.
"You are such a strong woman!" one fan wrote. "I admire your personality. Such grace under pressure and your patience!! Girrrl you're a rockstar!"
Another commenter praised Kalani for her unconditional love for her family. "No matter the circumstances and the outcome, 'Family is Forever,'" they wrote.