'90 Day Fiancé': Kalani's Dad Tells Asuelu He's 'Trying Not to Get Violent' With Him in 'Happily Ever After' Sneak Peek
90 Day Fiancé star Asuelu Pulaa has gotten more criticism than ever before on the fifth season of TLC's 90 Day Fiancé: Happily Ever After for his treatment of his wife, Kalani Faagata.
Asuelu, 24, has always had somewhat traditional ideas about gender roles, due to his cultural background and the beliefs he forged in his home country of Samoa. But after Asuelu and Kalani, 31, became parents to two sons, Oliver and Kennedy, Asuelu's wife expected him to step up and help out with the boys more—despite the fact that he believed it to be "women's work."
After the couple had to delay their potential vacation in Samoa due to a dangerous measles outbreak, Kalani and Asuelu's issues came to a head during their trip to California to celebrate Oliver's second birthday. Asuelu even called his wife a "lying b*tch" in an argument with his mother-in-law, Lisa.
In a new sneak peek of an upcoming episode of 90 Day Fiancé: Happily Ever After, Kalani's dad, Low—who is also Samoan—confronted Asuelu about his treatment of his wife and daughter. He even admitted that he sometimes thought about getting "violent" with his son-in-law to teach him a lesson.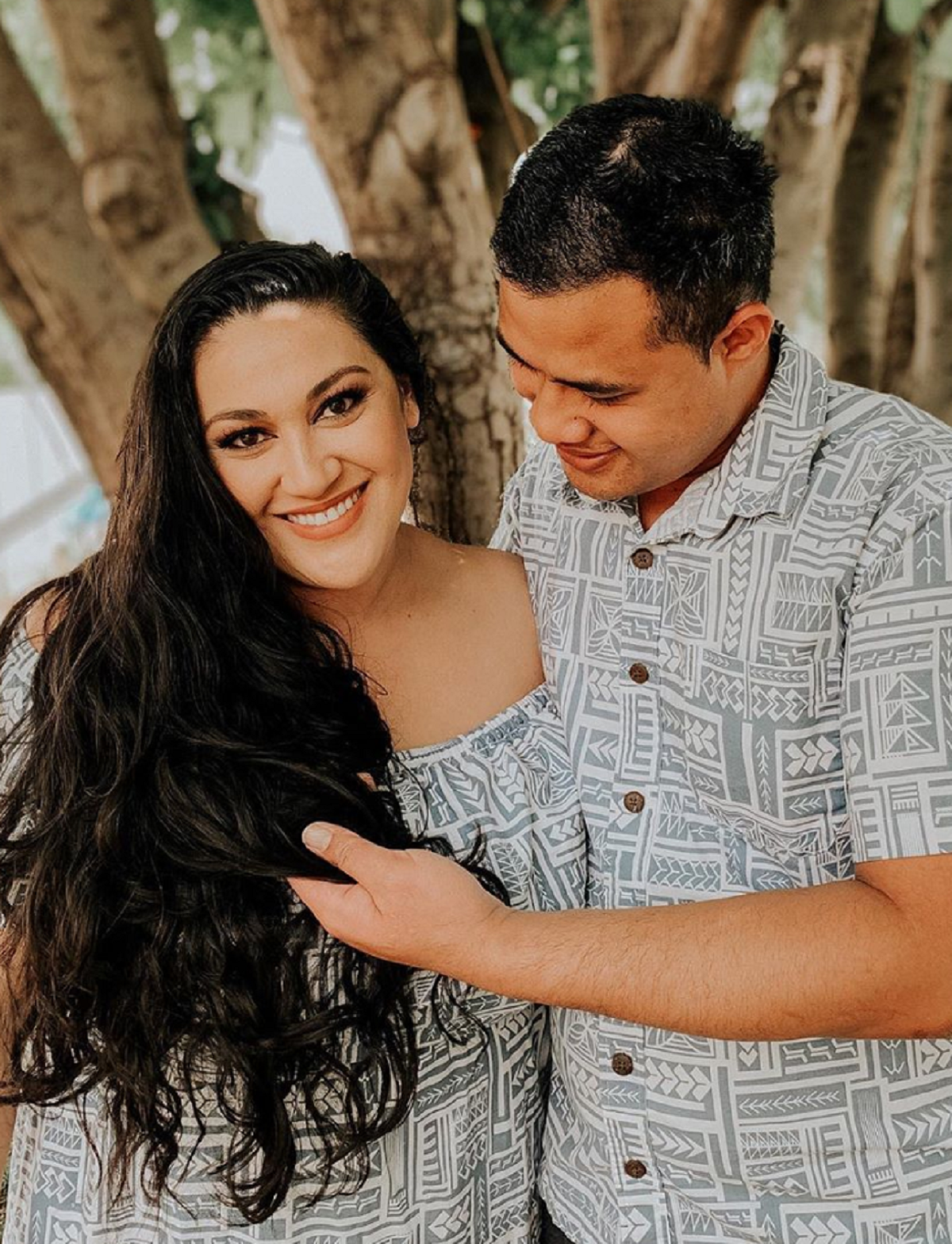 Kalani's father confronted Asuelu about how he treated his daughter
In the 90 Day Fiancé: Happily Ever After sneak peek, Asuelu reflected on his disastrous trip to California with his wife and in-laws. He had even skipped part of his own son's birthday party due to the ongoing fight.
So, when Kalani's dad, Low, asked to speak with Asuelu privately back in their home state of Utah, the younger man admitted he was "nervous."
As for Low, he told 90 Day Fiancé producers that he was just trying not to lose his temper with his son-in-law. "I needed to talk to Asuelu about what happened at my grandson's birthday," Kalani's father explained. "I'm trying to keep my head straight. I'm trying to calm down and not to get crazy."
Low asked Asuelu exactly what had gone down on the fateful road trip to California.
Visibly nervous and ashamed, Asuelu recounted the events of the tense car ride. "When we drive to California that morning, Lisa was asking me a lot of questions," he explained, referring to Kalani's mom. "She asking why is woman in Samoa is different from woman here in America. I don't know how to answer, and I told her that womans here in America are lazy. Lisa was kind of upset of that."
Sheepishly, Kalani's husband admitted, "It was really bad."
RELATED: '90 Day Fiancé': Colt Johnson Reveals the Heartbreaking Reason He's So Close to His Mom In New 'Happily Ever After' Sneak Peek
The '90 Day Fiancé' star admitted he was wrong
Asuelu told his father-in-law that, while he knew he had lost his temper, he felt the language barrier played a role. His and Kalani's cultural differences in terms of gender roles also likely played a part in the bitter argument.
Low told 90 Day Fiancé producers that he knew a little about those differences, having been born in Samoa himself. "Lucky that I understand the culture that he comes from," he said. "The people from the South Pacific, they want to control their wives. I get it, but I teach my daughters not to be that way, to be strong and stand up for themselves."
Then, Asuelu admitted he had cursed at Kalani and called her names over the course of the argument. Low let his son-in-law know in no uncertain terms that he wasn't about to tolerate that. "I don't like you cussing in front of my wife and my daughter. That's not acceptable," he said. "And besides, it was Oliver's birthday that day, and everything went to s*it."
Asuelu admitted that he was ashamed of his behavior, especially because he had let his emotions get the better of him and disrupt his own son's birthday party.
Asuelu promised to apologize to his wife and improve his behavior
What Low was most upset about, however, was the fact that Asuelu had never made amends with his wife for his behavior. "Kalani told me you never did apologize to her," Low pointed out.
Asuelu admitted he wasn't sure how to talk about his feelings and be vulnerable enough with Kalani to admit fault. "I don't know how to talk to Kalani about that. I don't know how to do that," the 90 Day Fiancé star said sadly.
That's when Low confessed that he'd had thoughts of physical violence against his son-in-law. "I'm trying my best not to get violent," he told Asuelu, "but you're gonna have to learn how to treat your wife, because I'm not having that."
"I understand all of that," Asuelu agreed. "I will say sorry to her."
While Low seemed to accept Asuelu's promise—for now—he told 90 Day Fiancé producers that he wasn't sure whether or not he should believe his daughter's husband. "I've given Asuelu so many chances, and I think I'm getting fed up with how many chances I want to give him," Low said.
As for Asuelu, he admitted that he sometimes struggled with his anger.
"I know that I have really bad issue for my temper, but I want to prove to Low that everything I say him today, I mean it," the 90 Day Fiancé star said gravely. "Low say he can keep an eye, so I will be careful how I act, be careful how I say. And I go and apologize to my wife."