'90 Day Fiancé': Karine Martins and Paul Staehle Pregnant Again, Fans React
90 Day Fiancé fans just welcomed Baby Brov into the world, but it looks like another bundle of 90 Day Fiancé joy is on the way. According to a recent Instagram post by Paul Staehle, Karine Martins is pregnant again. And despite rumors that they might be splitting up soon, it instead appears as if the two are still together. Here's what we know about the news. 
Karine Martins and Paul Staehle had a miscarriage before Pierre
While Karine Martins and Paul Staehle welcomed their baby, Pierre, into the world about one year ago, the two dealt with difficulty having a child in the past. 
In fact, during their time together on 90 Day Fiancé, Karine Martins and Paul Staehle dealt with the difficulty of a miscarriage. In a heartbreaking ordeal, Martins and Staehle were alerted by doctors that their baby showed some fetal abnormalities. 
Later, the couple learned that their baby had died, likely as a result of genetic problems. Both Staehle and Martins were shocked by the turn of events. However, this didn't stop them from trying again, and in 2019 baby Pierre was born. 
The 90 Day Fiancé couple celebrated Pierre's first birthday in March of 2020. And despite the quarantine, it seems as though the couple had a fun time throwing a Mickey Mouse themed party, until little Pierre hit his limit that is.
Karine Martins is pregnant again
Paul Staehle took to his Instagram story to announce that Karine Martins is pregnant once again. 
Staehle posted a photo of Martins, with the word "baby" written over her head. Staehle included several stickers on the post, including one of a man drawing a heart around Martins' midsection. 
Monsters & Critics report that Martins is several months along, and that the couple has known for some time. Additionally, they report that the couple decided to withhold the information for a short period due to Martins' history with pregnancy complications. 
As of now, the couple has not reported an expected due date for Martins. Hopefully, Martins and Staehle will keep 90 Day Fiancé fans updated as they receive additional news about the pregnancy.
'90 Day Fiancé' fans react to the news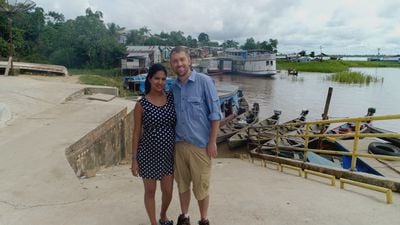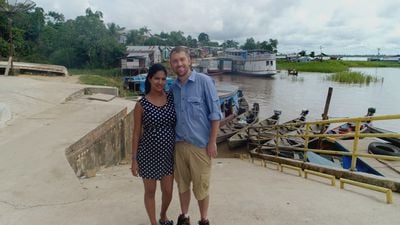 90 Day Fiancé fans have had mixed reactions to the news. Many fans aren't sure whether or not Staehle and Martins are in a place to have another child, given their financial history. 
One Redditor wrote, "What a great idea to have another child…when you don't speak the same language, don't have a reliable source of income, don't have a stable marriage, and have both suffered mental health issues…."
Martins and Staehle have been bouncing around the idea of divorcing for some time now, and it remains to be seen what the reality of that situation is. 
Another user added, "I was just about to post this. This is so distressing. They're literally the last people to be having more kids. Does he work yet? Do they at least speak one common language yet? I'm confused at their life."
"And seriously speaking, once TLC stops filming them and giving them checks how will they get by? [Karine] never once has thought about [Paul]'s lack of a steady job? I imagine he hasn't told her it's extremely difficult for felons to even get work. Same with her. She's never had a job before. So are they going to be penny pinching those TLC checks until they dry up and then live off of Mother and Father? Or off the state? Jesus, [Karine] came into all of this incredibly naive and still hasn't done her research on how this could possibly go for her. It truly boggles my mind how ridiculous their entire situation is," opined another Redditor.