'90 Day Fiancé': Kobe Tries to Justify His Comments About Emily's Weight
Kobe Blaise found himself under fire from '90 Day Fiancé' fans over his comments about his baby momma Emily Bieberly's weight.
90 Day Fiancé fans just met Kobe Blaise and his baby momma Emily Bieberly. But before the new season even started, they already had issues with the Cameroon native. In the season 9 premiere, Kobe made comments about Emily gaining weight after having a baby. Now, Kobe is trying to justify what he said.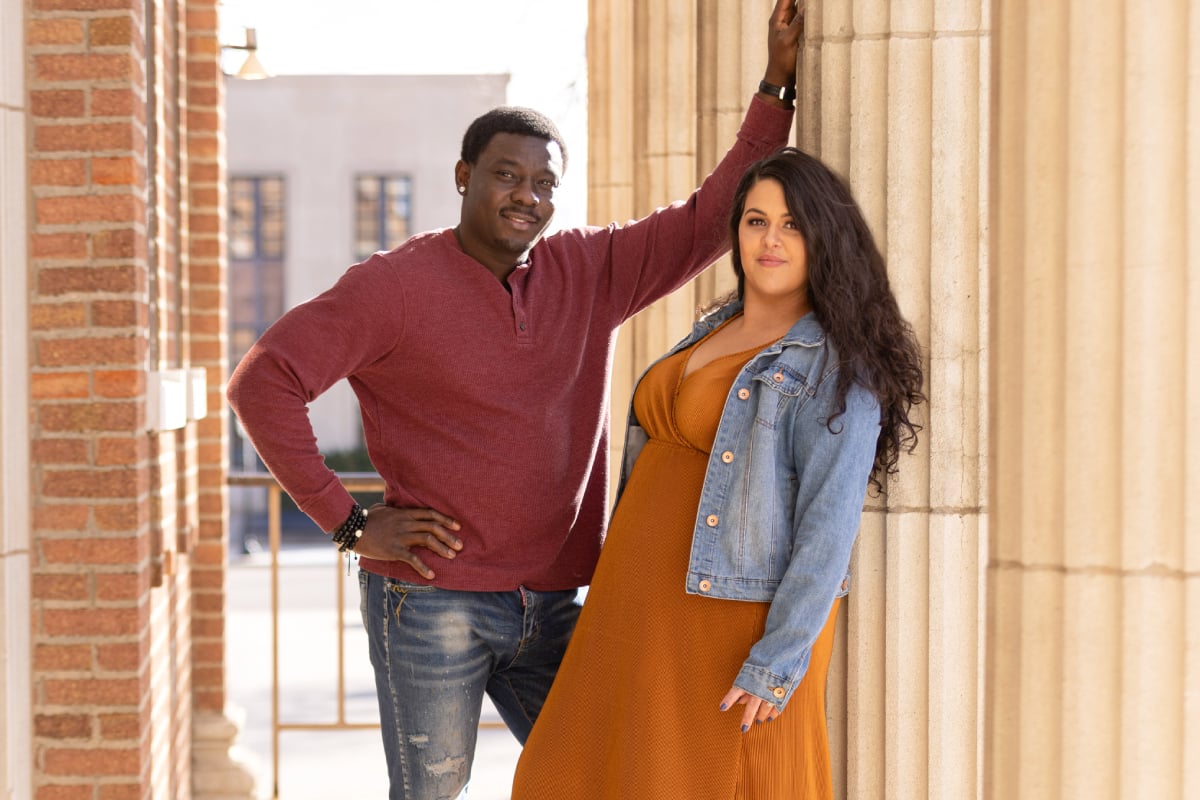 The '90 Day Fiancé' stars met more than two years ago
Kobe and Emily's love story began when they met during a night out in China more than two years ago. At the time, she was working there as an English teacher and he was working as an underwear model. Emily says she approached Kobe the moment she saw him. And he says that after finding out she was an American, he thought she was "easy."
The duo proceeded to have a one-night stand, and that crazy night resulted in a pregnancy. When Kobe tried to get a visitor visa to the United States for the birth of his son Koban, he was denied and had to stay in Cameroon. Then, the pandemic made it even more difficult for him to see his son in person.
When Emily filed for a fiancé visa, COVID caused a delay in getting approval. They had to spend two years apart before Kobe was able to move to her small town in Kansas.
Kobe makes a comment about Emily's, then tries to justify it
When Emily and Kobe were seen reuniting at the airport in the season 9 trailer– and he saw her in person for the first time after she gave birth — he immediately noticed her weight gain. And he called her out on national television.
Kobe told Emily that she had changed and gained weight, but then reassured viewers that it's "not about how she looks." The 90 Day Fiancé star later told Entertainment Tonight that he meant no harm, and his comment was the result of "a cultural difference."
"Besides, even before I came over she kept bugging me like, 'You know I've gained weight,' and stuff like that," he explained. "I understand if you gain weight it's because of the baby and the weight thing can always be worked upon. You can always do something about your weight if you want the weight to go away."
Emily says her airport reunion with Kobe on '90 Day Fiancé' was 'everything' she wanted
When Emily recalled their reunion at the airport, she admitted she was worried about her weight gain. But she says Kobe's comment didn't bother her. She says that the moment was emotional because she hadn't seen her fiancé in two years, and she was "really worried about our connection."
"I was so worried that two years went by, I look so different, you know? I had our son, I was a size six when I met him and then I had gained all this baby weight, I hadn't lost it yet so I was really, really worried about that but then when we saw each other, it was seriously like nothing changed," Emily said. "I don't know, it was really joyful. It was everything I wanted, I was so excited."
Since the airport reunion, Emily says she has lost 18 pounds and is working to lose all the baby weight.
New episodes of 90 Day Fiancé air Sunday nights on TLC.