'90 Day Fiancé': Larissa Dos Santos Lima Announces When She Will Start Her OnlyFans and Answers Questions About Plastic Surgery, Her Past
90 Day Fiancé stars Larissa Dos Santos Lima and Colt Johnson have ended their relationship with each other, but certainly not with TLC or the franchise.
Colt and Larissa are both active on social media platforms like Instagram and money-making sites for reality stars, like Cameo. The exes are also both appearing on the fifth season of TLC's 90 Day Fiancé: Happily Ever After.
Larissa moved on from her American ex-husband with Eric Nichols—her on-again, off-again boyfriend, with whom she broke up in 2019 but has since reunited. Meanwhile, Colt found love again (briefly) with another Brazilian woman, Jess Caroline. They've since broken up.
Larissa has gained a large Instagram following of her own in recent months and has encouraged followers to watch her physical transformation as she undergoes a major makeover. The 90 Day Fiancé star recently headed to her Instagram stories to share when she would be launching an account on OnlyFans, in addition to sharing some thoughts about plastic surgery and her other future plans.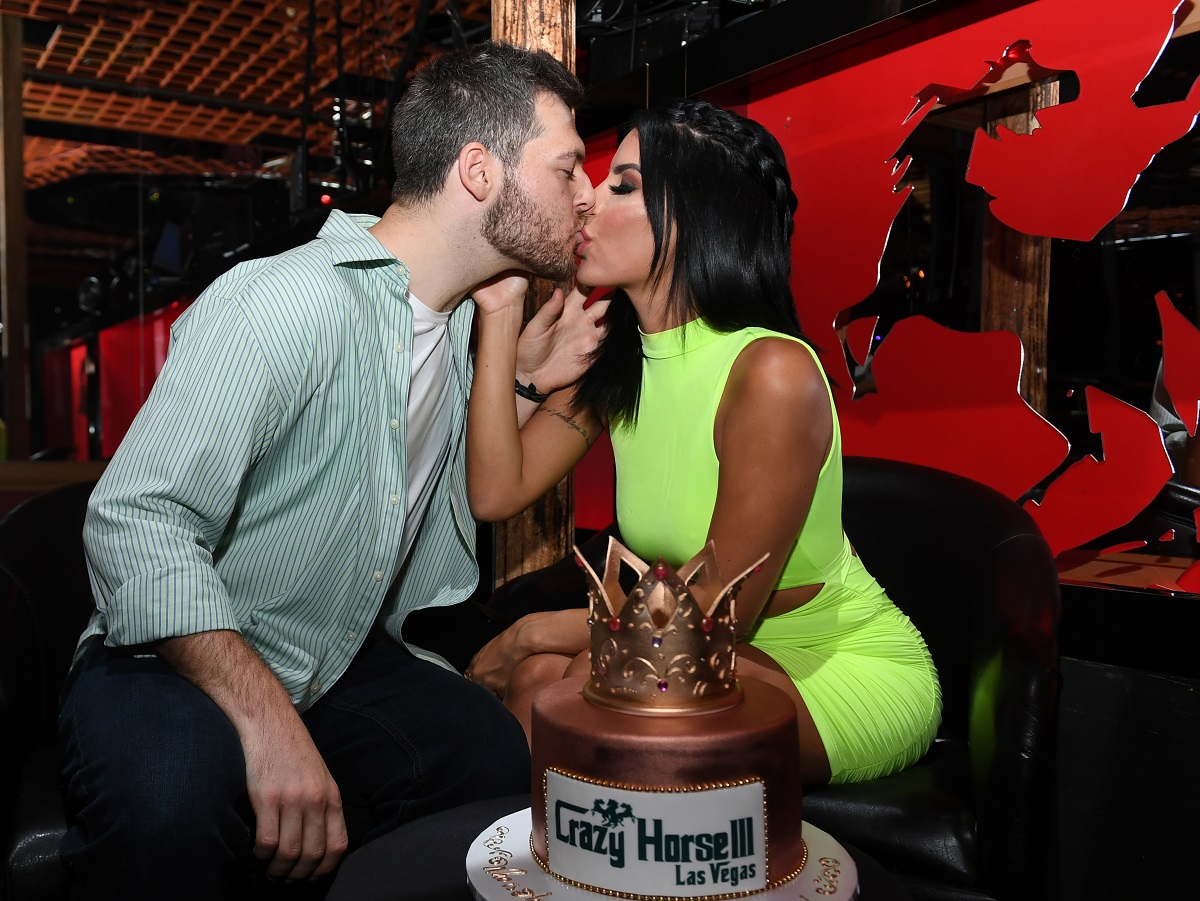 Larissa proudly announced her OnlyFans start date
Like several other 90 Day Fiancé stars, such as Evelin Villegas, Corey Rathgeber, Stephanie Matto, and Leida Margaretha, Larissa has decided to launch a career on OnlyFans. The 34-year-old Brazilian mom says she will pose nude when her head-to-toe makeover is complete.
"When can we start seeing you naked? I can't wait any longer!" a fan recently asked Larissa on her Instagram stories.
Larissa replied flirtatiously, "On my OnlyFans, sweetheart. But just in Sept. 14 and 15. These will be the dates. Stay tuned. You won't regret it." It wasn't clear whether the 90 Day Fiancé star's OnlyFans account would only be open for a limited time, or whether she planned to become a regular content creator on the site.
During the same series of Instagram stories, the 90 Day Fiancé star said she would also soon launch her own YouTube channel. There, she said, she would share more details about her personal life.
The '90 Day Fiancé' star answered some questions about plastic surgery and cosmetic procedures
Colt's ex-wife was always open about wanting lip fillers, hair extensions, and other cosmetic procedures in order to transform her look.
Larissa lost quite a bit of weight after her divorce from Colt. The 90 Day Fiancé star—who said on a recent episode of 90 Day Fiancé: Happily Ever After that she wanted to look like a Las Vegas stripper when she was done—has also gotten nonsurgical rhinoplasty, as well as butt injections, cheekbone and chin procedures, and dermal fillers.
Additionally, Larissa has been more than open, both on the show and off, about wanting breast implants. It isn't yet clear whether she's gotten them or not, but it looks like viewers might soon find out.
"What surgeries did you get done? And what doctor?" a 90 Day Fiancé fan asked her in her Instagram Q&A session.  
Larissa teased that fans of the show would get all the details. "You must watch 90 Day Fiancé: Happily Ever After to find out what surgery I did. If I got plastic surgery. Could be just a cosmetic procedure—how much it cost and everything," she shared.
The 90 Day Fiancé star also told one fan that she didn't regret getting her new hair extensions, even though they were "a lot of work" and required constant upkeep. "I love my long hair. I hate short hair," she said.
Another fan asked Larissa for her advice on getting a nose job and a new chin. Larissa was supportive, telling the fan to do what felt right when it came to her body. "Go for it!" she exclaimed.
Colt's ex said Colt and his mom were 'dead and buried' to her
Despite her openness about most of her life, Larissa doesn't want to talk about one topic with her fans: Colt.
"Have you ever heard about 'narcissist mothers?' Colt's mother looks like one," one fan told Larissa, of course referencing Debbie Johnson.
Larissa told the fan that she wanted more than anything to move on from her past, especially her toxic relationship with Colt.
"I prefer I don't give any info about my past relationships. They are dead for me and buried," the 90 Day Fiancé star said honestly. "It's what matters for me now, in my life. That I am free."