'90 Day Fiancé': Larissa Dos Santos Lima Claims 1 Of Her TLC Storylines Was Faked
Larissa Dos Santos Lima first made a name for herself on TLC's 90 Day Fiancé when she was married to Colt Johnson. The 34-year-old Brazilian influencer's tumultuous marriage to Colt didn't last, but her growing platform certainly did.
Since her divorce from Colt, Larissa has moved on in many ways – from Colt to her new boyfriend, Eric Nichols; from Las Vegas to her new home state of Colorado; and from TLC to a career in the adult industry on OnlyFans. She also underwent a number of plastic surgeries, from breast implants and a Brazilian butt lift to liposuction, rhinoplasty, and a tummy tuck.
The former 90 Day Fiancé star was fired from TLC after performing an NSFW live show on CamSoda. She hasn't shied away from speaking out about her disillusionment with the network and reality TV in general.
Most recently, Larissa took to her Instagram stories to answer fans' questions about her new life outside of TLC. She claimed that one 90 Day Fiancé storyline involving her boyfriend and plastic surgery was never real to begin with.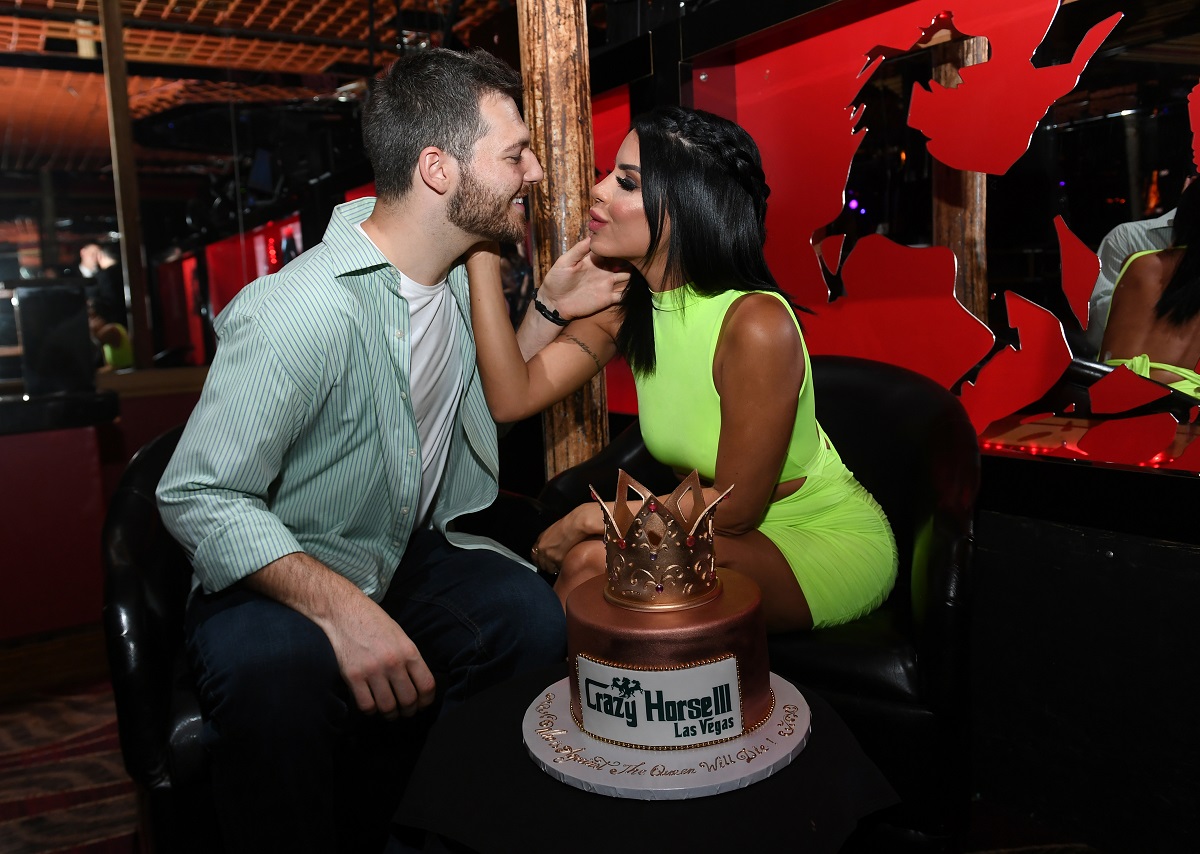 '90 Day Fiancé' scenes showed Larissa asking her boyfriend to pay for her surgery
On the fifth season of 90 Day Fiancé: Happily Ever After, Larissa's plastic surgery was the major focus of her storyline. Before the first of her many procedures with Dr. Lane Smith in Las Vegas, she approached her boyfriend, Eric – with whom she'd recently reunited after a messy breakup – to ask him to help her pay for the surgery.
Eric was unsure at first, especially because the payment was expected to total upwards of $30,000. But he (also an OnlyFans model) eventually agreed to loan his girlfriend the money on the grounds that it was an investment in their future. He also emphasized repeatedly that this wasn't a gift or a favor; he expected Larissa to pay him back with interest.
RELATED: '90 Day Fiancé': Larissa's Fans React to Her Breast Implant Results
Larissa claimed she paid for her own surgery
In a recent Q&A on her Instagram stories, Larissa claimed that the storyline about Eric paying for her surgery didn't have a shred of truth to it. Instead, she insisted that TLC producers pushed them to film scenes about their "agreement" in order to stir up drama and intrigue.
"Did you ever pay Eric back for your surgery?" a 90 Day Fiancé fan wanted to know. "Did he make you pay interest?"
Larissa told the fan in no uncertain terms that Eric had never paid for her surgery or even thought about doing so.
"The surgery thing was created by the show to get people talking about [it]," she replied.
In turn, 90 Day Fiancé fans accused TLC of "making Larissa look bad." Naturally, they also wanted to know who paid for Larissa's cosmetic procedures.
"I paid myself," Larissa told them. "I always have income, my Cameos [were] $100."
This is far from the first time a 90 Day Fiancé star has claimed that the show wasn't entirely real. Cast members like Cortney Reardanz and Ashley Martson have also accused producers of crafting storylines to one extent or another.  
Larissa also went on to say that she felt she had to "create a character" and pretend to be someone she wasn't on 90 Day Fiancé. A curious follower wanted to know what the hardest part of being on the show was.
"To create a character, situations, and feel obligated to do certain things," Colt's ex-wife replied.
RELATED: '90 Day Fiancé': Which '90 Day Fiancé' Stars Have Spoken Out Against TLC?
The former TLC star said she loved life outside of reality TV
It seems that Larissa's life has taken a turn for the better after leaving TLC, however. When one of her Instagram followers asked about the pros and cons of working on OnlyFans, she made it clear that her sense of control over her own life was a major draw.
Larissa listed the benefits of making money on OnlyFans as "being her own boss" and being able to "live and work from anywhere." She also said it allowed her to buy a house and a car, as well as to send money back to her family in Brazil.
As for the emotional benefits of OnlyFans as compared to TLC, Larissa said she liked being able to be creative and discover more about herself. The former 90 Day Fiancé star also enjoyed "chatting daily with a lot of people who would worship [her]."
What's more, Colt's ex-wife claimed that her TLC paycheck was paltry at best compared to her OnlyFans income.
"In two weeks [on OnlyFans], I made what the TV show will pay me in one year filming multiple spin-offs and a fully Happily Ever After season," Larissa revealed.
Larissa certainly wasn't the first 90 Day Fiancé cast member who didn't enjoy her experience on reality TV. Luckily, it seems like she's moved on to greener, and more profitable, pastures.