'90 Day Fiancé': Larissa Dos Santos Lima's Boyfriend Has an OnlyFans, Makes Raunchy Art About Larissa
Eric Nichols, Larissa Dos Santos Lima's boyfriend, recently shared sexy art of himself with the '90 Day Fiancé' star, as well as his own progress on OnlyFans.
After 90 Day Fiancé star Larissa Dos Santos Lima divorced her ex-husband, Colt Johnson, she made a number of major changes in her life. Along with significant weight loss and several cosmetic procedures that dramatically transformed her look, 34-year-old Larissa moved on to a new man, Eric Nichols.
Eric and Larissa broke up for several months in 2019. But on the fifth season of TLC's 90 Day Fiancé: Happily Ever After, the Brazilian mom and her 28-year-old boyfriend reunited. Eric even agreed to loan Larissa the money for a nose job and breast implants on recent episodes.
Recently, on Instagram, Larissa has raved about her boyfriend as he cared for her after her tummy tuck and abdominoplasty in Las Vegas. And it looks like Eric and Larissa might have a business partnership in mind, too—as Larissa prepares to launch her OnlyFans account in Sept. 2020, and Eric grows his own OnlyFans platform online.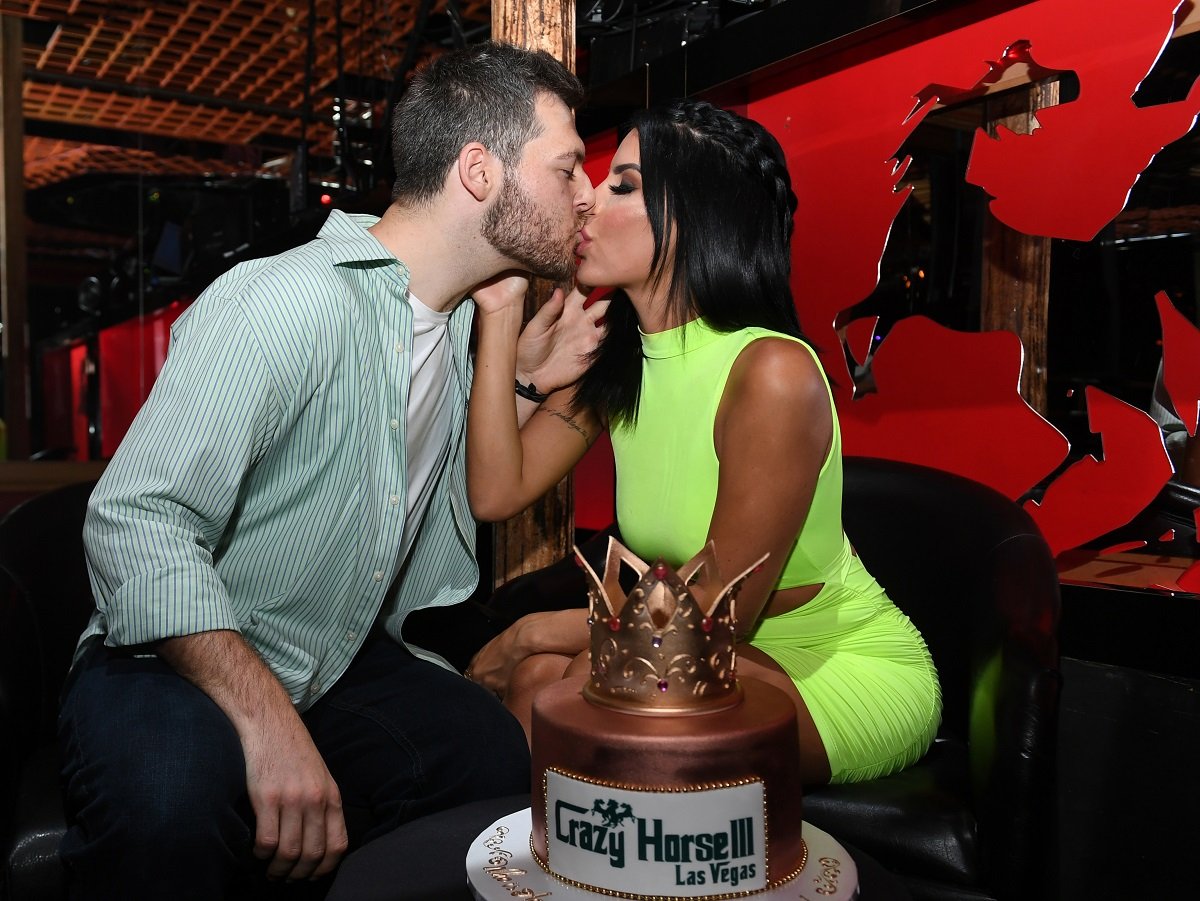 Eric has shared his growth on OnlyFans with his Instagram followers
In recent months, Eric has leveraged his 90 Day Fiancé platform to grow a following on OnlyFans. After getting back together with Larissa in 2020, he began charging $25 a month for an OnlyFans subscription. So far, he's posted four videos and over 40 photos, landing him a spot in the top 2% of all creators on the popular site.
As for how much he shows off on the platform—which is primarily known for nude and seminude photos and videos—that's not entirely clear for anyone but subscribers. However, Eric has posed in a number of provocative snapshots to promote his OnlyFans on Instagram, so it's safe to say that his content is risqué at the very least.
Recently, Eric answered a few questions from 90 Day Fiancé fans on his Instagram stories about his OnlyFans participation.
"Do we get full nudity on your OnlyFans?" one follower wanted to know.
"That's 100% up to you," Eric responded coyly.
Other fans wondered why Eric charged $25 per month, which they thought was a bit too costly.
"How come you charge so much? You should do a promotion," one 90 Day Fiancé fan asked.
Eric defended his prices, replying, "I know my value and it has never been cheap or expensive. It's an investment."
Larissa's boyfriend also shared risqué art that depicted the couple in sexy poses
From the looks of it, Larissa and Eric both don't mind showing off their bodies for the cameras—and graphic design, too. After his girlfriend headed in for a tummy tuck, Eric celebrated the 90 Day Fiancé star's recovery from the procedure with seminude art of the couple.
In the Instagram post, a near-naked, towel-draped Eric clutched a rose in his teeth—and Larissa's bare thigh with his hand—while she (well, the cartoon version of her) posed, butt out, towards the camera.
"Happy happy beautiful recovering from surgery birthday @larissalimareal my love!" Eric wrote to Larissa under the provocative art, emblazoned with her famous line, "Who is Against the Queen Will Die." "You're the most special person I could ask for in life ❤️ Bless your courage bravery & heart! Enjoy this birthday my darling! 🎁 you're my precious!"
Larissa is planning to launch her own OnlyFans account in the future
Eric isn't alone in launching an OnlyFans to supplement his income. Many other 90 Day Fiancé stars—like Evelin Villegas, Corey Rathgeber, Anfisa Nava, Jay Smith (temporarily), and Leida Margaretha—have done the same. Stephanie Matto began her career on OnlyFans before appearing on 90 Day Fiancé: Before the 90 Days.  
Larissa, too, recently announced that she would be starting an OnlyFans account, complete with nude photos. She told 90 Day Fiancé fans during an Instagram Q&A that it would launch in Sept. 2020, after her surgery.
Under one of Eric's recent titillating snapshots, Larissa even joked, "Let's do an OnlyFans collab biggie kitten." When fans asked if they would be creating videos together, Larissa explained that they wouldn't go that far—probably just "a photoshoot."
And since Eric and Larissa have teased recently that they will be moving away from Las Vegas together—to "somewhere with snow"—they'll most likely have plenty of time to shoot sexy photos together.