'90 Day Fiancé': Larissa Tells Eric Why She Wants a Boob Job—and Why She Didn't Get One for Colt—in Sneak Peek
Larissa Dos Santos Lima told her boyfriend, Eric Nichols, exactly why she wanted breast implants and a nose job in a new sneak peek of an upcoming episode of TLC's '90 Day Fiancé: Happily Ever After.'
Larissa Dos Santos Lima has had one of the biggest glow-ups in 90 Day Fiancé history since her divorce from Colt Johnson. In addition to significant weight loss, she underwent a number of cosmetic procedures to dramatically transform herself and improve her self-esteem.
The Brazilian mom of two also moved on from Colt quickly with a new boyfriend, Eric Nichols. After a nasty months-long breakup, during which Eric shared the most intimate details of their sex lives with a number of other people, Larissa and Eric came back together and decided to try to make things work.
In a new sneak peek of an upcoming episode of TLC's 90 Day Fiancé: Happily Ever After, Larissa and Eric went shopping for furniture for their new home together. But the fun shopping trip became a lot more serious when Larissa proposed that Eric lend her the money for a nose job and breast implants.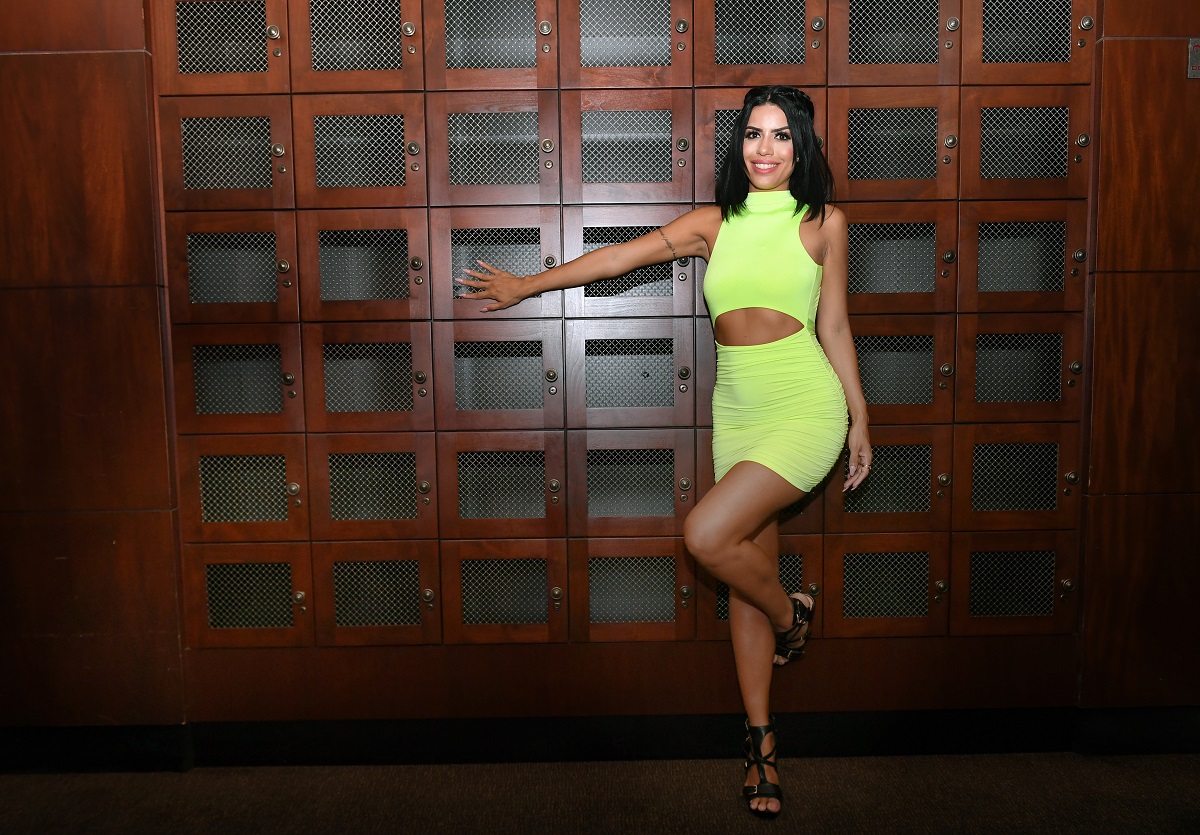 Eric complained that Larissa had 'expensive taste'
In the 90 Day Fiancé preview, Larissa told producers that her criminal charges—initially for alleged domestic violence against Colt—were reduced to disorderly conduct after she successfully completed probation, community service, and anger management classes.
With her criminal case now resolved and the threat of deportation no longer hanging over her head, Larissa wanted to start a "new chapter" in her life. And that included shopping to make the house she shared with Eric into a home.
"If Eric and I are going to be a real couple, I want to feel like we share a home together," the 90 Day Fiancé star said. "Not just like I'm living in his house."
But Eric wasn't quite as excited about the interior design project—especially because Larissa had previously complained he was "cheap" and now wanted him to "let the money flow."
"Walking into a store like this puts me a little bit on edge," Eric admitted. "I feel like Larissa is a lady of expensive taste."
He seemed to be right about Larissa's love of high price point items, as they perused a $129 ashtray and a nearly $12,000 couch.
Larissa explained that she wanted to make sure that Eric had changed after their dramatic breakup. It wasn't that Eric couldn't afford big-ticket items, she insisted; he could, but he just didn't like spending money.
"In the past, Eric was very cheap," the 90 Day Fiancé star complained. "I want that he prove that he changed. He's not someone that like to show, 'I have money, I have money.' But he has, in the end."
Larissa revealed that she wanted breast implants and a nose job
But furniture wasn't the only things Larissa wanted to buy, she revealed.  
Sitting down with Eric during their day on the town, Larissa announced, "I would like to do a boob job and a nose job."
Eric insisted that Larissa didn't need breast implants, but his girlfriend seemed very sure about her decision. She also said that she wanted a smaller, more upturned nose.
"I really don't like my boobs," the 90 Day Fiancé star complained. "They don't look that great. It's about my satisfaction as a woman."
As for why she wanted breast implants (very large ones, she revealed), Colt's ex-wife explained further, "This is very important to me because I lost my confidence after I gave birth. My boobs look smaller, and I always [feel] self-conscious."
And Eric's harsh, negative comments about Larissa's body during their breakup eroded her self-esteem even more.
"When Eric was telling disrespectful things about our sexual life, it made me feel very sad as a woman," Larissa said sadly. "I feel like my boob job is gonna boost my ego, and I look exactly what he desire."
Eric asked Larissa how long she'd wanted breast implants, and she explained that she hadn't longed for them when she was with Colt.
"Since we started to date," Larissa told Eric. "Because with Colt, I don't care. He was fat, anyway. But with you, I feel more young, I feel more happy. I also feel you're gonna appreciate me more."
Eric tentatively agreed to loan his girlfriend the funds for surgery
Eric told 90 Day Fiancé producers that he would support Larissa in her decision to get plastic surgery, although he didn't think she needed it.
"I love the way that Larissa looks as she is right now," he gushed. "She's jaw-dropping as she is. But if she wants to go get a surgery, I support it, as long as she's doing this for the right reasons."
But Larissa wanted more than emotional support. She also wanted financial support from Eric, asking that he use his savings to help her pay for the procedures—which would cost a total of $25,000-$35,000.
"I don't have that money," Eric said right away.
"You do," Larissa insisted. The 90 Day Fiancé star added that she was willing to sign a contract with Eric to take out a loan, with interest.
Taking a moment to think, Eric eventually agreed—as long as he could collect interest on the loan. He also wanted to make sure that Larissa wouldn't leave him behind in the meantime.
"What happens if your boobs go to Brazil?" he asked her.
"You live with me there," Larissa said without skipping a beat. Smiling widely, Larissa promised, "You won't regret it."
It seems that Larissa did get the makeover of her dreams. She recently announced that she would be starting an OnlyFans account and modeling on social media. Larissa also shared a stunningly sexy photoshoot on Instagram, in which 90 Day Fiancé fans said she looked "unrecognizable" from her former self.