'90 Day Fiancé': Larissa's Fans React to Her Breast Implant Results
After her breakup from Colt Johnson, Brazil-born mom Larissa Dos Santos Lima went through one of the biggest physical transformations in 90 Day Fiancé history.
In addition to weight loss, liposuction, a tummy tuck, Botox, fillers, and cheek and chin implants, Larissa underwent a Brazilian butt lift and nose job. Her boyfriend, Eric Nichols, with whom she recently moved to Colorado Springs, supported her through each and every surgery – even serving as her caretaker while she recovered.
But the 34-year-old OnlyFans model and influencer – who was recently fired from TLC due to her legal but controversial involvement with adult sites like CamSoda – is possibly now best-known for her fairly extreme breast implants. Larissa opted for 700cc, high-profile round silicone implants with Dr. Lane Smith of Las Vegas.
The 90 Day Fiancé star has recently been showing off the results of her cosmetic procedures on social media. Fans have mixed reactions, from concern to praise for her glam new look.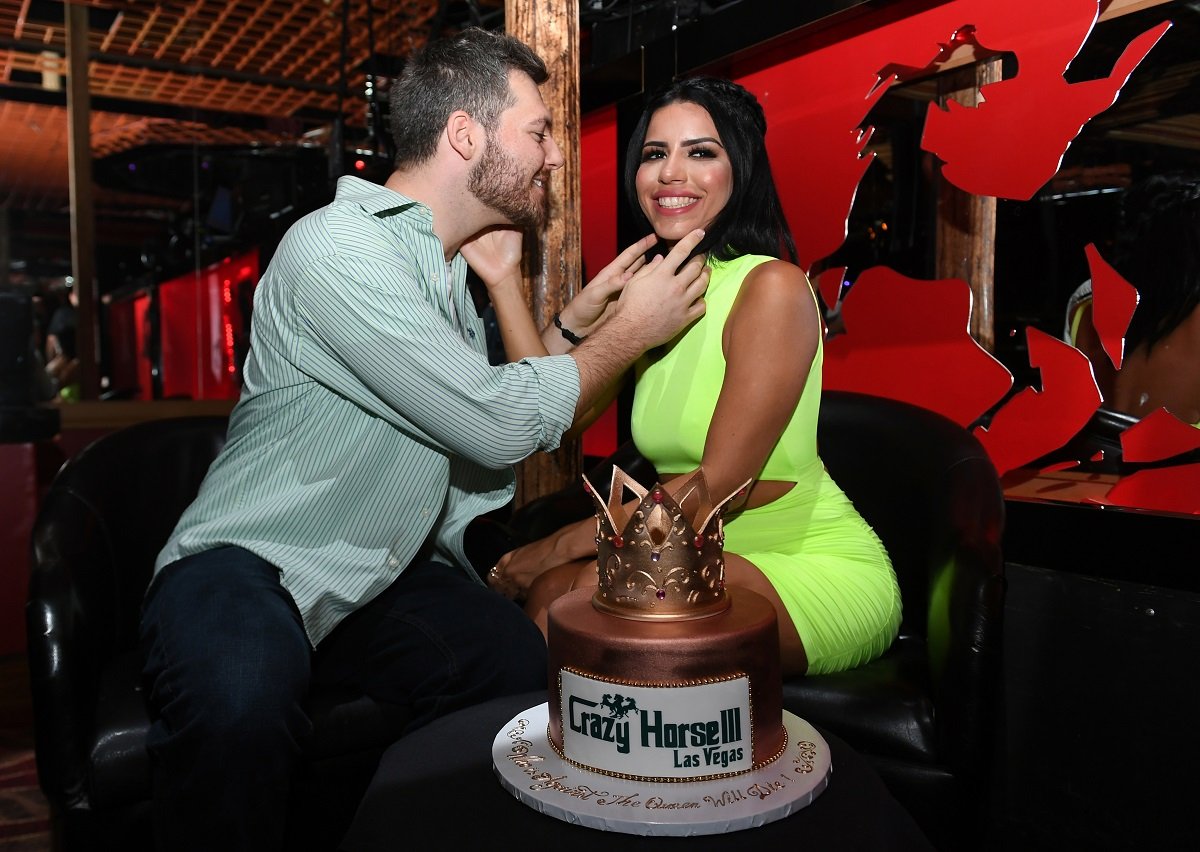 Larissa recently shared photos of her plastic surgery results after being fired from TLC
Larissa's plastic surgery journey became a major focus of her storyline, and social media presence, during the most recent season of TLC's 90 Day Fiancé: Happily Ever After.
After the season aired, Larissa proudly showed off the results of her cosmetic procedures on Instagram.
Colt's ex-wife has also been using social media to promote her new ventures, including live appearances on the webcam site CamSoda, a popular OnlyFans account, erotic modeling, and even performing in a magic show with Las Vegas- and Bay Area-based magician Jack Alexander. It's clear that, after her TLC career (tentatively) wrapped, Larissa decided to use her existing platform to make a name for herself on her own.
Recently, she's posted sexy photos of herself (and her new assets) in everything from lingerie and skimpy workout gear to bikinis and Broncos gear (sans bottoms). Larissa even showed off her bare butt during a hike in her new home state of Colorado.
She's also been keeping fans informed along her plastic surgery journey, offering the inside scoop on all things alterations. Larissa told curious followers that her breast implants hurt the worst out of all her procedures, for example, and her tummy tuck requires a daily cardio routine to maintain her results.
The '90 Day Fiancé' star's new look earned praise from many followers
Larissa's recent explosion on social media has earned her praise and compliments from many 90 Day Fiancé fans – and even from some of her castmates, from Kalani Faagata and Anfisa Nava to Colt's most recent ex-girlfriend, Jess Caroline.
Fans immediately chimed in to marvel over Larissa's breast implant results and total makeover, calling her "stunning" and "gorgeous" and telling her she looked like a Kardashian sister. Others referred to Larissa as "body goals" and wanted to get in touch with the surgeon who did her implants.
"If I looked as good as you do, I would show it off," one Instagram user marveled.
"The girls look fantastic!" another wrote.
"Move over Pao, Larissa is the hottest 90 Day castmate," another quipped (referring to Paola Mayfield).
Meanwhile, some 90 Day Fiancé fans were frustrated that Larissa would no longer be featured on TLC. Still, they assured her that – especially with her new total-body makeover – she didn't have to worry about being able to keep up her new career as an influencer.
Most of all, Larissa's plastic surgery drew attention from fans who thought she seemed happier than ever and more confident in her own skin.
"You were beautiful before and you're beautiful now," one such supporter commented. "The difference is that the surgeries have given you more confidence and you radiate it now."
Some fans urged Larissa not to get more cosmetic work done
While Larissa's transformation has earned her plenty of support and praise, some 90 Day Fiancé fans thought Colt's ex-wife was going too far. Some critics accused Larissa of not having "dignity" or "self-respect," especially as a mom, due to her penchant for nude and partially-nude modeling.
Others warned Larissa against looking "fake" or inauthentic if she continued to get additional plastic surgery.
"Changing your body means you're not excepting who you are, how God created you is the real you," one critic argued on Instagram.
"Not classy, looks cheap, and you could do better," another insisted.
But many of Larissa's followers jumped to her defense against negative comments, even suggesting that critics might be "jealous" of her new look.
"Why so many judgements?" one supporter asked. "She is beautiful and making money while she's young and pretty. Leave her be or just leave her page."
Whatever the case, it's clear that Larissa herself is very happy with the results of her glow-up – and, at least for now, excited to maintain them as well as she can.