'90 Day Fiancé': Michael Jessen Claims Show Is Not Scripted
90 Day Fiancé couple Michael Jessen and Juliana Custodio were recently married on their season of the hit TLC show. That same season came under fire from cast members and fans alike, several of whom claimed that too much of the show was faked or scripted. Now, Michael Jessen is coming forward on an episode of The Domenick Nati Show to say the show isn't scripted after all.
Michael Jessen says '90 Day Fiancé' not scripted, others disagree
During a recent episode of The Domenick Nati Show, Michael Jessen discussed with Domenick Nati whether or not 90 Day Fiancé is scripted after all. While Sarah Jessen, Michael Jessen's ex-wife, called out TLC for their editing choices, Jessen claims the show isn't scripted. 
The 90 Day Fiancé star explained, "To say it's scripted is not fair to the producers of the show. To be fair I wouldn't want to come out guns blazing for any reason. But it's not scripted."
However, Jasmin Lahtinen has claimed otherwise, and Emily Larina has expressed displeasure with how TLC edited her husband. 
One Instagram user told Lahtinen, "I feel like you think you are too good for the world! Your attitude sucks! Makes it seem you're with him for papers, just my opinion." 
Lahtinen simply replied to the comment with, "Fake tv show." In another instance, a fan commented, "You seem pretty mean on the show."
Lahtinen replied with, "Acting." 
Meanwhile, Emily Larina claimed 90 Day Fiancé edited her husband to look bad. She wrote on Instagram, in part, "For a while, I was disappointed that the world didn't get to meet the Sasha I know. The man I know is always thinking about how he can be a better provider for his family. The man who sees something in the store and says, 'I want to send this to my father, son, brother, etc.' The man who doesn't have a lot of possessions because he's so giving."
Sarah Jessen was not happy with her edit
While Michael Jessen clarified that 90 Day Fiancé is not scripted, his wife was a little irked with how one of her conversations was edited on the show.
Jessen explained, "My ex-wife Sarah, you know one of the things that bothered her quite a bit, was an early scene. The first time she and Juliana were meeting, it was when we were still at the apartment I had in Greenwich. And I forget the exact words but it was Sarah saying something about, I don't expect you to be a mother to Max and Cece, or I don't want you to be a mother to Max and Cece. And the other half of the quote that was conveniently sorta left off was, 'because you just got here and I don't want you to have that kind of pressure.' So you know, of course the way it came out on the show seemned to make it sound like Sarah was being a little aggressive, and trying to be territorial I guess."
"It was upsetting to her, that's not her nature, and it wasn't the nature of the relationship at that time with Sarah and Juliana," he added.
Michael Jessen on his ex-wife's presence in his life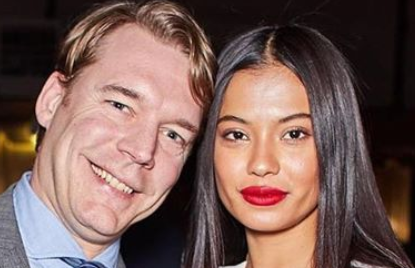 Sarah Jessen is a big part of Michael Jessen's life to this day, a fact that some fans of 90 Day Fiancé seemed to take issue with. 
When asked if it is awkward to have Sarah around so much, Michael Jessen replied, "No, actually it's not. Sarah's new husband Sean is actually one of my closest friends now, we're doing a music project together. We found our own, a better relationship for us. We still love each other, but then I guess the way life works is that this turned out to be a better way for us to have a more successful relationship." 
It sounds as if Michael Jessen, Sarah Jessen, and Juliana Custodio have set up a happy family — here's hoping to many years of future happiness.