'90 Day Fiancé': Michael Wants to Ship Angela His Sperm, Fans Are Done
90 Day Fiancé couple Angela and Michael have had a rather sexually explicit storyline this season, and fans are feeling fed up with it. The two recently shared a steamy date in the bathtub that got a little too revealing for many fans. Now, Michael Ilesanmi has to ship his sperm to Angela Deem for fertility procedures, and yet another revealing interaction has fans feeling grossed out. 
Angela and Michael's 90 Day Fiancé bathtub scene was a little too much 
Angela and Michael of 90 Day Fiancé fame have had some major problems in their relationship recently. Angela Deem went in for surgeries that Michael Ilesanmi felt concerned and unsure about — what's more he felt a little miffed that she was spending time and money on these surgeries instead of potential fertility plans. 
After a phone call in which Angela insulted Michael, said his penis was small, and told him she was through with him, the two seem to have reconciled. The two made amends in part by spending a steamy evening together over video chat. 
90 Day Fiancé viewers were shown a completely nude Angela Deem, her chest covered by soap bubbles. She made some attempts at sexy quips with Michael Ilesanmi, who followed suit by taking his own shirt off. 
"You know, me and Michael, the furthest we went to having phone sex, Michael shakes his weenie. To him, that's phone sex. Show him my boobs… It's time for Michael and I to reconnect sexually even though we are thousands of miles apart," Deem told producers. She then showed her new chest to Michael, who said it was "okay." 
Michael Ilesanmi followed up with an uncomfortable strip-tease. Angela Deem told him her "clitoris is on fire." It was a lot for fans to take in, and they did so with malaise. 
Now Michael Ilesanmi has to ship his sperm 
Unfortunately, it seems 90 Day Fiancé fans aren't through with Michael and Angela's sex life. Michael Ilesanmi still wants to have a baby with Angela Deem, and has a new plan for making that happen — he wants to ship her his sperm. 
"You and I are getting older, we need to just explore the opportunity we have now," Michael told Angela. 
"What kind of opportunities Michael, you're way over there! I mean there's no way to get you over here just to have a baby. You have to wait for the process to get here," Angela told him. Michael explained that he recently met up with some friends to discuss having a baby.
"We discussed the baby thing. Peter suggested probably, maybe I should go to the fertility clinic to get my sperm tested. And freeze it and then ship it to the U.S. … They will freeze it, fertilize it with the egg which Skyla will probably give us," he explained. 
"So you know what Michael, you can go to that clinic if you want. And you can sit there and masturbate, but you'll do it with me on the phone," Angela said. 
"I'm glad Angela wants to be on the phone with me while I masturbate, I think it will help me get the job done real quick," Michael Ilesanmi said in a sneak preview for next week's 90 Day Fiancé episode.
90 Day Fiancé fans are sick of the sexually explicit storyline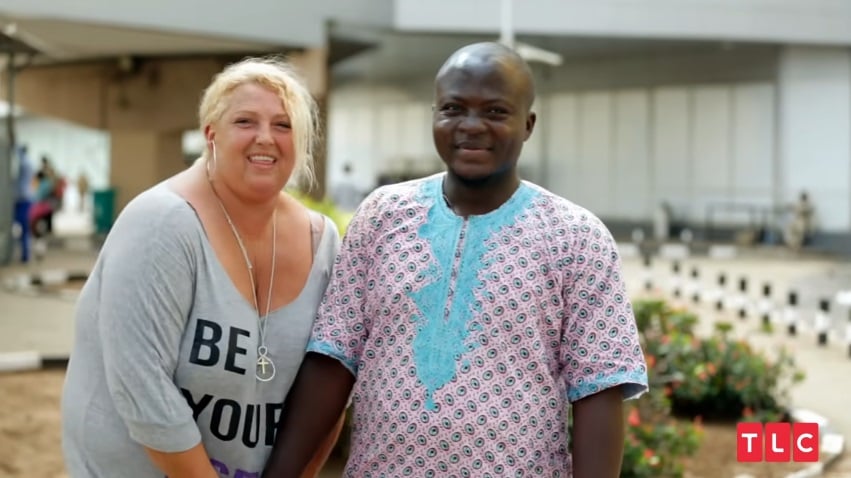 90 Day Fiancé fans are feeling fed up with the level of exposure they're receiving to Michael Ilesanmi and Angela Deem's sex life. Fans were already upset about the tub scene, now they're worried they're going to have to witness Angela watching Michael masturbate. 
"Masturbating with Angela on the phone? Super cringe," wrote one Redditor. 
Another simply added, "I'm disgusted."
"Oof no – the tub was one thing but this is a bridge too far," added another user.
"OMG thanks for the warning…I'm planning on missing this part…this is f—— stupid..TLC is really getting disturbing to watch…WTF," opined another Redditor.
Other Redditors pointed out that a camera crew will have to be involved in the process, whatever that may look like. Fans are feeling increasingly frustrated with Angela and Michael's storyline, and this whole masturbation situation isn't helping.