'90 Day Fiancé': Molly Hopkins Gives Angela Deem Tips On Her Bra
Angela Deem and Michael Ilesanmi finally prepared to tie the knot in Michael's home country of Nigeria on a recent episode of TLC's 90 Day Fiancé: Happily Ever After.
The grandmother of six struggled to get her nerves under control—particularly because her family wasn't able to attend the wedding, leaving her friend JoJo to serve as her only witness—as she got her hair done and slipped into her wedding gown.
And as 54-year-old Angela prepped nervously for her long-awaited wedding to Michael, fans couldn't help noticing one thing: her struggles with her bra under her bridal dress.
And who better to give tips on finding and wearing the best bra than Molly Hopkins and Cynthia Decker, stars of TLC's 90 Day Fiancé: Pillow Talk and business partners at a custom lingerie store?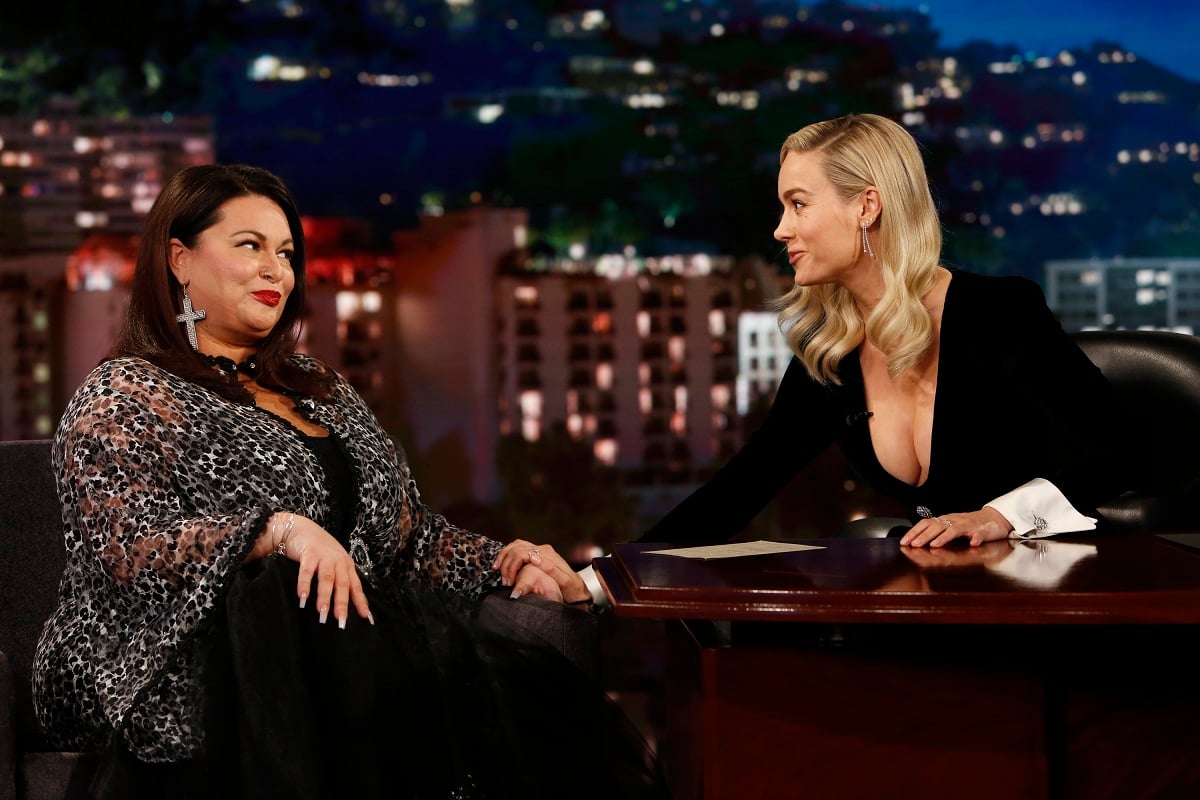 Angela's castmates joked about her bra as she prepared for her wedding
As Angela got ready to walk down the aisle with Michael on 90 Day Fiancé, she admitted that she was more than a little nervous. After all, her daughter, mom, and grandkids would all be unable to attend her big day.
"I always thought my wedding day would be a happy day," Angela said as she had her hair primped and prepped. "But my nerves right now are shot."
Luckily, her good friend JoJo was on hand—to help her with her cleavage, no less?
Angela's castmates on 90 Day Fiancé: Pillow Talk immediately reacted to her unconventional request.
"She's asking JoJo to hold her t*ts?" Tim Malcolm wanted to know.
Meanwhile, Loren Brovarnik just wished for a little more cleavage of her own. "I wish I had big enough boobs to ask somebody to come hold them up," she joked. Her husband, Alexei Brovarnik, laughed off his wife's comment, quipping, "No, no. Not like that."
Angela's bra has been more of a topic of conversation among 90 Day Fiancé fans than one might expect. The 90 Day Fiancé star has often taken to using her bra as a purse, carrying everything from makeup and money to her cell phone in it.
But today, her bra just got in the way of her wedding gown.
"There's just one problem," a visibly nervous Angela lamented as she took a look at herself in her bridal getup. "The bra. But I don't have enough time to change it." Angela's bra was shifting over, making it visible through her dress.
"She doesn't have a strapless bra?" David Toborowksy wanted to know on Pillow Talk. "Why didn't she bring a backup plan?"
Cynthia and Molly had a few tips when it came to Angela's brassiere
Of course, Molly and Cynthia had some thoughts about Angela's wedding day bra. Molly wondered aloud if Angela just "wore a regular [bra] and tucked in the straps." Cynthia added that the dress was much "too low in the front" for that.
Both women agreed that it would be better for Angela just to remove her bra entirely.
"You might as well just take the bra off," Cynthia advised.
"Let it go," Molly agreed.
Fans loved that the pair of friends was bringing their background expertise into their appearances on Pillow Talk. Others just wanted the business owners to make a custom bra for Angela, given her unique way of using it as a handbag.
"Molly and Cynthia need to design a special bra for Angela so she can hold everything!" one 90 Day Fiancé fan wrote on Instagram.
"Oh yes with a pocket for her cell phone," another joked.
Molly and Cynthia own a successful lingerie business
It's no wonder that Cynthia and Molly had some things to say about Angela's bra situation. The 90 Day Fiancé: Pillow Talk stars are business partners who own a successful custom lingerie boutique, LiviRae Lingerie, in their home state of Georgia.
In fact, they're also the only 90 Day Fiancé stars to have headed up their own reality TV show in the past. Molly and Cynthia starred on Lifetime's Double Divas, a show all about their adventures in the lingerie business, which premiered in 2013 and lasted two seasons.
At their boutique, they specialize in lingerie for plus-size women and even fitted Dance Moms star Abby Lee Miller for a bra at one point in the past—so maybe Angela should take them up on their advice.