'90 Day Fiance': Nicole Nafziger Confirms Arrival in United States From Morocco
90 Day Fiancé star Nicole Nafziger left on a trip to Morocco to visit Azan Tefou just as things started getting bad with the coronavirus outbreak. Now, after scrambling to find a way out of Morocco when informed she's be required to leave, it seems Nafziger is finally home. However, fans of the show have been blasting Nafziger for leaving her daughter, May, with Nicole's own mother for months on end amid a pandemic.
Nicole Nafziger seeks a way out
RELATED: '90 Day Fiancé' Fans Call Out Nicole Nafziger for Post About Paul Staehle and Karine Martins
90 Day Fiancé star Nicole Nafziger must have been getting concerned as her deadline for leaving Morocco approached. Nafziger left the USA to visit Azan Tefou in his home country, but things rapidly turned sour as the COVID-19 situation developed.
Soon, Morocco made it clear that it expects foreign nationals to leave the country after it closed its borders to additional travelers. As reported by Morocco World News, "According to Morocco's Ministry of the Interior, as cited by the US embassy in Morocco, non-resident foreigners who were unable to leave Morocco within the normal 90-day limit will be permitted to exit without penalty until the end of Morocco's state of emergency on August 10. Those who do not leave before the specified time may need to go through a legal process of fixing their immigration status and could be subject to fines or imprisonment."
Though Nicole Nafziger had plenty of time to devise an exit plan from Morocco, it seems she waited until the last minute to work things out. This was evidenced by a pair of Facebook posts captured by 90 Day Fiancé blogger John Yates.
In one post, made to a Facebook group entitled, "US Citizens trapped in Morocco," Nafziger wrote, "Has anyone traveled from a different city to Casablanca for their flight since they closed Casablanca from traveling in or out? What did you have to get to travel to Casablanca? Something from the police or from American embassy? Thanks."
A second post read, "Has anyone bought a ticket from royal air Maroc for today, tomorrow, or the Wednesday (3th, 4th, 5th of August) that had their flights canceled [sic]?"
'90 Day Fiancé' fans call her a bad mom
90 Day Fiancé fans have been dogpiling Nicole Nafziger for choosing to head to Morocco during a volatile situation, an act that left her daughter May in the care of Nafziger's parents. This seemed especially dodgy given Nafziger's father's recent arrests.
When one fan called Nafziger out in Instagram comments, she wrote back, "Stop judging my [life] and decisions. Just an idea. I know you won't listen because it's easier to pin me as a bad mom and gossip about the drama. Soon enough, y'all can take a [peek] into my real life. Maybe."
In a different post, fans speculated about Azan Tefou and his intentions. Nafziger's mother replied to fans, telling them, "I am always concerned that someone will try and take advantage of one of my children, but I have also said that he seems like a really nice person. I would rather have her here, but she is in charge of her own life and has to make her own decisions. I can only guide her to a better one, the rest is up to her. I love her no matter what. Thank you for your concern! May is doing great!"
Nicole Nafziger confirms arrival in USA, '90 Day Fiancé' fans react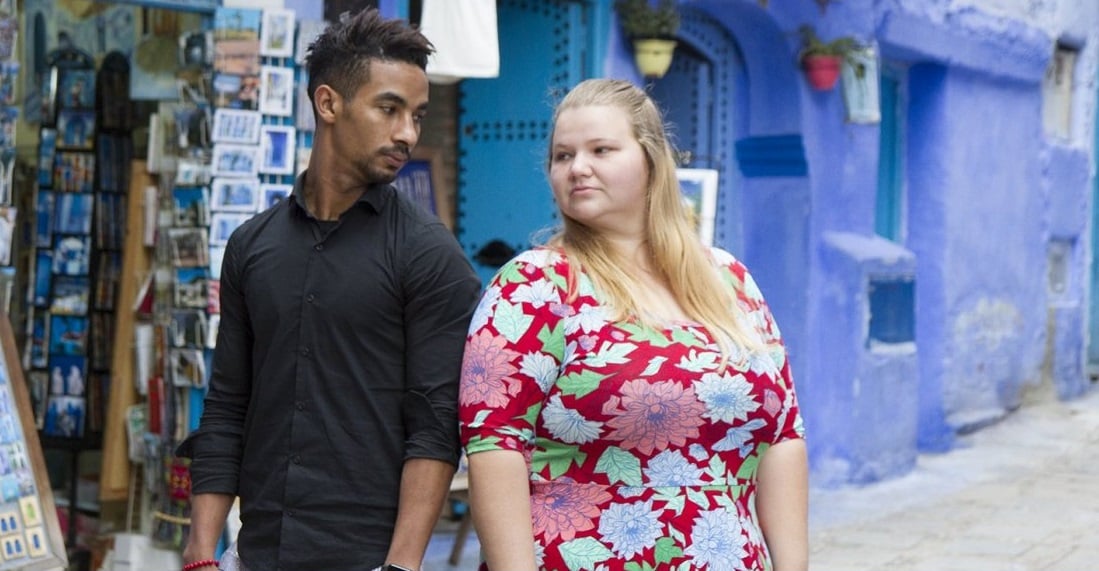 Nicole Nafziger took to her stories to post about her flight home. She recently posted a photo of herself in an American airport, captioned, "Finally back in the U.S."
90 Day Fiancé fans were quick to continue calling Nafziger out. One Reddit user wrote, "So now it's confirmed this woman left her 5 year old for nearly half a year to chase some scamming d*ck. Unbelievable.When Nicole gets home her family needs to do an intervention for her neglect and immaturity. She needs to grow up, get herself a trade so she can have a stable job to take care of her and her daughter."
"I feel very conflicted for May. She's probably happy that her mom is coming home, but she has probably had a lot more stability with Nicole gone," added another user.
One fan, also a mother, commented that the idea of leaving May behind for so long seems outrageous to her. They wrote, "I literally can't even fathom ever leaving her for MONTHS on end half way across the world for a man that literally is embarrassed to be with her, has been known to talk to other women and regularly scams her out of money. She clearly has some severe self esteem issues If she is literally choosing to be with this man instead of her daughter DURING A F*CKING PANDEMIC. I don't understand.. and I feel awful for her baby."