'90 Day Fiancé': Nicole Nafziger Spotted on Hinge Dating App
90 Day Fiancé couple Nicole and Azan have been a staple of the franchise for a long time, despite not being on the air in many seasons. Nicole Nafziger and Azan Tefou's relationship was the topic of fan speculation for many years, with many wondering how legitimate either of their claims were — especially when it came to Azan Tefou's social media posts. There was even a period of time during which fans suspected Azan of having another family or life that he was hiding from Nicole. Now, the two are finally split, and one 90 Day Fiancé fan has run into Nicole Nafziger on the dating app Hinge. 
Nicole Nafziger and Azan Tefou call it quits
90 Day Fiancé fans are not to be trifled with — they keep a keen eye out for relationship details at all times, especially when it comes to social media. So when some fans noticed that Nicole Nafziger hadn't been wearing her engagement ring recently, questions started arising about her status with Azan Tefou.
Nicole soon removed the phrase "engaged from Azan" from her Instagram bio as well, which just added fuel to the fire. However, this wasn't the first time Nicole and Azan's relationship had looked rocky, or even potentially over, so it was hard for fans to be sure. Nicole eventually came forward with the truth of the matter.
"Azan and I have decided to go our separate ways. We had much love and respect for each other, but we weren't without our faults. Unfortunately we can no longer continue our journey together," Nafziger told Celebuzz.
"This may be a shock to many because we stayed strong for so long through it all. But as we move forward and heal, we ask that you respect both parties and not constantly ask about it," she added.
"Thank you to everyone who has supported us together and continue to support us as separate individuals."
'90 Day Fiancé' fan spots Nicole Nafziger on Hinge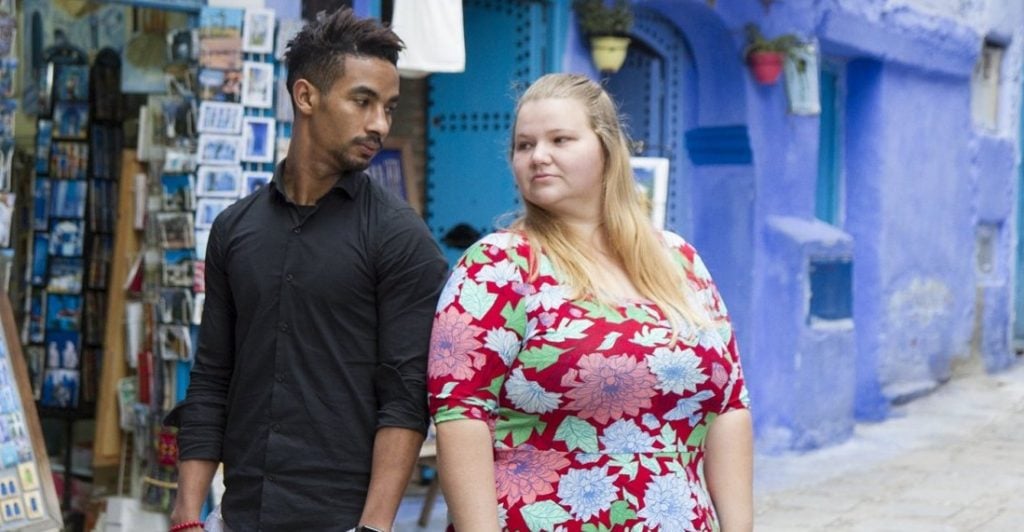 One Redditor recently spotted 90 Day Fiancé star Nicole Nafziger on Hinge following her breakup from Azan Tefou. It seems like Nafziger could be ready to get back into dating, if the profile is real.
Naturally, it's not possible to determine whether or not the profile is actually Nicole or just a catfish using her fame from the show to their advantage.
The Redditor shared a couple of selfies Nicole used as well as a section that reads, "All I ask is that you: Send me a message first and let's see if we vibe."
It does seem easy to believe that the profile could be real, especially given Nicole's recent singledom.
There were rumors Azan Tefou was lying
For a time, there were rumors that 90 Day Fiancé star Azan Tefou was secretly married with a family elsewhere, possibly in Morocco. These rumors picked up so much steam that 90 Day Fiancé alum Laura Jallali got in on them.
"Honestly, you need to return to your daughter. Do not make the same mistake I did, she needs her mom and these men are just users. He has a wife and children. Forget this looser [sic] and come back home to the [people] who really love you," Jallali commented on one of Nicole's Instagram posts.
Nicole eventually cleared the air, explaining that Azan Tefou does not have a wife or kids in the comment section of an Instagram post.
"He doesn't have one. If he was married at 19, then why didn't it say that on his papers when we were doing the K-1? You have to have a paper that says you've never been married. I saw that paper because I put the packet together. Therefore he doesn't have a first wife," she wrote.
RELATED: '90 Day Fiancé': David Toborowsky Opens Fire on Nicole Nafziger and Azan Tefou — 'That Is Not True Love'