'90 Day Fiancé': Nicole Nafziger Visiting Azan Tefou In Morocco
Nicole Nafziger and Azan Tefou might be finished with the 90 Day Fiancé franchise, but they're not finished with each other. Or with keeping fans on the hook when it comes to their relationship. After tons of teases about her current relationship with Tefou on Instagram, Nicole Nafziger has finally revealed that she's visiting Azan Tefou in Morocco. However, there has yet to be any news about momentum in their relationship or a marriage coming any time soon. Here's what we know so far.
Two failed marriage attempts with Azan Tefou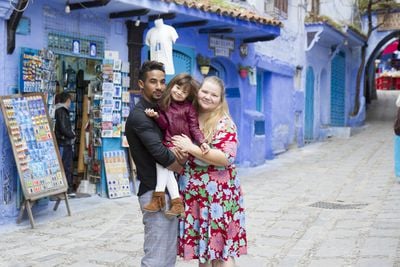 Many 90 Day Fiancé fans have been left wondering when Azan Tefou and Nicole Nafziger are going to the knot, if ever. And perhaps that's not a surprising concern, given that the two have already had two failed marriage attempts. 
Their first attempt at marriage fell through when Nicole Nafziger and Azan Tefou decided to try and tie the knot in Morocco. Unfortunately, Nafziger apparently didn't bring along the right paperwork for her marriage to Tefou. 
However, the two prepared for another attempt at marriage. This one was a bust as well, but the issue was time and money. According to Nafziger, who answered a fan on Instagram, it just wasn't the right timing to make it happen. 
Nafziger said, "Too much pressure not enough time or money. You can't rush this kind of stuff. Do it in the right moment and it wasn't the right moment yet."
Since then, fans have been wondering if the two will ever get married. It's been a long time with no substantial updates, so many fans have begun to assume that it just won't ever happen.
Azan Tefou canceled their last trip
Nicole Nafziger has been hinting for some time that she's planning on visiting Azan Tefou in Morocco soon. However, 90 Day Fiancé fans thought the trip might fall through. And it wouldn't be the first time this has happened. 
Azan Tefou actually canceled the last trip he and Nicole Nafziger had planned together, and the reasoning seemed a little shady. The two were supposed to see one another in Grenada, but Tefou canceled the trip among what he alleged was a "family emergency."
When TLC asked Nafziger about the cancelation, she told them, "It's been a couple of weeks since the trip to Grenada was canceled. I am a little disappointed because I was really excited about it. The day we were supposed to leave, Azan called me and told me that he's not going to be able to come."
Tefou never seemed to clarify what the emergency was all about. On 90 Day Fiancé the two chatted about it.

"So is everything OK with that family emergency?"Nafziger asked Tefou
"Yeah. Thank God, like, really like, things are getting better now. Seems like everything's good," said Tefou. Notably, there were no specific details included in his answer. 
"That's good I was worried. I know my family's been asking what your family emergency is but I keep telling them that you and your family didn't want to talk about it. I'm just sad that I didn't get to see you like we planned. I was just excited," said Nafziger.
Nicole Nafziger visits her '90 Day Fiancé' love in Morocco
Despite all of the nonstarters in their relationship so far, Nicole Nafziger is confirmed to be visiting Azan Tefou in Morocco once again.
Nafziger posted a photo of herself and Azan Tefou together on her Instagram and captioned it, "So happy to finally be with my love again." 
Nafziger also shared a photo of her plane landing in Morocco on her Instagram story, so it seems as if she's actually there with Tefou, and that the photo isn't an old photo, as some fans have suggested on Instagram. 
However, it remains to be seen if Nafziger's latest trip to Morocco will result in any sort of change in her relationship with Azan Tefou.