'90 Day Fiance: One Couple Calls It Quits for Good, While Others Hang on by Threads
Last night's episode of 90 Day Fiance: Before the 90 Days was an absolute rollercoaster even though we are coming close to the end of the season. The couples who are still together are hanging on by a thread while the majority of the pairs have called it quits for good. Honestly, is anyone else wondering how much more drama the producers can pack in one season?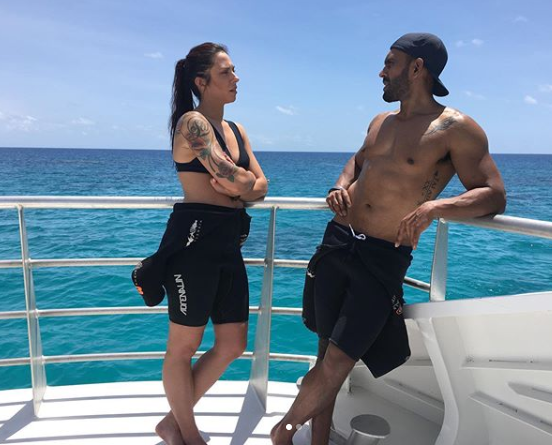 RELATED: '90 Day Fiance': David Murphey Blames TLC for Lana's Catfishing
Who called it quits?
The couples on the show tend to say a lot of things during heated arguments that they take back later. So, when Erika Owens and Stephanie Matto broke up last week after an explosive argument, fans weren't so sure it was an official split. But this week, when Matto tried to win Owens back, the multicolor haired beauty made it clear that she was done.
"I put my heart on the line for Steph," Owens told the cameras. "I came out to my parents, I was willing to risk so much for her but she really hurt me. I don't know if I can come back from that."
Matto did her best to make amends, but it fell on deaf ears.
"All I can do here today is apologize," Matto said after Owens drove three hours to speak to her. "I still have these crazy insecurity and jealousy issues and I shouldn't have brought that into the relationship."
Owens was done with the relationship and pretty much closed the door for good.
"I think I've said everything that I want to say," Owens said. "I just don't give a f*ck anymore, to be honest. I just want to forget that all of this happened, but unfortunately, I can't."
RELATED: '90 Day Fiance': David Murphey Has Dated Over 100 Ukrainian Women
Big Ed Brown and Rose Vega are also broken up, but they didn't see one another face-to-face in last night's episode as Vega left the hotel they were staying in.
Who is still together?
Babygirl Lisa Hamme and Usman Umar are still together despite having one of the rockiest relationships on the show. Even though they are together, their future doesn't seem too secure. On the May 17th episode, Hamme found Umar saying "I love you" to other women in messages on his phone. Umar assured her that it meant nothing, but Hamme found it hard to get over.
Avery Warner and Ash Naeck are also hanging on to their relationship though they have come to terms with the fact that Naeck cannot move to America until his son Taj gets older.
Lana and David Murphey are also finally together after Lana showed up to meet him in Ukraine.
RELATED: '90 Day Fiance': Big Ed Is Trying to Shut Online Trolls Up by Donating to Charity
Are Varya and Geoffrey Paschel getting back together?
During this week's episode, Paschel decided to close the door on Varya and get together with an old flame, Mary.
"I want to find happiness and I want somebody to find that happiness with me," he said in a confessional. "I really do see a future with Mary so I'm hoping the closer I get with her, I'll naturally start forgetting these feelings I had with Varya."
But in a crazy turn of events, Varya flew from Russia to surprise Paschel. The episode ended with Varya and Mary in a verbal confrontation over Paschel.