'90 Day Fiancé': Paul and Karine Share Photos of New Baby
90 Day Fiancé couple Paul Staehle and Karine Martins have had a wild and concerning year. The couple was caught up in a whirlwind of controversy when Staehle recorded a police check-in on their property, followed by Martins fleeing their home with baby Pierre. Now, the two are back together, and Staehle is claiming that the police reports Martins filed after running were fake. What's more, the couple is pregnant once again, and they recently shared photos of their baby. However, fans aren't so sure another child is the best idea for the couple.
Paul Staehle claims Karine Martins' police report was fake
RELATED: '90 Day Fiancé': Paul Staehle Thanks TLC, Says They're Not Fired
Related post url: 
90 Day Fiancé fans were shocked and concerned when Karine Martins fled Paul Staehle's home with their baby son, Pierre. After leaving, Martins filed an alarming police report that claimed Staehle has physically attacked her and forced her to engage in sexual activities.
"If I refuse he throw things, he yells, or he threats to call police, he currently hold my green card and all my documents. I am not allowed to leave the house, he monitor my phone [and] he have cameras around the house and he can see through his phone who arrives or who leaves. He threats take our son Pierre away if I ever leave [sic]," she wrote in part.
Since then, the two have gotten back together, to the dismay of many fans. Staehle has since claimed that Martins' police report was fabricated and false, written by others who allegedly held Martins captive.
"Because of the overwhelming negative impact of fans taking it upon themselves to pick Karine up and then make very serious false allegations in her name acting as her translator and keeping her in their home until another Brazilian she knew from a church group rescued her and got her to our house," Staehle wrote of the event.
'90 Day Fiancé' couple shares new images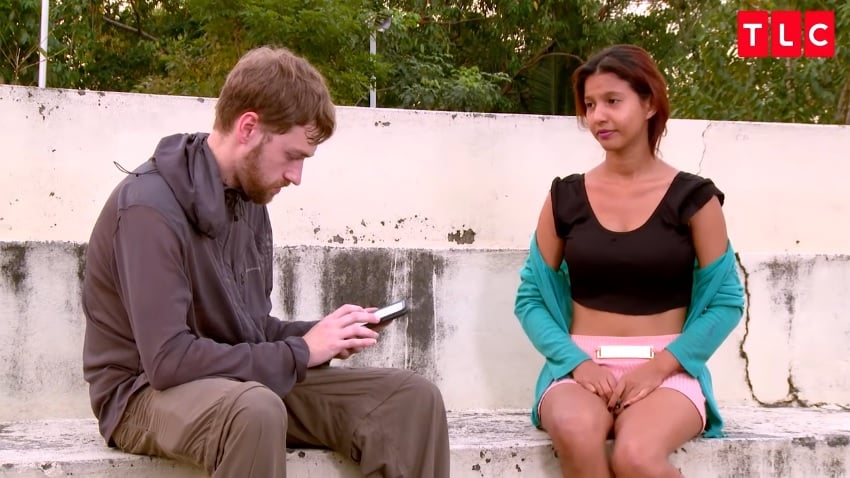 Since getting back together, Paul Staehle and Karine Martins have made it public that they're expecting another baby. The 90 Day Fiancé star informed fans that it is a baby boy, and that they plan on naming him Ethan.
Additionally, Staehle shared some photos from a 3D sonogram of the baby taken at the hospital. While he didn't caption the photo, it includes all of the details of the appointment at the top, leaving fans pretty sure it's legitimate, unlike previous posts by other cast members.
'90 Day Fiancé' fans react
90 Day Fiancé fans, generally speaking, don't seem to be on board with the idea of Karine Martins and Paul Staehle having another baby. Given how much strife there's already been in their relationship, coupled with concerns over Martins' abuse report and a lack of money, some feel it's a bad move for the couple.
"This shouldn't even be allowed. When you can't afford to provide the basic necessities for one – two should be out of the question," wrote one Instagram user.
"Did she find out she was pregnant before or after she called the cops on you," asked another Instagram commenter.
Others pointed out that the baby isn't entering the most stable of relationships.
"What a great idea to have another child…when you don't speak the same language, don't have a reliable source of income, don't have a stable marriage, and have both suffered mental health issues…," wrote one Redditor.
"I was just about to post this. This is so distressing. They're literally the last people to be having more kids. Does he work yet? Do they at least speak one common language yet? I'm confused at their life," added another critic.
How to get help: In the U.S., call the RAINN National Sexual Assault Telephone Hotline at 1-800-656-4673 to connect with a trained staff member from a sexual assault service provider in your area.