'90 Day Fiancé': Paul Staehle and Karine Martins Skip the Tell-All — Were They Banned Over Their Legal Problems?
'90 Day Fiancé' stars Paul Staehle and Karine Martins recently dropped their restraining orders against each other, but that doesn't mean their legal issues are not the reason they are not at the tell-all.
90 Day Fiancé stars Paul Staehle and Karine Martins were the only couple to miss out on the recent Happily Ever After? tell-all. At the beginning of the special episode, host Shaun Robinson simply said that the couple wasn't able to join their co-stars. She did not give any details about why Paul and Karine missed out. After taping a tumultuous season, the couple had a nasty split. The drama — which has included restraining orders — has been playing out on social media. So, it left fans wondering have they been banned over their legal problems and relationship drama?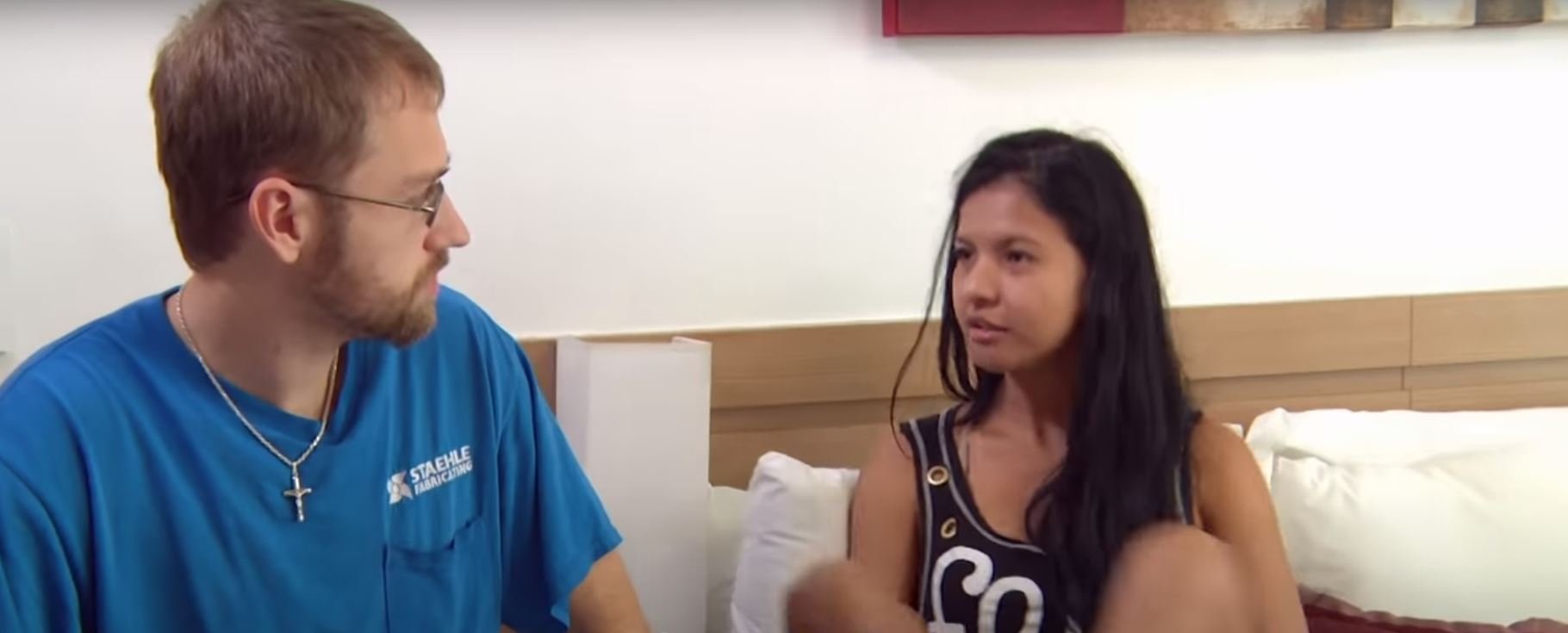 Paul hinted that Karine was pregnant with their second child
Paul and Karine married in 2017 and welcomed their son Pierre in 2019. However, their relationship completely fell apart this past summer after filming wrapped on season 5 of Happily Ever After?.
The couple moved to Kentucky from her home country of Brazil. But they continued to have serious money problems, which caused a lot of fighting. In August, Paul took to social media and claimed that his wife and son were missing after a blowout fight.
It was later revealed Karine and Pierre were fine, but she filed a restraining order against her husband. He later filed one against her and the couple appeared to be done for good.
In early September, Paul gave fans an update on his relationship. The 90 Day Fiancé star wrote on his Instagram stories that he was back in Brazil cleaning up their old house.
"For everyone thinking I am chasing Karine in Brazil. Karine is in Indiana USA," Paul wrote. "I came here alone to clean and organize our Brazil home. It needs to be sanitary and baby safe."
The '90 Day Fiancé' stars are not back together, they are in the middle of a legal battle
Paul also told fans that he's been keeping busy since Karine left. He said he cleaned and organized their house in America before doing the same in Brazil. He added that all his work was on the internet. So as long as he has a wifi connection he can be anywhere. Paul noted that "even court is on the internet these days."
The 90 Day Fiancé star explained that his life revolved around his wife and son. He also claimed that he hadn't seen Pierre since July.
"Next court date is now in December. I will not see my sons for a very long time. So I am keeping busy and constructive," Paul said. "I have lost my sons."
According to In Touch Weekly, Paul and Karine's massive blowout occurred after he went through her phone. Paul discovered that Karine was communicating with a lawyer in Brazil about "child support and divorce."
The heated exchange led to police being called twice in the same day. At that point, Paul and Karine filed restraining orders on each other.
The '90 Day Fiancé' star is afraid he will never see his son again
According to The Daily Mail, Paul and Karine were in court on September 16. They both agreed to drop their respective restraining orders. They also opted to forego their next court hearing in December.
Paul said in August that the restraining order against him prevented him from being within 500 feet of his wife and son. She accused him of sexual assault and claimed that Paul would not let her have her green card. He accused her of putting glass in his food.
"I am terrified he will hurt me or hurt my son because I [ran] away from him and I am even afraid to go back to Brazil now because he can go to Brazil and hurt us," the 90 Day Fiancé star said in court docs.
"I have to accept the fact that I will probably never see my wife and son again," Paul wrote on Instagram last month. "Or see the birth or ever see my unborn child. That being said I think I am doing what is best staying constructive and busy."
Hopefully, fans will find out more on part 2 of the 90 Day Fiancé: Happily Ever After? Tell-All.