'90 Day Fiancé': Paul Staehle Blames Fans for 'False' Allegations and Police Report
90 Day Fiancé stars Paul Staehle and Karine Martins had an alarming summer, to say the least. Friend and fans of Martins grew increasingly concerned as she and Staehle fought more frequently, with Martins finally fleeing Staehle and levying a variety of claims against him, several of which indicated abusive behavior. Now, the two are back together, and Staehle is claiming that the allegations were not only false, but that they've also been dropped. Meanwhile, fans aren't so sure.
Karine Martins fled Paul Staehle, made alarming claims
RELATED: '90 Day Fiancé': Fans Call on TLC to Take Responsibility for the Karine Martins and Paul Staehle Situation
During the summer of 2020, Paul Staehle and Karine Staehle had several altercations involving police. Staehle recorded an incident on Instagram during which officers arrived at his home following a call from Karine Martins.
Martins explained that she felt unsafe in their home, and Staehle fired back by claiming she wanted to take Pierre from him, and that she'd violated a CPS investigation.
After the recording, Martins decided to leave Staehle, taking Pierre with her. Staehle followed that up by rapidly posting and deleting a variety of claims on Instagram. He suggested someone forged a police report on Martins' behalf, and that Martins wanted to flee with Piere to Brazil, so that he could never see Pierre again, among other things.
90 Day Fiancé blogger John Yates screencapped the police report Staehle posted before he took it down. The report has since been removed from Yates' Instagram, but Martins' allegations were alarming. She claimed Staehle' physically attacked her and forced her to perform oral sex.
"If I refuse he throw things, he yells, or he threats to call police, he currently hold my green card and all my documents. I am not allowed to leave the house, he monitor my phone [and] he have cameras around the house and he can see through his phone who arrives or who leaves. He threats take our son Pierre away if I ever leave [sic]," she wrote in part.
Paul Staehle says they're together again, claims were false
Now, Karine Martins and Paul Staehle are back together, and Staehle is claiming that the allegedly false claims against him have been dropped. John Yates screencapped Staehle's Instagram story and posted it to his account.
"The false allegations against me were withdrawn. We are currently in Brazil, Karine's green card was stolen and the embassy is closed because of COVID-19 so we will be here indefinitely…," Staehle wrote in part.
The 90 Day Fiancé star went on to blame fans for what happened with Martins, including the police report she filed against him.
"Karine is very happy to be back in Brazil with her family for the time being. … Because of the overwhelming negative impact of fans taking it upon themselves to pick Karine up and then make very serious false allegations in her name acting as her translator and keeping her in their home until another Brazilian she knew from a church group rescued her and got her to our house," Staehle added.
'90 Day Fiancé' fans are still concerned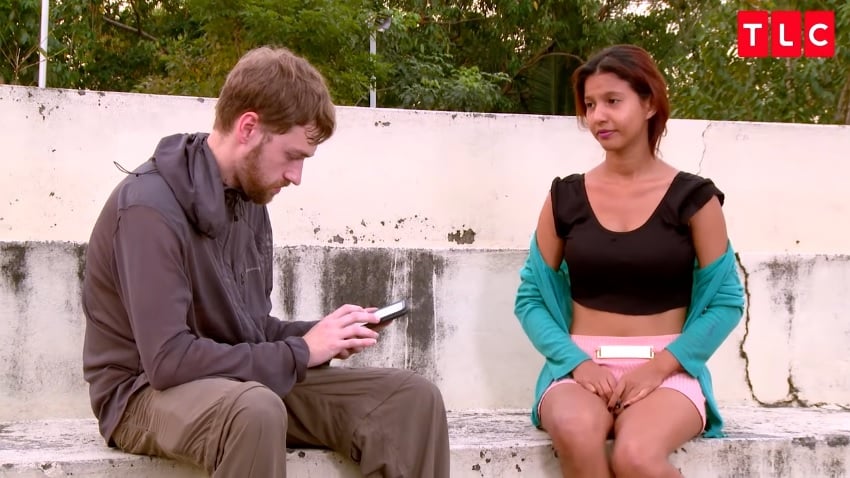 90 Day Fiancé fans aren't totally convinced by Paul Staehle's claims, to say the least. Staehle has a history of erratic behavior and even a criminal record, and fans of the show are still feeling concerned for Karine Martins' wellbeing.
"Don't believe for a second whatever Pole is doing is in Karine's best interest. I hope her parents have figured out his dark side and will not let Karine and the children out of their site, and take care of them. Living in Brazil is her only hope to stay alive and be happy," wrote one Reddit user.
Another user pointed out that it sounds as if Paul Staehle is trying to make it sound as if Karine Martins is the real problem.
"'Karine's family has been a God send and helping me with Karine' is disturbingly careful phrasing to make it seem like Karine is the problem. I'm convinced [Paul is a control freak abuser. Yeah I'm sure Karine 'lost' her green card. I'm disappointed in her judgment she's back with him but if that got her to Brazil I think she has more control of the situation. I don't know how she's ever going to get rid of [Paul]," they wrote.
"Karine was KIDNAPPED?!?!? And you don't think to mention that until the end of the post? What the hell?!?!? If these 'fans' are making false allegations in her name, why would they need to pick Karine up to do that? Why would Karine even be talking to the police (as she would have to be doing for any of this to make sense) if there wasn't some merit to the accusations?" asked another user.