'90 Day Fiancé': Paul Staehle Gives Jorge Nava Some Odd Prison Advice
Paul Jason Staehle first appeared with his Brazilian wife, Karine Martins Staehle, on Seasons 1 and 2 of 90 Day Fiancé: Before the 90 Days. The couple has had a tumultuous road to love, to say the least. Despite many announcements of pending breakups, they're still together and happily co-parenting their young son.
But Paul's past came back to haunt him when he appeared on the show. His visa application was denied at first due to his criminal history, which shockingly included arson charges.
Paul isn't the only 90 Day Fiancé star who's been incarcerated. Jorge Nava, who first appeared on 90 Day Fiancé Season 4 with his Russian wife, Anfisa Arkhipchenko Nava, is currently serving out a prison sentence in Arizona for charges related to selling and distributing marijuana.
Their shared experiences led Paul to take to Instagram recently with some rather odd advice for Jorge, who is slated for release in mid-May 2020. 90 Day Fiancé fans flooded social media with reactions to Paul's eccentric suggestion for Jorge about his post-prison life.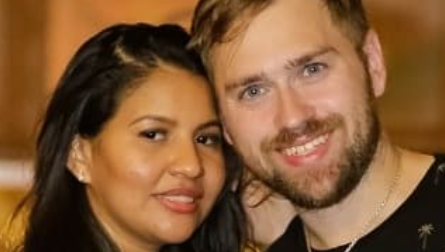 Paul took to Instagram to share some strange parenting advice with Jorge
Paul shares a toddler-aged son, Pierre, with his on-again, off-again wife. And it looks like Pierre will be getting a rather unusual family heirloom from his formerly incarcerated father.
The 90 Day Fiancé star recently shared an Instagram story in which he tagged Jorge and offered a unique suggestion for a gift for his future kids after his release from prison. Blogger John Yates (@johnyates327tv) was able to capture the clip before it disappeared and shared the video on his Instagram account.
"So I actually saved my TV from prison," Paul said in the clip, "and now it is actually a perfect television for Pierre. So, hopefully Jorge saved his TV, and when he has a kid one day, he can do the same thing. But it works out great on his little table here by his bed."
The '90 Day Fiancé' star's comments sparked plenty of fan reactions
Under Yates' post, 90 Day Fiancé fans couldn't resist making a few jokes about Paul's surprising advice to Jorge. Paul has always been a little "out there"—often sparking controversy with his frequent breakups with Karine and claims of impending divorce, only to reunite with her—but this was an odd comment, even for him.
"It's a family heirloom," one commenter quipped.
Another Instagram user added that the eccentric video was classic Paul. "Only Paul would be proud of passing his prison TV down to his son," they wrote.
Others were surprised that Paul was even allowed to remove his prison TV at all. "I didn't know that prison TVs [could] be taken as a souvenir," one 90 Day Fiancé viewer mused.
Some viewers were surprised that Paul didn't seem embarrassed or upset about his time behind bars at all. In fact, he almost sounded proud of his prison sentence and eager to discuss the experience with Jorge. "Paul talks so casually and nonchalantly about his time in prison, like it was a vacation and not a criminal sentence," one Instagram user commented, "and he acts like he took home a souvenir from a girls' trip."
'90 Day Fiancé' fans were surprised to learn about Paul's serious criminal history
Jorge was arrested in Arizona in 2018 with nearly 300 pounds of marijuana in his car. Although he was sentenced to two and a half years in prison, he is set to be released on May 11 after just two years behind bars.
And Jorge is far from the only 90 Day Fiancé alum with a criminal record. Paul struggled to get a visa in his wife's home country of Brazil due to his extensive past criminal charges, which included violating an emergency restraining order from an ex-girlfriend and even arson allegations.
According to In Touch Weekly, TLC was fully aware of the Kentucky dad's questionable background. In a Facebook Live video the outlet recovered, Paul admitted to much of his past and said he'd discussed it with 90 Day Fiancé producers before appearing on the show.
"So production and TLC both did a very thorough background check on me," he said in the video.
"They asked me a lot of questions in regards to it, they did their own investigation — I think it was like a week they had to go through everything because it takes a little bit of time to actually pull up court documents and see exactly what happened, statements from people, what happened with situations." Paul added that TLC took his criminal history "very seriously."