'90 Day Fiancé': Paul Staehle's Mother Hospitalized
90 Day Fiancé stars Paul Staehle and Karine Martins have had a tough time of it recently. The couple seems to have been considering divorce for some time, but it remains unclear where they stand as a couple now. However, Staehle has previously claimed that Martins ran off with another man. And to make matters worse for Staehle, his mother has just been hospitalized. Luckily, his son Pierre was there to spread some good cheer. Here's what went down.
The '90 Day Fiancé' couple heads towards divorce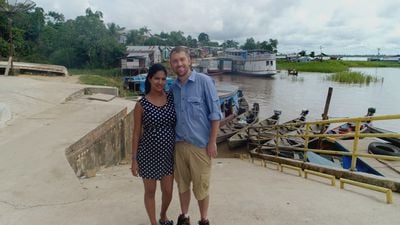 When it comes to Paul Staehle and Karine Martins, 90 Day Fiancé fans have become somewhat accustomed to divorce claims. The couple has had a tumultuous relationship, to say the least. 
It's seemed as if the two have been on the path to divorce for quite some time. In November 2019, Paul Staehle added a note to his Instagram story in Portuguese. It translated to, "Karine started divorce proceedings in Manaus."
In another Instagram story, Paul Staehle wrote, "I will probably go up the Amazon to try to convince her to live with Pierre in [the] USA with or without me. I just want the best possible life for my son."
In November, Karine Martins told Us Weekly, "Yes, I am looking for a lawyer now." However, both Paul Stehle and Karine Martins link to each other's Instagram pages in their bios, and refer to each other as spouses, so it remains to be seen what the future holds for the 90 Day Fiancé couple.
Paul Staehle claimed Karine Martins ran off with someone else
Since November, Paul Staehle has made claims that his 90 Day Fiancé wife has run off with another man — claims that Karine Martins has pushed back on. 
During a call with 90 Day Fiancé blogger John Yates, Paul Staehle claimed that Martins ran off with her personal trainer, Blake. He told Yates, "He's been talking to her — I caught him back before we got married. So they've been 'friends' before we got married."
Staehle added, "She told me she was feeling a little uncomfortable because he was talking about wanting to have a kid with her. It was almost like, if we were like swingers, and I said 'No we're not swingers.' And I really don't like the fact that he's talking about wanting to have a kid."
"So then what happened was, she went to get a tattoo. So I had Pierre, and Pierre was hungry, and Pierre needs breast milk. … So I was on the way to get her at the tattoo parlor, and she said 'No, no, I'm already done. I left.' … So I found out she was with Blake, she was at Blake's house," claimed Staehle. 
Karine Martins addressed Staehle's claims on her Instagram story in Portuguese. It translated roughly to, "I want to make it clear that I didn't run away with another man, no one knows what I go through and the way Paul lied about me on a live show, that I must be strong and seek my rights. I will not talk about my personal life. I never told Paul that he won't see Pierre, on the contrary, I have proof that I said that Paul is Paul and has a right to his son too."
Paul Staehle's mother hospitalized
Sadly, the drama doesn't seem to let up for the Staehle family. Paul Staehle recently shared a short clip to Instagram of his mother playing with Pierre Stehle, his baby son. 
His mother appeared to have an IV in her hand, however, Staehle did not address why his mother was hospitalized. However, judging by his mother's energy and tone of voice in the video, she seems to be in good spirits. His mother also seems to have developed a strong bond with Pierre, who she tickles in the video. 
In one Instagram comment, Staehle's mother refers to Pierre as a "prince of two countries."