'90 Day Fiancé' Season 9 Premiere: Fans Call Bilal's Prank on Shaeeda a 'Red Flag'
Why '90 Day Fiancé' fans think that Bilal 'pranking' Shaeeda on her first day in the US is a red flag.
90 Day Fiancé Season 9 premiere introduces fans to Bilal and Shaeeda, and fans already see red flags. Bilal's prank on Shaeeda on her first day in the United States was something that made fans feel uncomfortable. Will Bilal's "prank" backfire on him?
Bilal is worried Shaeeda is only with him for money
During the April 17 episode of 90 Day Fiancé Season 9, audiences are introduced to Bilal for the first time. Bilal, a successful real estate investor and agent, attributes his attention and his Muslim faith to his success. He said, "I'm extremely fortunate that I've been able to achieve the American dream."
In the premiere episode, Bilal discusses with his ex-wife, Shahidah, the arrival of his fiancée, Shaeeda, who is coming to live with him in Kansas City, Missouri. Bilal tells his ex-wife, "She is gonna be coming in town this weekend."
However, Shahidah is concerned that Bilal presented an image on social media that could attract gold diggers. She asks him, "Does she really love you for you because we know you got your money. We know you drive a little Mercedes." She continues, "What I'm saying is, women can be blinded by the lights. The glitz and the glamor of what she thinks you have."
Bilal tells his ex-wife he's purposely not showing Shaeeda his nice home and cars. He reveals, "I've never shown her some material things related to my success. Because I wanted to see if she was really in it for me."
Bilal pranks Shaeeda on her first day in America
Just ahead of Shaeeda's arrival, Bilal decides he will pull a prank on her. He admits that the stunt is part prank and part test. He explains, "We're not going to immediately come to actually the home, so she won't see this house, she won't see any of her surprises, any of the gifts I got for her until the day after she comes."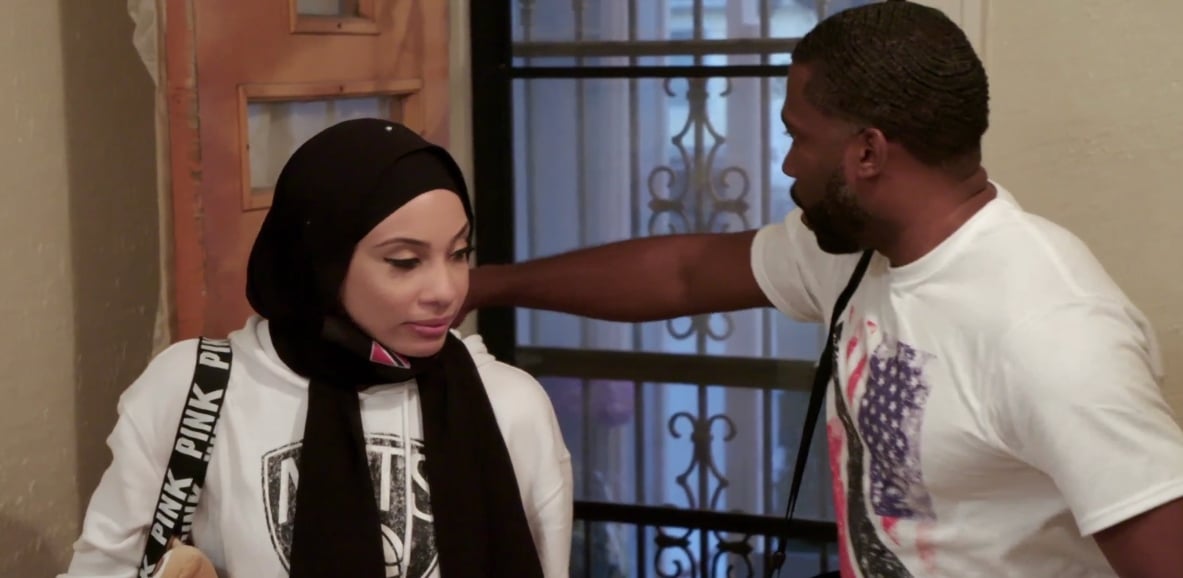 On the drive to the airport, Bilal says, "I'm going to pick up Shaeeda in a van that's not mine. It's a work van, so it's been used, abused for a bit." He explains the plan, "Also, I'm going to bring her to my childhood home, the home that I actually grew up in."
Bilal explains to his sister, Nefertari, that his plan is to see if she would be "down with somebody if they had less than." He explains to the cameras, "I'm putting Shaee to the test a little bit because I'm a prankster. I love pranks. And I love just making people laugh, so I wanted to see if I can get a rise out of her. But two, I want to make sure that Shaeeda truly wants me for me and not for what I have."
'90 Day Fiance' fans call Bilal's prank a 'red flag'
While Bilal is hoping that Shaeeda will think it's a funny prank, many 90 Day Fiancé fans don't see the humor in it. A fan wrote on Reddit, "Pranking your fiance on her first day in America, #redflag" Check out the post below:
Another fan posted on Reddit, "I get wanting to know someone loves you for you and not your money, but for f***'s sake this isn't a 'prank.' She's moving to this country to be with you, she's trusting you, and the first thing you're going to do is deceive her?"
The fan continues, "She's leaving behind everything. She needs to know she is marrying someone with a stable income and can take care of himself and her. This is childish."
Other fans agree that this "prank" probably isn't the best idea for starting a new life with someone. In the previews for the upcoming episode, April 24 episode, Shaeeda is feeling uncomfortable in her new life. She tells Bilal, "I am not comfortable in having to live like I'm in the 1900s."
Could Bilal's "prank" backfire on him? Fans will have to keep watching to find out what happens between this couple. New episodes of 90 Day Fiancé Season 9 air Sundays on TLC and discovery+.