'90 Day Fiancé': See a Throwback Photo of Syngin Colchester Sitting on a Cannon
Tania Maduro and Syngin Colchester have become household names with their appearances in the 90 Day Fiancé franchise, and they're fan favorites to some. Syngin Colchester recently shared a must-see photo of himself sitting on a cannon. We have all the details to know about it.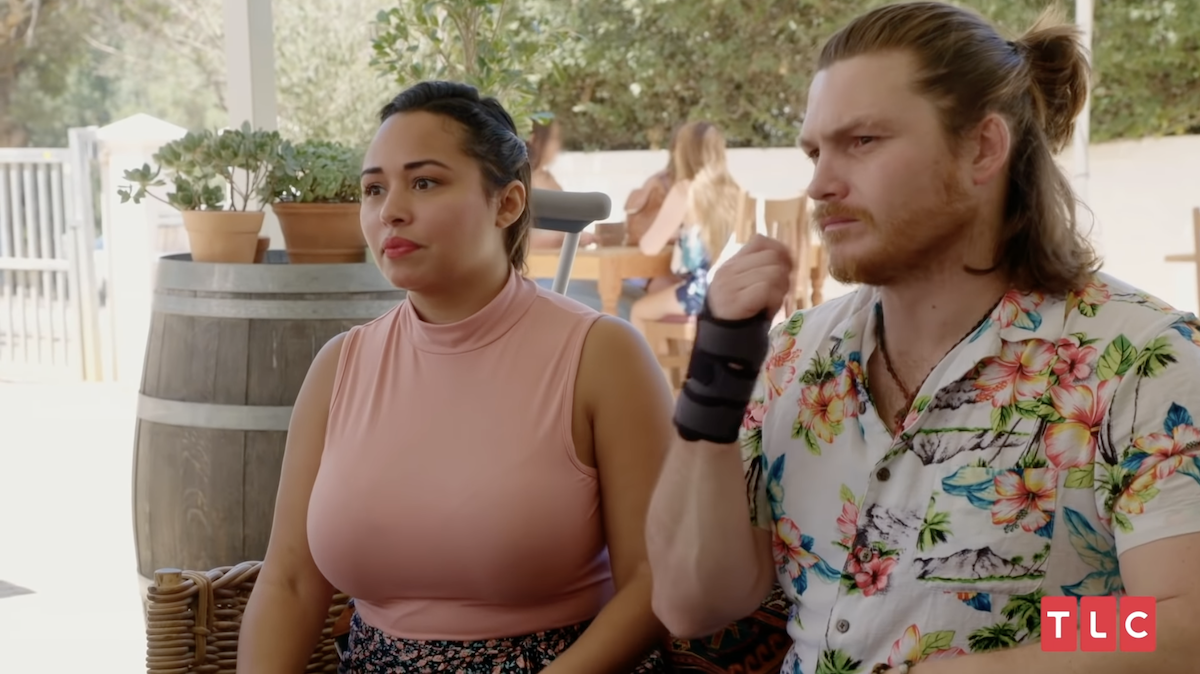 Tania Maduro and Syngin Colchester in the '90 Day Fiancé' franchise
Both Tania and Syngin currently live in Connecticut together, and they met under some unusual circumstances. It turns out Tania flew to South Africa to be with another man that she met on a dating app. The guy was flying to South Africa the next day, and he bought her a ticket. Tania went over there, but she explained on 90 Day Fiancé, "he was actually not a good guy."
Tania left and went to a bar, and it's there that she met her future husband while he was bartending. She went back to his place that night, and she stayed with him for almost two months. Syngin then came to the United States on the K-1 visa, and they were married in season 7 of 90 Day Fiancé. But these two have had their fair share of fights, that's for sure.
Syngin Colchester recently shared a throwback photo of himself sitting on a cannon
On July 1, 2021, Syngin shared an image that fans will want to see. In it, he sits on a cannon with his shirt off. He has on shorts and sneakers as he has his legs up and crossed on the cannon while he has his arms and hands behind him with his hands resting on the cannon. He tagged himself in Cape Town, Western Cape, and beyond the cannon some of the city can be seen, Cape Town. He tagged some landmarks in the post via accounts, including Table Mountain and Lion's Head, as well as Cape Town itself.
He captioned the photo: "#Tbt to the days before American food, marriage, and that COVID weight 🤣🤣😅🤪." Syngin goes on to mention that he "picked up over 20 pounds."
"But I still love myself the same and I always will, because in that there is true happiness," he continued. He also made a joke about starting his "fitness journey" with his brother "soon in 2045." But then he adds: "Hahaha no just joking it will be very soon." He also gave credit to Tania for taking the photo, and he included some hashtags as well.
What '90 Day Fiance' shows can Tania Maduro and Syngin Colchester be seen in?
The couple can be seen in a variety of spinoffs in the franchise, including in season 7 of the original 90 Day Fiancé. From there, they've been in season 5 of 90 Day Fiancé: Happily Ever After. But that isn't all, they are also in HEA Strikes Back and discovery+ exclusives, including 90 Day Diaries, 90 Day Fiancé: Love Games, 90 Day Bares All, 90 Day Lovers' Collection, and 90 Day: Foody Call.
It's always nice to see throwback posts like the one Syngin Colchester just shared from South Africa.