'90 Day Fiancé': Should Angela and Michael's Baby Conflict Be a Dealbreaker?
90 Day Fiancé couple Angela Deem and Michael Ilesanmi have been struggling to maintain their relationship recently. As their storyline progresses, it's become clear that the two have different priorities and goals. Angela has been pursuing surgeries for her health and self-image, while Michael wants her to focus on having a child. Now that Angela is finished with her surgeries and has mended fences with Michael, he's bringing the subject up again.  fan90 Day Fiancés think that this should have been a dealbreaker from the outset.
Angela and Michael fought over surgeries, make up
Angela and Michael have been struggling lately on 90 Day Fiancé. Angela Deem decided to go in for surgeries that Michael Ilesanmi wasn't thrilled about. Naturally, it's her choice what she does with her body, and so she went ahead as planned. 
Michael gave Angela the cold shoulder for a while, resulting in Angela telling him that they're through. However, the two have since made efforts to mend fences, with Michael giving her an apology for his behavior. 
"The surgery thing — I don't, I didn't like it. But you still went ahead and did it. So it really hurt me, the fact that my opinion didn't count in the situation and the decision making," Michael told Angela. 
"The reaction that I did, it's kind of childish. That's why I just wanna apologize for the way I treated you right after your surgery, you know? Not being there for you, I'm sorry," he added.
"Michael, it's not that your opinion didn't matter — I would have died, I really believe that," Angela replied. "Michael, you need to step up to the plate or it's time for us to separate."
Angela added that she needs to know Michael will be there to support her in the future with other surgeries and help build her up.
Michael Ilesanmi pushes for a baby, Angela seems uninterested
Now, after just barely keeping his 90 Day Fiancé relationship with Angela Deem afloat, Michael Ilesanmi is back to pushing for a baby. Angela doesn't seem on board with the idea, citing her age. 
Michael suggests that he should head to a fertility clinic to have his sperm tested, frozen, and shipped to Angela so that they can implant one of Skyla's eggs.
Michael has previously told Angela that he doesn't masturbate or look at porn due to his religious beliefs. Angela explained that he'd have to masturbate at the clinic, seemingly trying to dissuade him. 
"You know what you gotta do when you go get your sperm? You're gonna have to masturbate. Michael that don't masturbate is gonna go masturbate to get sperm to send over here to America," she told him in what felt like a "gotcha" moment. 
"You know you're gonna have to look at pornos and all that, that you don't believe in. So you know what, Michael, you can go to that clinic if you want. And you can sit there and masturbate, but you'll do it with me on the phone," Deem added.
"I'm surprised Angela agreed to do the consultation with me. I don't know if Angela is fully committed to this idea or if she just wants to shut me up," Michael told producers. 
'90 Day Fiancé' fans think it should have been a dealbreaker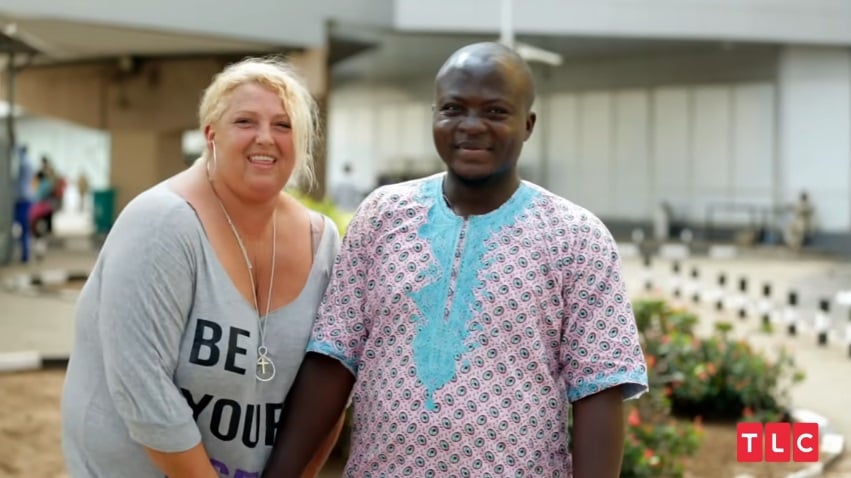 90 Day Fiancé fans are feeling as if Angela and Michael should have called it off over his desire to have a baby. 
"The hard, but right decision would have been for her to leave him when it became clear that he wanted children and she knew it was virtually impossible for her to have (or even carry) a child," wrote one Redditor. 
"And even though she would not be able to get pregnant, she told him she would do what was necessary for them to have a baby," pointed out another user. 
Some users suggested Michael Ilesanmi was just as much at fault for thinking Angela Deem could have a baby at her age. Other commenters pointed out that Michael seems to know very little about pregnancy and fertility. 
"She was adamant she could with medical intervention and used his ignorance on fertility to convince him the 'egg' they observed in the doctor's office was actually all they needed. She then wasted no time moving the goalposts so everytime it comes up there is a new impossible goal he must overcome to make it happen," added one viewer.