'90 Day Fiancé' Spoilers: Do Emily and Kobe Get Married in Season 9?
90 Day Fiancé fans are eager to find out if season 9 couple, Emily Bieberly and Kobe Blaise, will have a happily ever after ending this season. Do Kobe and Emily overcome their obstacles and get married? Here's everything we know.
Warning: this article contains spoilers for 90 Day Fiancé Season 9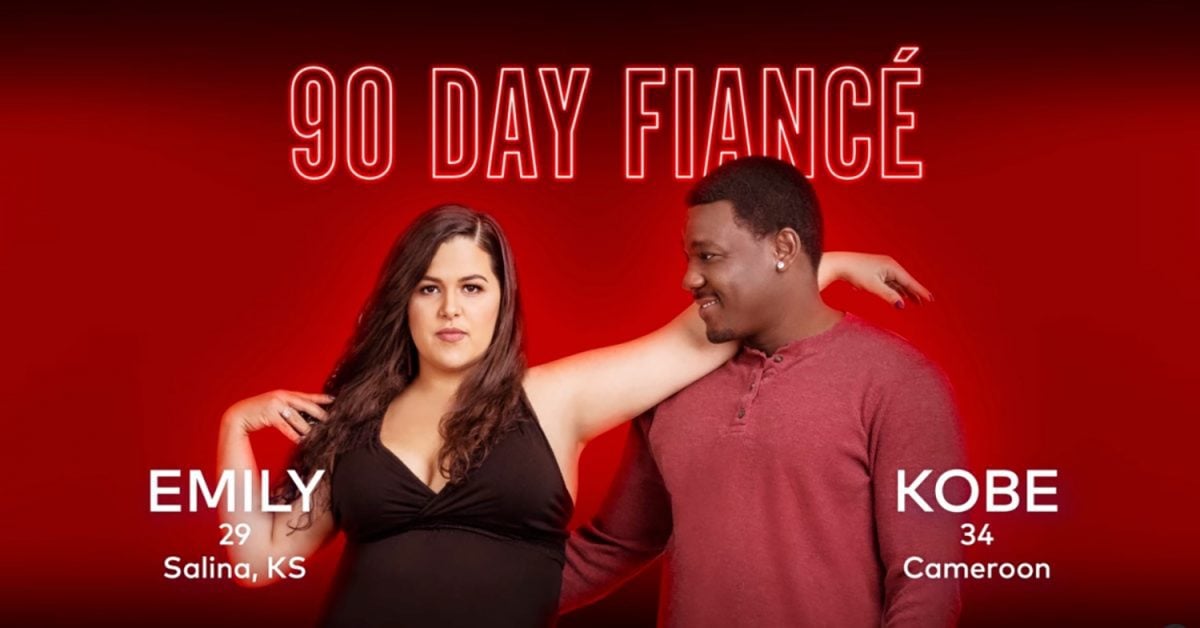 Kobe and Emily's '90 Day Fiancé' journey so far
29-year-old Emily met 34-year-old Kobe while teaching English in Xi'an, China. The two began dancing at a nightclub. One thing led to another, and what was supposed to be a one-night-stand transformed into a full-fledged engagement. During the end of her stay in China, Emily found out she was pregnant with Kobe's baby. Emily had to return home to Salina, Kansas, and Kobe returned to Cameroon, Africa.
However, Kobe missed the birth of his son due to visa delays caused by the coronavirus (COVID-19) pandemic. Two years later, Kobe's K-1 visa was finally approved, and the couple is starting their lives together in the small, mid-western town, Salina.
On 90 Day Fiancé Season 9, Kobe finally meets his son for the first time. The TLC show documented the heartwarming moment between father and son. Now, Kobe is adjusting to his new role as father to Koben and soon-to-be husband to Emily, but not without difficulties. After many episodes of Kobe and Emily arguing, audiences want to know if this 90 Day Fiancé couple will have what it takes to get married before the end of the 90 days.
Do Emily and Kobe get married in '90 Day Fiancé' Season 9?
90 Day Fiancé cast members are under a non-disclosure agreement, making it so they cannot speak about their relationship status. There are some hints that suggest Kobe and Emily are still together. Here are the clues that indicate that Kobe and Emily get married during 90 Day Fiancé Season 9. Both Kobe and Emily's Instagram accounts have photos of each other.
On May 8, Kobe made a tribute to Emily in honor of Mother's data. He posted a series of photos of Emily when she was pregnant with their son. Check out the Instagram post below:
He captioned the post: "Happy Mother's Day to all the beautiful moms out there who've been through a lot just to put a smile on a child's face. I wish my mom was still Alive so I could tell her how much I love her but still, I got this wonderful woman who has made my life more meaningful. Babe, you are an example of what a good mom is all about, I love you and I really appreciate all you've been through in raising koban in my absence. Happy Mother's Day once again."
In the comments of the post, Kobe gushes over Emily. He wrote, "She's my queen." Because Emily's Instagram is chalked full of photos of her and Kobe, it's safe to say that this couple ends up working through their issues and gets married in season 9.
Relationship hurdles Emily and Kobe have to overcome
It's not going to be easy for this couple. Since Kobe arrived in Kansas, he's been trying to adjust to his new role as a father to Koben. However, Emily feels uncomfortable trusting Kobe to take care of their son. Kobe is growing tired of dealing with Emily's nagging and digging about his competency as a father. Will Emily be able to let up on the control and let Kobe step into his role? This is yet to be seen.
Another major hurdle in their relationship is that Kobe feels uncomfortable living in small-town Salina, where he feels out of place with the lack of diversity. Also, cultural differences, such as how long Emily should breastfeed her son, have also become a point of contention for this couple.
While it's not confirmed that Emily and Kobe will get married, it seems pretty sure that this couple will end up together. It will be interesting to see how they will go from arguing all of the time to becoming a functioning family unit. While it's not impossible, it seems like there will be plenty of growing pains.
90 Day Fiancé Season 9 airs Sundays at 8 pm EST on TLC.
RELATED: '90 Day Fiancé' Spoilers: Do Kara and Guillermo Get Married in Season 9?