'90 Day Fiancé' Star Yazan Homeless and Jobless Due to Relationship With Brittany Banks, Fans React
90 Day Fiancé couple Yazan and Brittany Banks have some major cultural differences to overcome. The two have been struggling to maintain their relationship in the face of expectations laid on Banks by Yazan's parents, who are rather orthodox Muslims. Meanwhile, Banks has been hiding the fact that she's still mid-divorce from both Yazan and his parents. Now, with Banks leaving Yazan behind to go finalize her divorce, Yazan is in hot water with his parents, and has found himself bereft of both job and home.
Yazan's parents weren't fond of Brittany Banks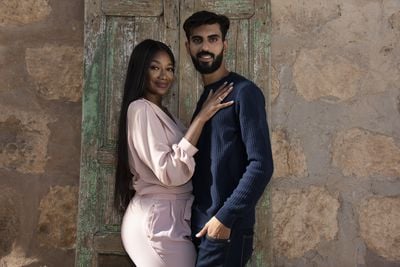 RELATED: '90 Day Fiancé': Brittany Banks Dishes On Getting Liposuction
When Brittany Banks visited Yazan's parents on 90 Day Fiancé, things did not go well. Right off the bat there's a big language barrier between Banks and Yazan's family. To make matters worse, Yazan's parents are not fond of Banks social media presence and penchant for revealing photos.
"We don't accept my son to even be in an amorous relationship or even a romantic one with…I mean, with all due respect, so you're still on social media and you still are as you are. Cancel all of this. Cancel all the life you've been living, and you would marry Yazan," said his father.
When his parents asked Banks when they were going to get married, pressing for it to be sooner rather than later, Banks replied January. This didn't make them very happy.
"I don't wanna ever see your parents again. I'm done," Banks later told Yazan.
"I'm not good at dealing with emotions. This situation with Yazan's parents made me crazy," she told producers.
Yazan lost his job and home
Now, Yazan is revealing that he's lost both his home and his job as a result of his relationship with Brittany Banks, and his father's disapproval.
"We sat down and he started talking about Brittany. He said he is not accepting of the whole marriage. He doesn't want it. He started asking about social media," Yazan told his friend Mohammed on 90 Day Fiancé.
"Those are old pictures, Mohammed. He started telling me that she's playing with me, she doesn't want to marry me. They feel that she is just lying to me."
The 90 Day Fiancé star revealed that he defended Banks to his father, and as a result, his father kicked him out of the home and fired him from his family job.
"I spent the first night at my uncle's. After that, I had to stay on the street for two days. Then I rented an apartment and looked for work. I don't talk to anyone. I spend time alone. I swear, Mohammed, this has been the most difficult, truly the most difficult time I've been through," he told his friend.
'90 Day Fiancé' fans react
90 Day Fiancé fans were naturally dismayed to hear that Yazan received such draconian treatment from his father. Many of them seemed to feel as if Brittany Banks didn't truly understand how her relationship with Azan and behavior in Jordan could affect Azan personally.
"I don't think Brittney understood or cared what she was getting Yazan into. I guess Brittney leaving again was too much for his family," wrote one user on Reddit.
"She makes me so mad. She seems to only be on the show to boost her profile. And she laughs about everything no matter how serious it is. I hate watching her confessionals," wrote another fan.
However, not everyone agreed. One user pointed out that Yazan should have known ahead of time that things would not be easy.
"[H]e knew who she was and had all her social media accounts well before she went to Jordan to visit. He knew his parents would hate Brittany if they saw her social media platforms. This is a sh*tty situation but the responsibility doesn't fall squarely on Brittany's shoulders," they wrote in part.
"Wow, going through a late rebellion stage while living and working for his parents was a bad idea. Shocked," wrote another user.