'90 Day Fiancé' Stars Larissa Lima and Jess Caroline Drag Colt and Debbie Johnson During Tell-All — 'We Are Not Friends Here'
Larissa Dos Santos Lima and Jess Caroline became fast friends at the end of this season of 90 Day Fiancé: Happily Ever After. And in the new Tell-All episode, the two Brazilian reality stars savagely drag their mutual ex Colt Johnson and his mother, Debbie.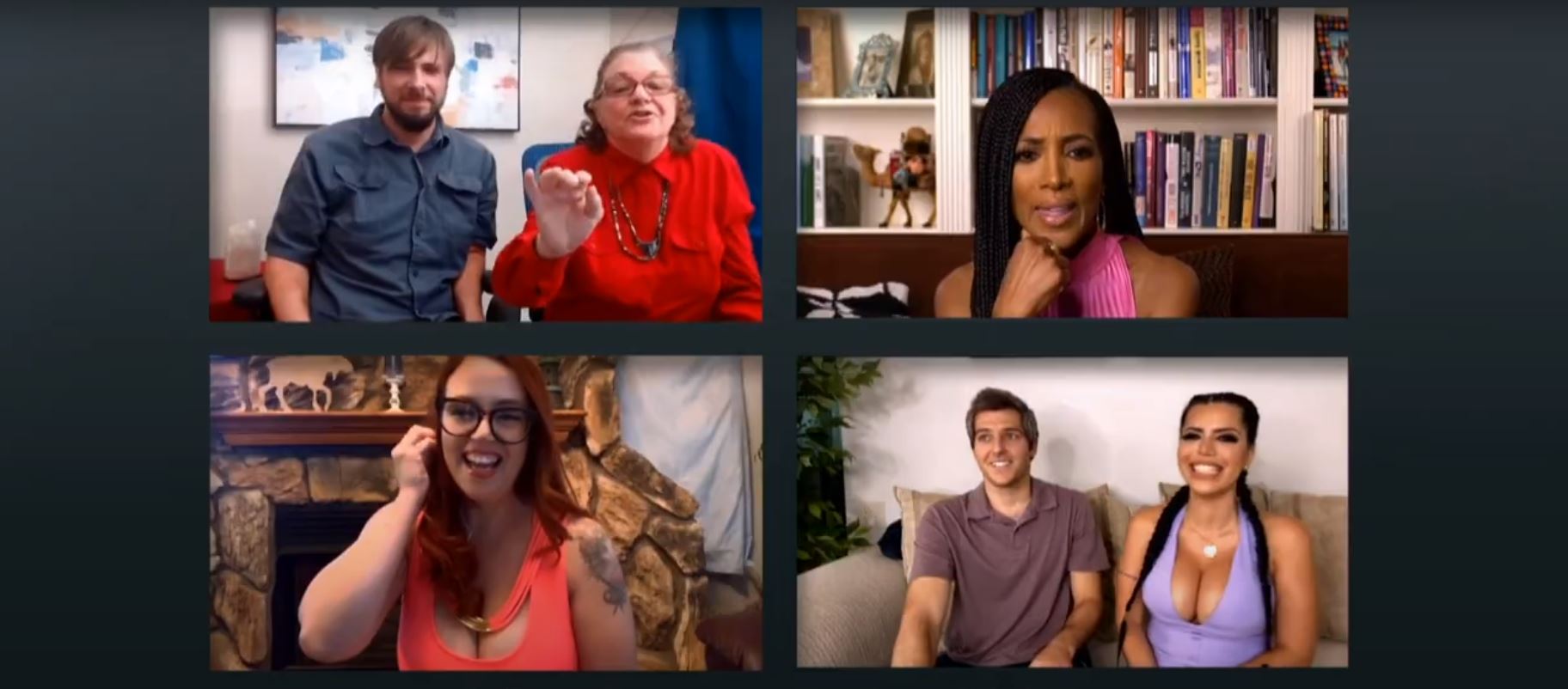 '90 Day Fiancé' fans watched the rise and fall of Colt's relationships with Larissa and Jess
On season 6 of 90 Day Fiancé, fans watched Colt marry Larissa and move her into his Las Vegas home with Debbie. The two argued a lot, and Debbie was often involved in their drama. Eventually, after nearly a year of marriage and multiple domestic violence arrests for Larissa, the two filed for divorce.

And on this season of 90 Day Fiancé: Happily Ever After, viewers saw Colt date Jess, despite his mother's disdain for her. She always felt Jess was using Colt for a green card. And she eventually planted the seeds of mistrust that led to their breakup.
Jess and Larissa met on this season of '90 Day Fiancé: Happily Ever After' 
On one of the final episodes of the season, Jess dumped Colt after discovering that he sent promiscuous photos to numerous women. She also found out that the woman he told her he stopped talking to — Vanessa Guerra — had become his new roommate. 
After splitting with Colt, Jess met up with Larissa to vent. She recognized that Larissa was right when she called her earlier to warn her about Debbie. And she regretted not heeding her warning. 
But both Brazilian reality stars were happy to get to know each other. And since then, they've been posting selfies and videos on social media showcasing their support for one another. 
On the '90 Day Fiancé' Tell-All episode, Larissa and Jess drag Debbie and Colt
In a preview for the upcoming 90 Day Fiancé: Happily Ever After Tell All, Larissa and her boyfriend Eric joined Jess, Colt, and Debbie for a reunion video call. But right off the bat, Debbie slammed Jess and told her she was done with her and would choose Larissa over her any day.  Then, as things started getting tense, Jess and Larissa called Debbie a devil/demon after noticing her bright red shirt.  
When host Shaun Robinson asked Larissa how it felt to see Colt after so long, the reality star said she could care less. "I really don't care if Colt is here or not," she responded.
But upon hearing that statement, Debbie unleashed her own angst. She accused Jess and Larissa of being in a club meant to destroy Colt's love life. 
"Shaun, they are in a club, that's out to kill Colt's relationships," Debbie says, while Larissa and Jess guffaw at the comment. "They're so angry at him that he dropped them, that they have this club, that they talk to each other — But these two are best friends."
Larissa tells Debbie to 'shut up'
After hearing Debbie's suggestion that they are in some anti-Colt club, Larissa and Jess laugh. "Shut up," Larissa exclaims. "Leave us alone. You have no morals,"
Jess thanks Colt and Debbie for sabotaging her relationship, noting that she's so much happier now. When the host asks Colt about Larissa's new look, he gives a snarky answer about how different she looks. 
"I recognize you because you are fatter than ever," Larissa says to Colt, who then calls her Larissa McGillicuddy. "I'm gonna call you Colt c**kold," she replies. 
But after being dragged by Larissa and Jess, Debbie is done. "I'm not going to play this game," she says. "We're not going to sit here and be insulted if this is what's going on. We were trying to be nice to her, and she starts calling him fat."
'If he's going to [sic] be ironic with me, I'm going to be ironic with him," Larissa says. "Come on. We are not friends here."
Fans can see more of their discussion on the upcoming Tell All episodes, which will air Sundays on TLC.