'90 Day Fiancé': Steven Ruins First Date With Alina by Coming Clean About His Past Sexual Relationships
90 Day Fiancé: The Other Way star Steven Johnston ruins the first date with his girlfriend, Alina, by bringing up his past sexual relationships. The 25-year-old devout Mormon felt Alina had the right to know about his past if they were to get married. Steven thought it was a good idea to drop the bombshell on Alina during what was supposed to be a romantic date.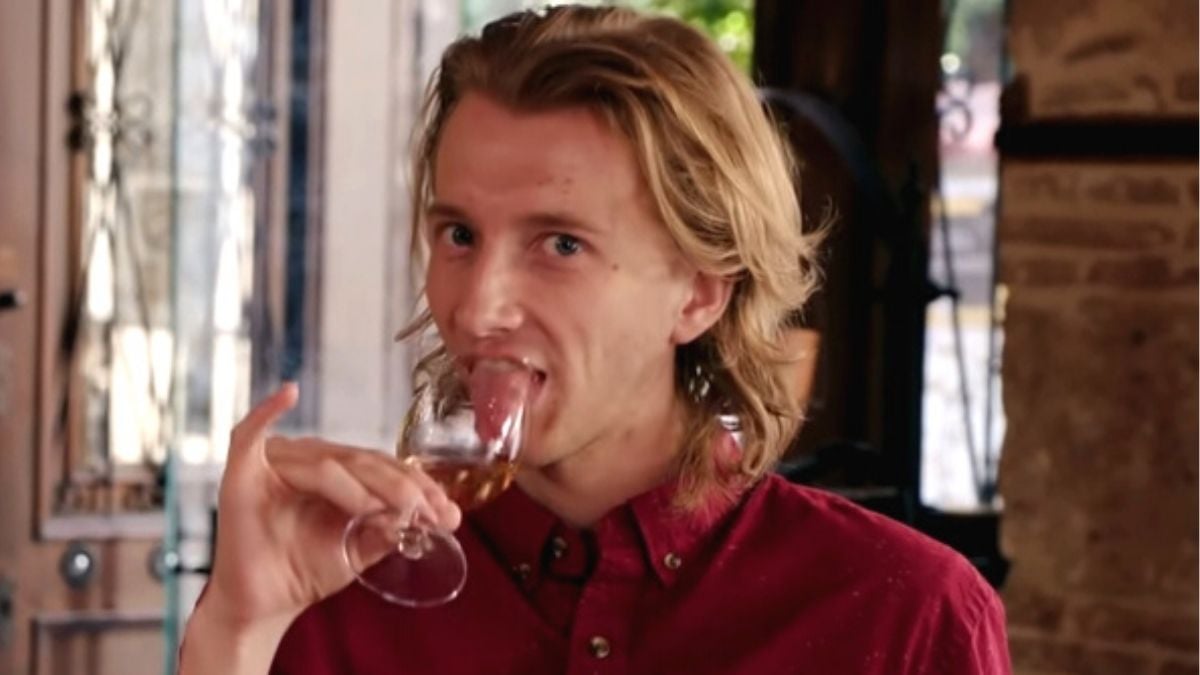 Alina and Steven have a wine tasting date
On the October 3rd episode of 90 Day Fiancé: The Other Way, Steven, and Alina go out for a romantic evening. This is their first real date since they've been in Turkey. The two only two weeks together in person, chaperoned by Alina's mother, which means this is their first date alone.
Steven, a devout Mormon, cannot partake in drinking due to the church's rules, which means he will only be tasting the wine, not drinking it. He made that very clear, telling Alina, "No swallowing." This was Steven's first time tasting wine. The 25-year-old Steven makes faces of disgust and spits out the wine after every sip. Alina says, "Watching him taste wine is a little bit awkward. She said that what should have been a "romantic activity" quickly turned into something "disgusting."
Steven tells Alina he's not a virgin
The wine tasting date went from bad to worse when Steven thought this was the opportune time to tell Alina that he isn't a virgin. He said, "There's something else I'd wanted to kinda confess." Steven explains, "I haven't been 100% open and candid with you about my past." Alina is shocked to find out Steven isn't a virgin and that he's had pre-marital sex with other women.
Steven tells Alina, "I am not a virgin. I have had sexual relations." He explains, "I'm telling you this because I love you, and I want to make sure you know everything about me before we get married. Alina is speechless by Steven's confession. She sighs and says, "So many words."
Steven and Alina were saving themselves for marriage
Because of Steven's Mormon faith, both he and Alina have decided to remain "untouched" and "pure" for each other. This means that they both planned to wait for marriage before having sex. Alina assumed that Steven was a virgin, as he talked constantly about the importance of the law of chastity. It came as a big surprise for fans that Steven wasn't practicing what he was preaching.
Alina has been considering converting to Mormonism to be with Steven. Because of this, Steven had initially planned on sleeping in two different places during their time before marriage in Turkey. However, Alina was scared to live alone in a foreign country. She convinced Steven to stay with her instead of at the hostel. He was hesitant to do so as he didn't want to "accidentally have sex" before marriage.
If Steven spitting the wine out like a child during the date didn't ruin it, telling Alina about his past sexual relationships surely did the job. Many 90 Day Fiancé fans are confused by Steven's behavior, saying it was probably the worst time to bring up such a critical discussion. After ruining the date, now Alinas has to figure out if she should even marry someone who has kept such a vital piece of information from her. It will be interesting to see if the two still end up getting married or not.