'90 Day Fiancé': Syngin Colchester Thanks Tania Maduro For Being There For Him In His Darkest Moments
Tania Maduro drew criticism from fans almost immediately for her treatment of her South African fiancé, and eventual husband, Syngin Colchester, on TLC's 90 Day Fiancé Season 7. Tania's monthlong trip to Costa Rica in the middle of Syngin's first 30 days in the U.S., as well as her assertion that Syngin wasn't her "soulmate," made many viewers wary of her.
Still, the controversial 90 Day Fiancé couple has stayed together, and seemingly happy, since getting married at the end of the season. Syngin recently discussed a painful time in his life on Instagram and praised his American wife for helping him through it.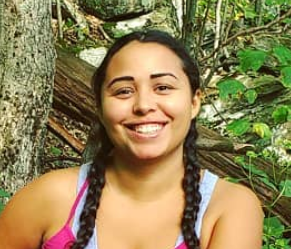 Syngin and Tania sparked controversy on '90 Day Fiancé' Season 7
Tania and Syngin quickly became one of the most talked-about couples on Season 7. Many fans didn't exactly take to Tania, who first drew ire from viewers for not fixing up the shed behind her mom's Connecticut home where she and Syngin would be living for their first 30 days in the U.S.
Next, the 29-year-old 90 Day Fiancé star angered viewers with her 30-day herbal medicine intensive in Costa Rica. Because of the terms of Syngin's K-1 visa, he couldn't accompany her, so he had to stay alone in the U.S. with Tania's mom while Tania headed off to her class. In Costa Rica, Tania joked about flirting with other guys and staying out late dancing and drinking, which rubbed some fans the wrong way.
Finally, Tania told Syngin during an astrological reading that she wasn't sure he was her soulmate. In fact, she thought another love from her past was her true soulmate, while Syngin was more of a life partner.
Still, Syngin repeatedly defended his fiancée on social media, and the pair tied the knot in an unconventional wedding ceremony at the end of the season.
The couple got married and seems to be going strong
Although Syngin and Tania experienced plenty of hate on social media during Season 7, they seem to be happy together today. Although it's not clear as to where they live now or if they're together during quarantine, they often post about one another on Instagram.
Recently, Tania took to Instagram to share a throwback photo of herself in New York City with Syngin. "One of my favorite things is to watch Syngin experience something for the first time (well really anytime but firsts are special). He doesn't hold back joy, excitement, amazement, or glee!" she gushed about her man. "It brings me so much joy watching him in pure wonder. Him seeing the NY skyline at night like this, was one of those times."
Syngin commented, "I love this," which indicated to many viewers that the couple was still happily married.
While some fans made critical comments, many defended the couple and criticized TLC for Tania's edit. "Two of the coolest people on the planet!" one Instagram user wrote under Tania's photo. "I loved how real and honest y'all were with each other even it wasn't comfortable! The tattoo wedding rings was badass! Something hubby and I [are] considering, hope to see y'all soon!"
Another agreed, writing, "Wish all other couples on the show were like you. Genuine, and down to earth."
Syngin has done his own share of gushing about Tania on social media. But under his Instagram photos, the comments aren't always so positive. Under a recent throwback photo of himself traveling with Tania, one 90 Day Fiancé fan wrote, "Are you still with that crazy broad?"
Other Instagram users wondered why Syngin stuck with Tania despite the way she appeared to treat him on the show. "Ugh, why would you stay with her? She literally has zero redeeming qualities AND treats you like sh** AND lives with her mother lol come on bro," one critic argued.
Another criticized Syngin's choice to stay with Tania for the long haul, writing, "I checked to see if you're still together and I am disappointed to see that you are. Her and her mother don't deserve you 🙄 I feel bad for you!!"
But Syngin seems perfectly happy with his American wife. He recently shared a series of photos of the couple's DIY wedding, at which they even got matching tattoos in front of the guests.
"I know I haven't posted a wedding picture yet so [here] you go a behind the [scenes] look into our big day..👸🏽🤴🏻," he wrote. Syngin added, "I love you so much and thank you for everything you have done for me…you have helped me more than anybody and you support me and love me so much, I could never have asked for a better human in my life right now."  
Syngin recently praised Tania for being there for him during a hard time in his family
Most recently, Syngin shared a more intimate look into his life on Instagram—and a story that hinted at a deeper bond with Tania than many 90 Day Fiancé fans believed they had.
Opening up about his grandma's death soon after he came to the U.S., Syngin shared a series of photos of himself with his beloved granny from his childhood.
"This is a sad story and nobody knows about it till now!" Syngin revealed. "A week before leaving to America I went and greeted my granny and grandpa…the only grandparents I had…after I left them, later that day my granny went into the hospital and 2 weeks later when I was already in America she died."
Syngin shared that he felt "broken" and angry about not being able to return to the U.S. to attend his grandma's funeral after her passing due to his visa-related travel restrictions. But Tania had a beautiful idea about how to keep his grandma's memory alive, even from a distance. She suggested they plant a bush together in his grandma's name.
Writing that he "loved" that idea, Syngin expressed gratitude for Tania's support, empathy, and comfort during his time of loss. "I would like to say thank you @tania.maduro for being there for me at the hardest times and giving me comfort support and love thank you so much," he wrote. "So we went and got a flower bush just to plant in her name that's the least I could do for her."