'90 Day Fiancé': Syngin Colchester's Friend Thinks Syngin and Tania Maduro 'Rushed Into Things Way Too Fast'
On 90 Day Fiancé: Happily Ever After, fans have become really fond of Syngin Colchester's good friends, Andrew and James. The former roommates clearly share a special bond, and they make an eventful appearance during the virtual Tell All. Andrew actually admits that the couple "rushed into things way too fast."
Andrew and James defend their friend Syngin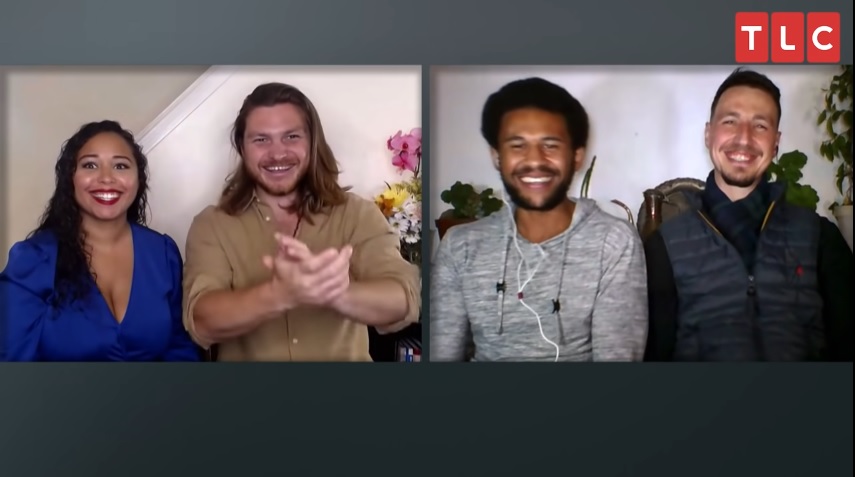 While Syngin is back home visiting in South Africa, he takes the time to see Andrew and James. They have a fun night out drinking, and on another occasion, he brings his wife with him, where they get into an argument.
During the evening, Tania mentions there were "so many flags" when the couple first starting dating. Andrew tells the cameras that he calls it "denial."
"I'll call it denial," Andrew explains. "She mentioned the whole time, 'Red flags, red flags, red flags.' Which means, you saw it. You just chose not to believe it. He was completely honest and blatant with everything. You sold yourself."
During the same evening, James even defends Syngin when he recalls all the "red flags" Tania mentioned before. "I'm going to have to defend him right there and take you back to all the red flags that you said yourself that you've ignored," James puts in.
Andrew thinks Syngin and Tania 'rushed into things way too fast'
Andrew and James are brought in on the second part of the Tell All, and it adds an interesting dynamic to the whole dialogue. The host, Shaun Robinson, asks the duo what they think the problem is in Syngin and Tania's relationship in regards to the conflict, and Andrew doesn't hold back.
"Tania," Andrew declares. "I'm sorry. It is a touchy subject, but you guys rushed into things way too fast." James nods his head in agreement.
Shaun asks for more clarification, and Andrew says, "I just feel like the relationship escalated so fast that they were living in the moment for so long, especially because of the way they met each other and the way things went down, that they didn't ever actually just stop and look at what we are actually doing. And now you're at this point where you're like, 'We are married. We live together. We're doing the thing. But like how did we get here?'"
Syngin and Tania reveal whether or not they think they are a 'fit' together
Shaun then asks James if he thinks Tania is the "right person for Syngin." James flips it to Tania, and asks her if it's a "fit."
Syngin answers, and says, "I, I think we are not a hundred percent fitting together, no."
Tania says that she does think they fit together, and if she didn't think they were a "match," she would have "separated" from him.
Next, Shaun asks Andrew and James if they think Syngin and Tania are "soulmates." They both laugh, and James goes on to say that if a couple can "work at it," they will "succeed."
"OK, whether that is going to make you happy for the rest of your life is up to you," James continues. "As far as a soulmate, I think you'll only be able to, to really answer that question at the end of your relationship."
Andrew and James provided an interesting outlook on the whole situation. Will Syngin and Tania be able to work things out? We'll have to see what's next for the couple as time goes on.