'90 Day Fiancé': Syngin Feels 'Trapped' and Tania Says They Had 'Lust at First Sight' in a New 'Happily Ever After' Sneak Peek
Syngin Colchester and Tania Maduro were a controversial couple when they originally appeared on the seventh season of TLC's '90 Day Fiancé.' In a new sneak peek for the June 22 episode of '90 Day Fiancé: Happily Ever After,' they revealed what married life was like, five months after their wedding.
Tania Maduro and Syngin Colchester quickly became one of the most talked-about and controversial couples on the seventh season of TLC's 90 Day Fiancé.
30-year-old Syngin, from Cape Town, South Africa, met 30-year-old Tania, from Colchester, Connecticut, when she was visiting Syngin's home country on a whim.
The pair hit it off, quickly fell in love, and spent months traveling South Africa together before applying for the K-1 spousal visa. They navigated financial issues, Tania's infamous monthlong trip to Costa Rica, and arguments about whether they were soulmates or not during their 90 days.
Now, Tania and Syngin are appearing on the fifth season of TLC's 90 Day Fiancé: Happily Ever After. On TLC GO's sneak peek of the upcoming June 22 episode of 90 Day Fiancé: Happily Ever After, Syngin and Tania revealed what their lives were like just five months after getting married in the U.S.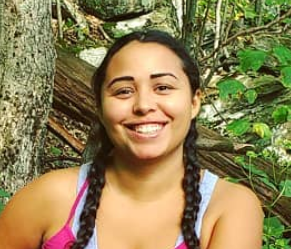 Syngin and Tania reflected on how they met
On their first appearance on 90 Day Fiancé: Happily Ever After, Tania and Syngin took a look back at the lust-fueled way they met. Syngin took Tania home after a night of bartending, and the rest was history.
"I met Syngin in South Africa on a very spur-of-the-moment vacation," Tania began.
Syngin added affectionately, "I was bartending one night in Cape Town. I found this little one sitting at the corner of the bar."
The pair headed home together, but Tania didn't think the relationship would go very far. "Yeah, I just thought it was going to be a one-night stand," she laughed. "Almost broke the shower," Syngin revealed about their steamy first night together.
Tania agreed, "It was definitely lust at first sight."
Still, the couple got a lot more than they bargained for after that first night at the bar. "I knew I was in love with Syngin four days after we knew each other," Tania revealed. After months of traveling together, they decided to stay together when Tania returned to the U.S.
"But being in a long-distance relationship was really hard for Syngin and I, so we applied for the K-1 visa so that Syngin could come and live with me," Tania said.
The newlyweds, now married for five months, also looked back at their early troubles during Syngin's first 90 days in the U.S. Tania wanted to have kids right away, while Syngin wasn't so sure. Syngin's spotty work history and uncertainty about his future also left his fiancée feeling confused and lost. "You know, I was just really nervous that Syngin wouldn't take our future seriously," Tania admitted.
Syngin, too, had doubts about whether they would ultimately make it—especially when Tania confessed that she thought of her first love as her soulmate, rather than Syngin. "There was a couple of times when I was thinking, 'Oh, is this the right thing? Did I make the right decision coming over here?'" Syngin told 90 Day Fiancé producers. "Especially when the soulmate thing came up."
Both Syngin and Tania agreed that their rollercoaster first few months had been rocky, to say the least. "It's rough, like, come on—we have 90 days to figure out if we really want to spend the rest of our lives together?" Syngin said incredulously.
Still, the couple got married—and got matching tattoos!—in an unconventional wedding ceremony before their 90 days were up.
Tania's car accident left her unable to work for several months
Tania revealed that an unexpected injury had derailed the newlyweds' first few months of wedded bliss. "Married life is going pretty good, except for me and my boot," she joked, revealing her hefty cast.
The 90 Day Fiancé star endured a harrowing accident that left her unable to continue working as a bartender. "I was in a car accident a couple of months ago," Tania explained. "I was driving through a green light. Someone was trying to make a turn in front of me. I ended up hitting them, and I spun out. It was really scary." She broke a toe bone and had been fairly incapacitated ever since.
When they got married, Tania said, she and Syngin had planned to travel and continue with their usual free-spirited lifestyle. But her car accident and injury had changed all that. "After we got married, we were looking into moving out of Connecticut because Syngin wanted warm weather, the sun and beach," Tania said. "And then the accident happened."
Because she had health insurance in Connecticut, Tania had to remain in her home state to complete her physical therapy. So their move was put off. Still, the couple was able to move out from the shed in her mom's backyard and into a new, much more spacious home.
Syngin admitted he sometimes felt 'trapped' because of the couple's inability to leave Connecticut
While Syngin said he was happy with his wife and excited to live in a much roomier home, he admitted that he sometimes felt stuck in place due to Tania's injury and the aftermath.
"I am very happy to move out of the shed, but I'm burning to get out of Connecticut," he told 90 Day Fiancé producers. "I really want to travel around. I understand the situation, and I've just got to make the best of it right now. But I'm like, f***. I'm just scared I'll get stuck in Connecticut forever."
And now, the couple had more to deal with than just physical issues. Tania and Syngin also had to wrestle with financial problems, and had had to expedite Syngin's work permit so that he could hunt for a job as soon as possible.
Tania's mom admitted that she worried about the couple's financial stability, especially because Syngin had just recently gotten his work permit and Tania couldn't work at the moment. "I'm happy that they're moving forward together, but I'm a little bit concerned that they don't have jobs right now," she confessed.
While touring the couple's new home, Tania's mom confronted them about their new financial responsibilities. "Financially, you're gonna have rent, electric, gas," she reminded them. "And all the responsibility right now falls on him," she added, referring to Syngin.
Syngin knew he couldn't change the situation, but he admitted that it left him feeling stressed and even trapped at times.
"Before I came to the States, I didn't expect that I would be trapped in Connecticut," the 90 Day Fiancé star explained. "And then the car accident came. Then, boom! So that all just changed within, like, a week. And then, all of a sudden, it's like, 'Oh, f***.'"
"Now I need to go start making this cash, and that puts a lot of pressure in our relationship," Syngin said, adding that he knew he had to step up to the plate—but that didn't make things any easier.