'90 Day Fiancé': Tania Defends Throwing Rose Petals at the Airport for Syngin
90 Day Fiancé's Tania Maduro, who hails from Connecticut, and her husband-to-be Syngin Corchester met when Maduro was on a trip in his home country of South Africa. Things didn't work out with Maduro's dating app match, so she went home with the bartender…who happened to be Corchester. The two ended up getting engaged as a result.
Some of Maduro's friends and family members think the TLC couple isn't well matched. They say Tania is more type-A and perfectionistic, while Syngin is an open-minded free spirit.
One of the funniest moments of the Nov. 10 episode of 90 Day Fiancé, "They Don't Know," came when Corchester arrived at JFK Airport and was met by champagne and a layer of scattered rose petals as he descended the escalator. Some fans criticized Maduro for her choice to scatter the petals, but Maduro took to Instagram to defend her extravagant welcome.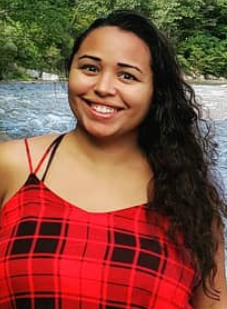 Some '90 Day Fiancé' fans thought the rose petals were too much
90 Day Fiancé fans had mixed reactions to Maduro's rose-petal welcome, with some calling the choice "extra" and even "wasteful" on social media. And they universally loved the maintenance worker's reaction, which was to try to sweep up the red and pink petals off the floor (much to the chagrin of Maduro and her friends who came to support her).
"Tania & Syngin: Rose petals on the airport floor = no consideration for others… Bringing friends along = I'm more important than us. Tania seems a little self absorbed already," one Twitter user wrote in response to the scene.
Another critic agreed, writing, "Tania is already p***ing me off with these rose petals. Who does she think she is making this huge mess in a public space!? Opening up bottles of [champagne]."
Maduro defended her romantic welcome on Instagram
Maduro answered fan questions on Nov. 11, the morning after the 90 Day Fiancé episode, on her Instagram story. And she wasn't shy about addressing the notorious rose petal scene.
"Why throw [petals]?" one fan asked the 90 Day Fiancé star on Instagram. Maduro argued that, for her, it was all about the romance. "Why not yall!" she wrote. "Damn I express love by doing and showing. So let show and shine!"
She pushed back against 'wasteful' accusations
The 90 Day Fiancé bride-to-be also pushed back against accusations that she'd been rude to the airport worker who tried to sweep up the petals, or that she'd been inconsiderate by scattering them in the first place.
"Lol everyone bugging like I don't work in the service industry. #Stop," Maduro wrote on Instagram. "How I can tell YALL dont know how to act is by saying leaving petals in a hotel room is much better," she added, criticizing suggestions that she scatter the petals on the hotel room bed they headed to after the airport.
"As if they also aren't min. wage workers," she wrote, adding the hashtags #LeaveNoTrace and #LeaveATip to advocate for better treatment of service industry workers.
One fan asked, "Why were you so mean to the old man cleaning the airport?" Maduro clapped back with, "Was I actually mean, or did I [say] 'Please don't, he's coming now' and did he REALLY at that exact time need to sweep up that one spot?!"
Whatever the case, it looks like Maduro won't be taking criticism of her storyline on this season of 90 Day Fiancé lying down.