'90 Day Fiancé': Tania Maduro Calls Herself a 'Glutton for Punishment' When It Comes to TLC
Tania Maduro and Syngin Colchester were an especially controversial couple on the seventh season of TLC's '90 Day Fiancé.' Now, the couple is set to appear on the upcoming season of '90 Day Fiancé: Happily Ever After'—but even Tania herself didn't quite understand the couple's ad for the show.
Tania Maduro and Syngin Colchester immediately became one of the most talked-about—and controversial—couples on the seventh season of TLC's 90 Day Fiancé. In particular, many fans weren't too fond of Tania, with many accusing the Connecticut bartender of not treating her South African fiancé with respect.
During Syngin and Tania's season, Tania took to Instagram and opened up about her dissatisfaction with how she was portrayed and perceived. Still, she and Syngin will return to TLC on Jun. 14 for the premiere of the fifth season of 90 Day Fiancé: Happily Ever After.
Recently, Tania joked about the couple's return to reality TV with an Instagram post about a confusing ad for the 90 Day Fiancé spinoff.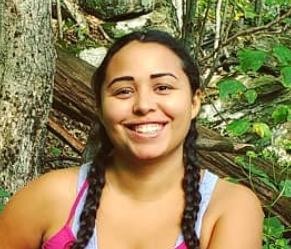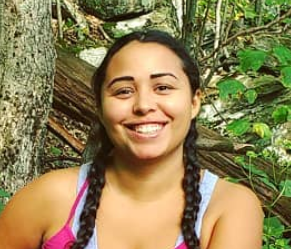 Tania recently took to Instagram to ask her fans what they thought of an ad for '90 Day Fiancé: Happily Ever After'
Before TLC revealed the couples who will appear on the next season of 90 Day Fiancé: Happily Ever After, the network unveiled "mystery" ads with clues about each international pair to help fans guess. Tania and Syngin's ad included the phrases "stars aligned," "size doesn't matter," "permanent love," and "making up for lost time."
Tania shared the ad in an Instagram post and admitted she didn't even know what the clues were referring to. "Lol. What do these even relate to?" she wrote in the caption. "Stars aligned=the birth chart reading. But what about the others? Size doesn't matter? Making up for lost time? Permanent love – the tattoo maybe? What do you think they were relating to?"
The 90 Day Fiancé star added the hashtag "a glutton for punishment," hinting that she knew she might be in for less than a treat by choosing to appear on the reality TV show a second time—especially because she got so much criticism the first time around.
The '90 Day Fiancé' star talked out the meaning of each 'clue' with fans
Many 90 Day Fiancé fans chimed in to guess about the meaning of each clue in the ad. Most agreed that "stars aligned" referred to Syngin and Tania's birth chart reading with an astrological compatibility expert, to whom Tania admitted that she didn't think Syngin was her soulmate.
Most fans also thought the "permanent love" reference was about the couple's matching tattoos, which they got during their unconventional wedding ceremony.
A few followers suggested that the "size doesn't matter" clue might relate to Tania and Syngin's teeny-tiny living accommodations (a she-shed in Tania's mom's backyard) when Syngin first arrived in the U.S. from South Africa.
"Size maybe means living in the shed?" one fan wondered. "I had no idea this was you guys lol the clues didn't make sense to me, thought it was Nicole and Azan." Tania agreed, commenting, "Ooh yeah maybe the shed. I guess it being small?"
As for "making up for lost time," a few Instagram users thought the clue referred to Tania's monthlong trip to Costa Rica for an intensive workshop in herbal medicine after Syngin arrived. "Size doesn't matter [refers] to when you were living in your mom's shed, lost time when you went to Costa Rica for the month," one fan argued.
Tania agreed with the fans' sleuthing, commenting: "Y'all are on it! Lol we really couldn't think of em!"
Syngin and Tania will tackle their soulmate problem, money issues, and arguments about drinking next season
On the upcoming season of 90 Day Fiancé: Happily Ever After, Tania and Syngin will face ongoing issues in their relationship, as well as a few new ones.
In one trailer, Syngin brings up the "soulmate question" once again when Tania presses him on starting a family with her.
"If we have kids, I do definitely want to raise them out here in the States," Tania tells her husband on a dinner date.
But Syngin throws the soulmate issue back in her face, retorting: "You want me to come here and build a family, but you don't even recognize me as your soulmate."
In other preview clips, Tania calls Syngin out for what she believes is his excessive drinking, especially during the daytime. Meanwhile, Tania's mom worries that the couple won't be financially stable if they both don't start working soon.