'90 Day Fiancé' Tell-All: Angela Deem Hits New Low, Flashes the Camera
'90 Day Fiancé' star Angela Deem shocks fans -- again -- by flashing her chest during the preview for the upcoming tell-all episode of the show.
90 Day Fiancé star Angela Deem has been a perennial fixture on the show for a long time, alongside her husband Michael Ilesnami. However, the couple's most recent season on the TLC franchise has left fans feeling alienated, frustrated, and upset — largely thanks to Angela Deem's behavior, but also thanks to explicit scenes featuring Angela and Michael. Now, the 90 Day Fiancé Tell-All episode is right around the corner, and a preview features Angela flashing her chest at the camera as she argues with Michael Ilesanmi's aunt. 
Angela Deem flashes camera during '90 Day Fiancé' Tell-All
The 90 Day Fiancé Tell-All episode is rapidly approaching, and that means the usual bevy of incredible drama. But this time, fans will also be seeing much more of Angela Deem than they bargained for — something that seems to be an overarching theme throughout the season. 
An Entertainment Tonight preview features Angela Deem arguing with Michael Ilesanmi's aunt Lydia. At one point host Shaun Robinson asks Angela if she'd seen her doctor, who she'd found attractive, outside of her medical appointment. That's when things kick off. 
"I went to his birthday party," Angela Deem reveals.
"Why didn't you tell me this before," Michael asks Angela, after which she tells him to shut up.
"I want good things for Michael," Michael Ilesanmi's aunt Lydia chimes in.
"Who gives a sh– you're not his wife, are you screwing him?" Angela retorts.
"Have some respect for your husband," Lydia replies.
That's when Angela decides to stand up and get in Lydia's face. The problem is, Lydia is on a screen. So Angela takes her rage to the camera, baring her chest. 
"You mind your own business. You will not tell my f—— husband what to do. Suck on these brand new f—— t——!" Angela tells Lydia. The rest of the cast is suitably shocked.
Angela and Michael have had a number of shocking episodes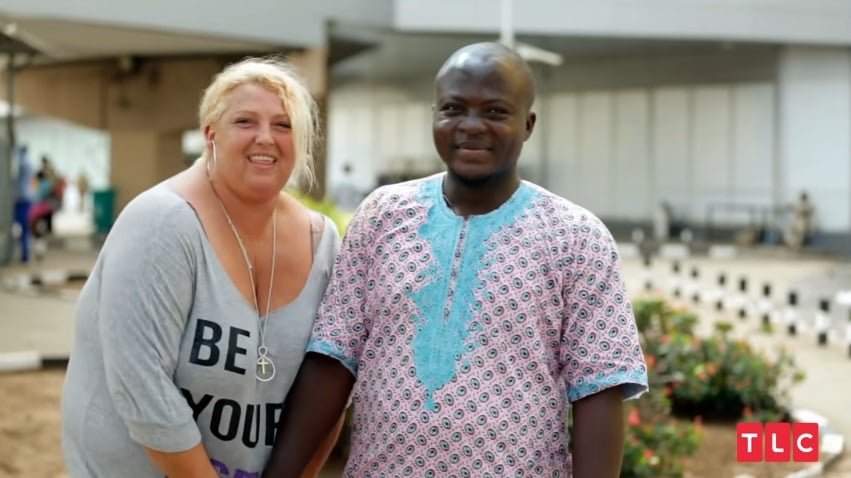 90 Day Fiancé fans will be the first to attest that this is not the first shocker from Angela Deem this season. In fact, it's one of the tamer situations Angela and Michael have put fans through. 
Viewers were exposed to Angela Deem's chest on a previous episode that involved her and Michael Ilesnami getting steamy in a bubble bath. Angela and Michael video chatted while Deem was in the nude, eventually brushing the bubbles away from her chest to show off to Michael. 
What's more, fans also had to share Michael's masturbation experience at the fertility clinic, where they were treated to Angela cackling as Michael moaned and prepared a sperm sample. 
Both of these explicit scenes followed Angela calling Michael and screaming at him on the phone multiple times, at one point even insulting his genitalia. 
'90 Day Fiancé' fans have had enough
90 Day Fiancé fans are feeling pretty grossed out by the sexually explicit content featuring Angela and Michael, and are also feeling turned off by Angela Deem's general behavior. 
"I can't even believe this is real. WTF is wrong with this woman," one Redditor asked in reference to Angela Deem flashing the camera. 
One user suggested that Angela Deem spoils the tell-all episodes for viewers interested in other couples. 
"She ruins every tell-all. I like listening to the couples and catching up where they are, they get some feedback from the other people there. If [Angela's] there she talks over everyone and screams and yells, then when it's her turn to talk about Michael she talks over him yells and screams. It's entertaining and irritating at the same time," they wrote. 
"Angela has let sh– get to her head. She's become more aggressive and disgusting since the beginning. Yes, she's always been a loudmouth and her jealousy levels are off the chart. But at least she used to say and do stuff that made you laugh," wrote another Redditor. 
"She knows how to act for the cameras. That's why they keep bringing her back every season even though literally nothing has progressed in their relationship," opined another commenter.