'90 Day Fiancé: The Other Way': Ariela and Biniyam's Ex-Wife Have Way More in Common Than You Think
On Season 2 of 90 Day Fiancé: The Other Way, Ariela reveals that her Ethiopian fiancé, Biniyam, was once in a relationship with an American woman. But, as it turns out, Ariela has far more in common with Biniyam's ex than fans currently know.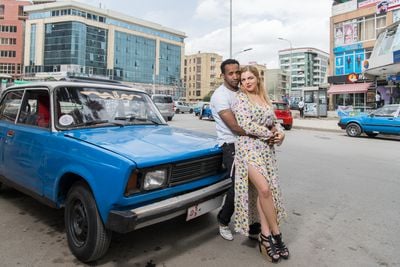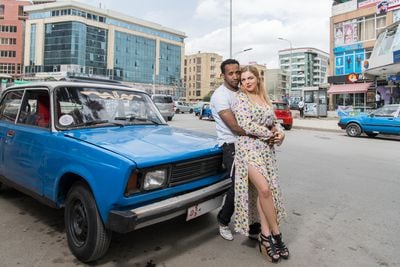 Ariela and Biniyam share their international love story on '90 Day Fiancé: The Other Way'
This season of 90 Day Fiancé: The Other Way introduces viewers to Ariela and Biniyam, a newly engaged couple expecting their first child together. Ariela is a Princeton, New Jersey native who was married for 10 years to a man she met in Argentina. After getting a divorce, Ariela says she started traveling and landed in Ethiopia, where she met Biniyam for the first time. 
"I was waiting for a taxi outside a local hotel and I saw a very attractive guy I yelled out, 'Don't I know you from somewhere?' and it actually worked," Ariela says in the first episode, as she describes how she first met her 29-year-old choreographer/martial artist fiancé in Addis Ababa. "I desperately did not want a boyfriend at the time that I met Binny. Because I definitely did not need the responsibility of being in a relationship."
But despite her reluctance, Ariela dated Binyam for three months, and soon discovered she was pregnant. On the show, she is preparing to return to Ethiopia to join Binyam for the birth of their baby.
Ariela and Binyam's ex-wife are both Americans who met him in Ethiopia
On 90 Day Fiancé: The Other Way, Ariela reveals how she met Biniyam in Ethiopia, by chance, outside a local hotel. Similarly, according to a 2017 report by The Hawkeye, Biniyam, and his ex-wife, Bria met at a night club in Addis Ababa while she was working there with a not-for-profit organization.
"He ended up teaching me some ways of Ethiopian dancing and so we were dancing together some," Biniyam's ex said. "It was fun. We all got in the same group of friends and hung out really often, and Bini and I started to like each other."
She said they both clicked because of their "serving hearts" and detailed how  "inseparable" they were in their early relationship. Soon after, in 2016, Biniyam and Bria were married in a traditional Ethiopian ceremony in Addis Ababa.
Both got pregnant and came to the U.S.
As Ariela details on 90 Day Fiancé: The Other Way, within three months of dating Biniyam in Ethiopia, she found out she was pregnant. And she returned to the United States for better prenatal care.
Ariela says she tried to get Biniyam to come to America for the delivery, but her lawyers said the process would take too long. This is why, now six-months pregnant on the show, Ariela is returning to Ethiopia to deliver her baby.
According to The Hawkeye, Bria also came back to the U.S. (to her home state of Iowa) during her pregnancy.  She also had planned to bring Biniyam with her and stay in America for the birth. But when she initially applied for a visa, it was denied. 
Like Ariela, Bria then also decided to go back to Ethiopia to be with Biniyam for her delivery. But after her Iowa doctor diagnosed her unborn baby with gastroschisis —  a birth defect in which the baby's intestines grow outside of the body — federal lawmakers helped her get Biniyam an emergency visa so he could come for the birth. After their baby was born, the two returned to Ethiopia as a family. 
Just like Bria, Ariela is having a baby boy with Biniyam. And she also has plans to move to Addis Ababa to be with him. It isn't clear why Bria and Biniyam broke up, but fans may learn more as the season unfolds, and see if Ariela ends up separated from Biniyam the same way.