'90 Day Fiancé: The Other Way' Star Biniyam Shibre Claims His Son was 'Kidnapped'
Biniyam and Ariela are getting ready to welcome a new baby on season 2 of 90 Day Fiancé: The Other Way. But as Ariela revealed, this is Biniyam's second child, as he was previously married to an American woman and has a 2-year-old son. Biniyam hasn't seen his son in over a year, and in one of his Instagram posts from 2019, he claims that his son, Simon, was kidnapped by his mother.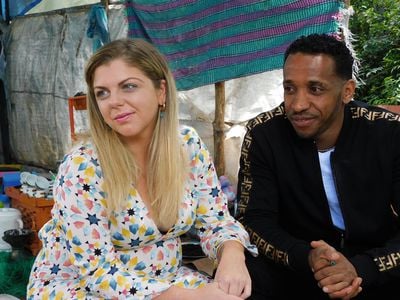 Biniyam and Ariela are having a baby on '90 Day Fiancé: The Other Way'
On the first episodes of 90 Day Fiancé: The Other Way, Ariela reveals that she met Biniyam while visiting Ethiopia. Within three months of dating, the two found out they were pregnant. Soon after, Ariela returned to her hometown of Princeton, New Jersey for better prenatal care. 
Biniyam, who is a 29-year-old martial artist and dancer from Addis Ababa, still lives in his home country of Ethiopia. And because he would be unable to make it America for the birth of their baby boy, Ariela is going back there for the delivery. 
"I consulted with several lawyers hoping that Binny would be able to move to the U.S. to be with me in time for the birth of our son. And all of them told me that it would be a very difficult and long process," Ariel says on the show. "I think it's really important for both parents to be present at the birth. So the only way we can do that is by me moving to Ethiopia."
Ariela reveals Biniyam has a child from a previous relationship
On a recent episode of 90 Day Fiancé: The Other Way, Ariela tells her family that Biniyam was previously in a relationship with another American woman, and has a 2-year-old son with her. She also reveals that he isn't on great terms with his ex, who, according to The Hawkeye, is an Iowa woman named Bria. 
"I don't know the specifics about why Biniyam and his ex-wife divorced," Ariela says on the show. "I do know that they are not on speaking terms. She returned to the US with their son and he hasn't seen his son face-to-face since."
Biniyam posts longing messages for his son
On his Instagram page, Biniyam often posts pictures of Simon with longing messages wishing he could see him again. And in a post from 2019, which depicts the phrase "Parental Child Abduction Is Child Abuse," the reality star claimed that his ex kidnapped their son when she brought him to America. 
"It is still kidnapping and abuse even if done by one of the parents!" Binyam wrote in the caption. "Having your child taken from you is one of the worst pains anyone can endure! She kidnapped him but God knows my heart. I know I will hold my boy again."
When a follower asked him if he knows the location of his son, Biniyam replied, "I know where he is, I don't know how he is." And in a more recent post, he detailed all the loving moments he spent with Simon, vowing he wouldn't give up his fight to find him. 
"A father never forgets his son," Biniyam shared in the Instagram post. "I will not give up. I love you Simon — I remember you loved me, and I pray one day you will know who I am again."
The show hasn't covered much about Biniyam's past yet. But he may reveal more details about his son and ex as this season of 90 Day Fiancé: The Other Way unfolds.