'90 Day Fiancé: The Other Way': Steven's Mormon Temple Garments Spotted by Fans
90 Day Fiancé: The Other Way Season 3 includes couple Steven and Alina, from the U.S. and Russia, respectively. Steven is a devout Mormon, and expects Alina to adhere to his faith and its tenets, especially when it comes to sex. Eagle-eyed fans believe they've spotted Steven wearing his Mormon temple garments, a unique type of underwear worn by devout Mormons. Meanwhile, fans believe Steven is a little too creepy for Alina, and pushy despite his claims that he wants Alina to remain a virgin until marriage.
What are Mormon temple garments?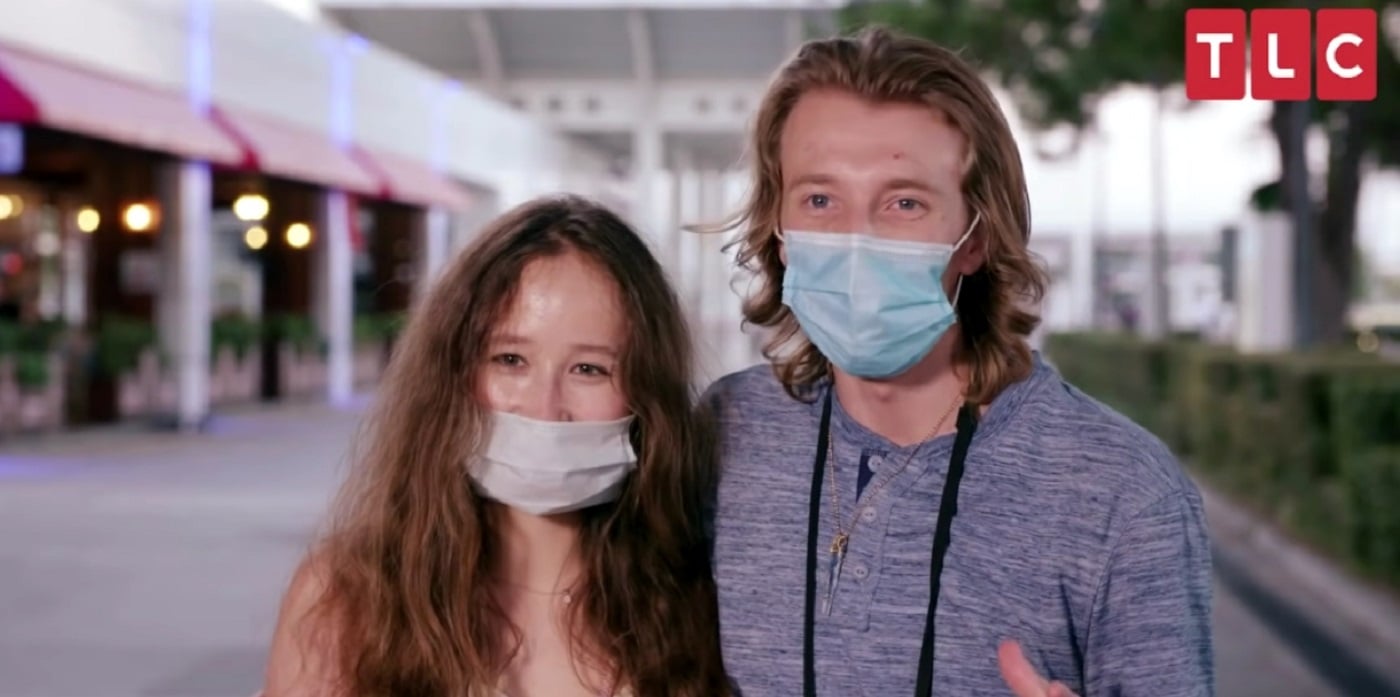 90 Day Fiancé: The Other Way star Steven is a Mormon, which means he has a variety of unique beliefs to follow to the letter. Some Mormons wear a special sort of underwear called temple garments.
These include an upper layer consisting of an undershirt, and a lower layer consisting of knee-length pants, with a sort of codpiece for men. The Church of Jesus Christ of Latter-Day Saints goes into more detail about Mormon temple garments on their website.
"However, many faithful Latter-day Saints wear a garment under their clothing that has deep religious significance. Similar in design to ordinary modest underclothing, it comes in two pieces and is usually referred to as the 'temple garment,'" they explain.
Some people derisively refer to these garments as "magic underwear" — the Mormon church and its adherents find this offensive.
"Temple garments are worn by adult members of the Church who have made sacred promises of fidelity to God's commandments and the gospel of Jesus Christ in temples of The Church of Jesus Christ of Latter-day Saints," the website goes on to add.
"To Church members, the modest temple garment, worn under normal clothing, along with the symbolic vestments worn during temple worship, represent the sacred and personal aspect of their relationship with God and their commitment to live good, honorable lives."
'90 Day Fiancé: The Other Way' fans spot Steven's Mormon underwear
90 Day Fiancé: The Other Way fans are pretty sure they've spotted Steven wearing his Mormon temple garments during a scene with Alina on the show. One eagle-eyed fan screenshot a moment from the show in which the lower half of his temple garments appear to be sticking out from his shorts. 
At first, some theorized that it was simply Steven's pocket pushing out from beneath his pants leg due to the position he was seated in. However, others pointed out that the white cloth appears to be circling his leg all the way around.
This is especially interesting for non-Mormon fans, who have seen Steven's Mormon faith on full blast when it comes to Alina.
'90 Day Fiancé' fans find Steven creepy and pushy
90 Day Fiancé: The Other Way fans aren't exactly thrilled with Steven so far. Many feel as if the young Mormon has very different and conflicting standards when it comes to himself and Alina. He puts a lot of emphasis on Alina's virginity, but lied about being a virgin himself.
In addition, he continues to claim he can't control himself around Alina, and seems to be very pushy and touchy-feely when it comes to living with her — for example, uncomfortably extended kisses and requests for a hug while wearing only a towel. Fans see red flags abound.
"He's the one saying 'sex bad' but he's also the one that's hornier than a f****** rabbit. Like dude you're doing it to yourself. If you wanna f***, you're both adults, you can agree to do so," opined one Redditor. 
"It just seems to me he's looking to have sex with her but laying the groundwork to absolve himself of any accountability. His whole persona just strikes me as creepy and manipulative. He also seems to treat her and speak to her in an oddly childlike way," added another commenter. 
"This whole business of 'I can't control myself around you and I'm worried what might happen' and his wife-to-be suggests locking him out of the room? … How is this person actually delusional enough to think he is a man with high moral standards? He's literally telling a girl it's almost impossible that he won't rape her," opined another Redditor. 
RELATED: '90 Day Fiancé': Steven Explains Why He Asked Alina About Other Women