'90 Day Fiancé': The Other Way': Tim Says His Relationship with Melyza Will Be Shocking This Season
'90 Day Fiancé: The Other Way is right around the corner and already the stars of the show are promising an interesting season. Tim and Melyza's relationship will definitely be one to watch.
Just as one season of 90 Day Fiancé is wrapping up, another is just around the corner. Those who watched the current season of 90 Day Fiance: Before the 90 Days may wonder how any other season could measure up to what we just saw. But Tim of the new installment of 90 Day Fiancé: The Other Way promises that if drama is what fans want, they will definitely get it, especially from his relationship with his Colombian girlfriend Melyza.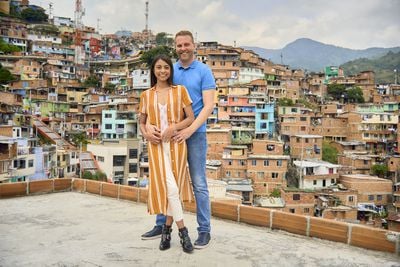 Tim and Melyza's relationship
Tim met Melyza when she was working in America as an au pair.
"You know, I honestly think what made her give me a chance in the very beginning was just that I'm genuine, you know?" Tim told Entertainment Tonight. "I'm goofy as h*ll. And I've really learned to embrace that and accept that about myself. … I think it was just the goofiness and the fact that she was able to see that I was trying and I was being goofy because I don't have any game. I just have the genuine aspect of my personality. … I broke her down eventually."
Why did Tim move to Colombia?
The two had originally planned for her to move to Texas to be with him but due to some questionable actions from Tim, Melyza got cold feet about switching countries.
"You know, every relationship has their trials and tribulations and we're no different," he told the outlet. "And there's just been certain things that have transpired over our relationship that have been … made her more hesitant with moving to the United States permanently. So… [moving to the U.S. is] not completely off her radar, but it's just been based on what we've been through in our relationship. It's kind of made us reevaluate where we are gonna be together. And I've never had an issue thinking about moving to Colombia at all."
Whatever Tim did, which has yet to be revealed, was enough to make them change their plans.
"But you know, ultimately there have been things that have transpired in our relationship that you will find out about, that have affected her trust in me and her trust in the relationship in general," he said. "So, she's never been desperate to get out of her situation in Colombia or anything like that."
Though Tim is keeping tight-lipped about what exactly he did to anger Melyza, he did reveal that he eventually did win her back.
What fans should expect this season
Fans of 90 Day Fiancé are definitely used to couples on the show having lots of ups and downs. Tim and Melyza's relationship will be no different.
"I think there's going to be a lot of genuine moments," Tim told the outlet. "I think there's going to be a lot of juicy moments. You know, whether it be family struggle, whether it be struggles between me and her, whether it be struggles between adapting to a completely new place. I just think the viewers are really going to enjoy getting to know us as people and as a couple, and really being able to put themselves in our shoes and relate, whether or not they've been in this specific situation or not before."
Basically, fans are in for a juicy storyline.
"I think they're going to be shocked," Tim said. "I think they're going to be delighted to be along for our ride.