'90 Day Fiancé': This Isn't Angela Deem's First Tell All Blowout
90 Day Fiancé star Angela Deem has some behavioral problems when it comes to the show's Tell All episodes. This season saw the reality star flashing cameras after shouting down any discussion with Michael Ilesanmi and his aunt Lydia. Unfortunately, it's not the first time the star's exhibited toxic behavior during a Tell All special. Previously, Angela Deem and her daughter attacked Avery Mills and her mother during a Tell All episode, and according to Avera, several minutes of the altercation were cut out by TLC editors. 
Angela Deem blew up and flashed the camera during Tell All 
90 Day Fiancé couple Michael Ilesanmi and Angela Deem got into it big time during this season's Tell All episode. Michael's aunt Lydia appeared during the Tell All to support Michael during his arguments with Angela. 
Specifically, Michael and Lydia learned that Angela had seen her surgeon, Dr. Obeng, without telling Michael. She attended his birthday party and had him drive her home, solo. This didn't sit well with Michael, who called Angela out on her double standards. 
"Are you kidding me? If I was the one that did this, you would curse me out, say all sorts of things, right? Why didn't you tell me this before?" Michael asked Angela.
Angela told Michael to shut up several times, employing her usual strategy which involves steamrolling over any sort of discussion by being the loudest and meanest person in the room. When Aunt Lydia got involved, she told her to stop talking as well, saying that she's Michael's wife and that Lydia should butt out of their marriage. 
Eventually, Angela Deem shocked everyone by flashing the camera, apparently in some sort of attempt to cow Lydia and Michael. 
"That is my f—– husband. And there's nothing you can do about it, and you won't [unintelligible] about it. You mind your own business, you will not f—– tell my husband what to do. Suck on these brand new f—— t——," she yelled, before baring her chest.
'90 Day Fiancé' star attacked Avery's family in previous Tell All
Unfortunately, this isn't Angela Deem's first time behaving poorly during the 90 Day Fiancé Tell All. According to Avery Mills, Angela Deem physically attacked her and her mother during their season's Tell All episode. 
Avery Mills didn't greet Jesse Meester when he arrived during the Tell All because of how he treated Darcey Silva, and Angela Deem took it upon herself to white knight for Meester. She came for Avery, and eventually it escalated when Avery's mother came to her daughter's defense.
Angela Deem attacked Avery and her mother, and Avery claims that TLC chose to edit out a hefty portion of the altercation.
"What actually happened is they edited this out because obviously [Angela Deem] is on another season — she did hit my mom. And her daughter came outside, and they tried to jump my mom, and I got into it," Avery explained via an Instagram live. 
"That's why if you watch you see arguing, and the next thing you see is bodyguards [because] there's a whole five minutes you didn't see," Avery Mills told fans. 
Rebecca Parrott backs up Avery Mills' claim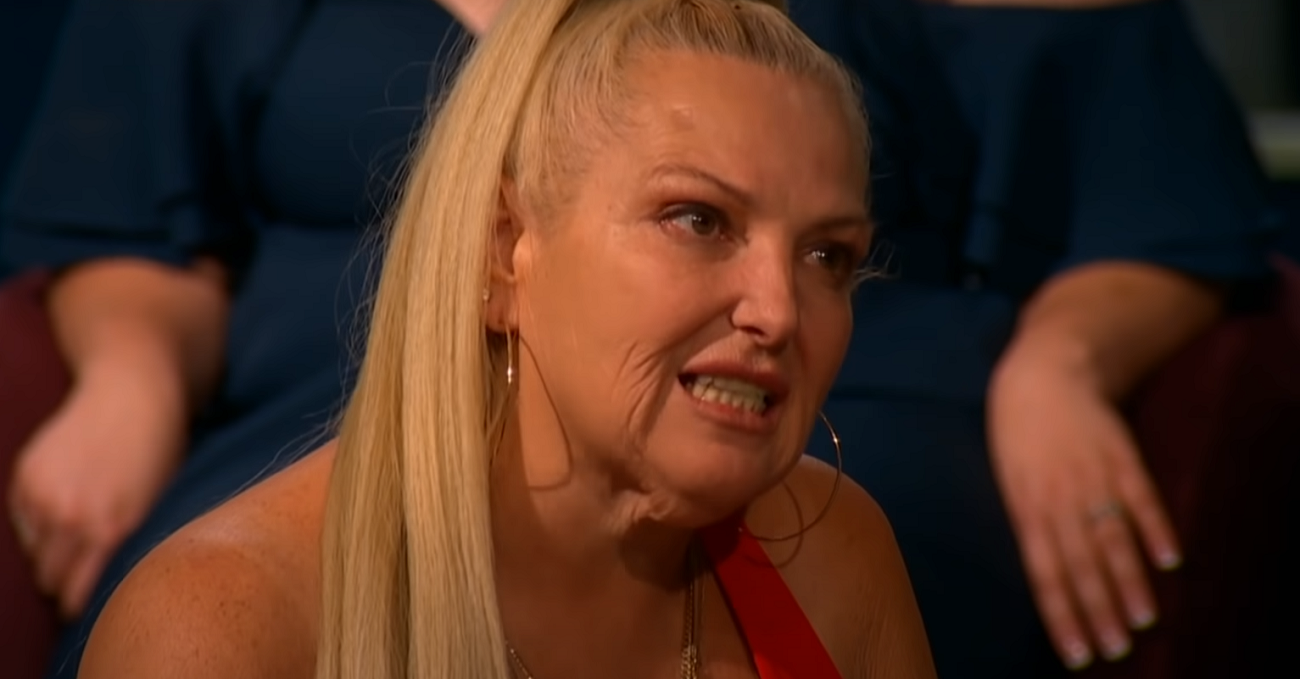 90 Day Fiancé star Rebecca Parrott was also present when Angela Deem supposedly attacked Avery Mills and her mother and supports Avery's claims about what went down. She took to Instagram to tell her followers about it. 
"I just want to say one thing about tonight. The entire altercation was not aired and Avery's statements are absolutely true. Please do not glorify [Angela Deem's] behavior," she wrote on Instagram. 
She also claimed that Angela Deem chest bumped her when everything went down. Following Angela's behavior at the most recent Tell All event, Michael Ilesanmi posited that cast members don't stand up to her because they're afraid of her.