'90 Day Fiancé': Tim Malcolm Has a New Colombian Girlfriend
Tim Malcolm and Jeniffer Tarazona were one of the most talked-about couples on their season of 90 Day Fiancé: Before the 90 Days. Tarazona was a stunning Colombian beauty but Malcolm seemed to be repulsed by the idea of doing anything physical with her. On top of that, he remained super close with his ex-girlfriend Veronica Rodriguez the whole time he and Tarazona were together. So, no one was really surprised when they called it quits. Now, Malcolm has a new girlfriend and she's eerily similar to Tarazona.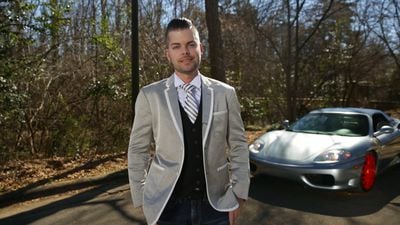 Why Tim never got physical with Jeniffer
Throughout the season, Malcolm continually turned down Tarazona's advances which was a constant topic of conversation among fans. Eventually, Tarazona asked him if he was gay. Malcolm later opened up about the topic in an interview.
"Jeniffer's not the only one that's said that," he told Entertainment Tonight of Tarazona's question. "Let's be honest. There's a lot of people that have speculated that there's all kinds of issues going on." 
"I'm almost 40 years old," he told the outlet. "I want to be in love. I know sex is an important part of love, but it's not everything like it used to be. My biggest goal was just building a foundation that I thought would be able to last because I don't want to be divorced. I've waited this long to get married. I've never been married. I think that's just strange that society just thinks if a man says no then he's gay. If a woman says no, it's fine. But it's like the double standard that society has. I kind of laugh about it. I do have some feminine traits. The gay thing was kind of out of left field for me."
Why did Jeniffer and Tim breakup?
Malcolm and Tarazona were still together when their season ended but on a recent episode of  90 Day Fiancé: Self-Quarantined, Malcolm opened up about what actually caused their split.
"I haven't actually talked to Jeniffer in a couple months," he said. "After the tell-all, Jeniffer and I were planning to get her a visa, but it was very expensive. So I told her, Jeniffer, give me some time."
But he ended up spending money on new equipment instead of saving for the visa.
"And then of course, to her, that was like oh, you care more about your business," he said. "That started a series of arguments."
And then, things just went downhill from there.
"She didn't want to come anymore and we stopped talking. We were done," he said.
Who is Tim Malcolm's new girlfriend?
Malcolm spent time dating around after he and Tarazona broke up. But recently, he met another Colombian woman and began dating her. Luckily, she lives in North Carolina as well, so Malcolm doesn't have to go back overseas to start a relationship.
"We're dating," he said. "I don't know how serious it is."
During the COVID-19 pandemic, he and his new girlfriend have not been quarantining together. He has, however, been seeing Rodriguez. Rodriguez's presence in Malcolm's life was a big problem in his relationship with Tarazona. Hopefully, it will not cause problems in his new relationship.