'90 Day Fiance': Tim Malcolm Says the Show Was Just the 'Perfect Opportunity' to Get on TV
Tim Malcolm confused fans his entire season of 90 Day Fiance: Before the 90 Days. He was featured on the show with his beautiful girlfriend, Jeniffer Tarazona, who he claimed to be in love with. Yet, he barely showed interest in her and was unsure of what their future held.
This caused fans to doubt, not only if Malcolm was actually in love with Tarazona, but if he was even attracted to her at all. So, why did Malcolm even go on the show if he wasn't serious about his relationship with Tarazona?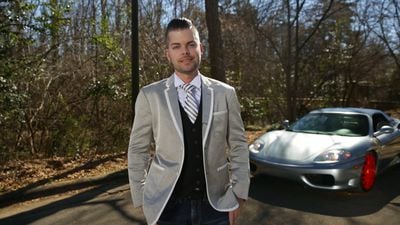 Fans question Tim Malcolm's sexuality
Throughout the season, Tarazona tried to get intimate with Malcolm and was turned down every time. Fans were extremely confused by this behavior and so was Tarazona. Eventually, she asked him if he was gay.
"Jeniffer's not the only one that's said that," Malcolm told Entertainment Tonight at the 90 Day mixer. "Let's be honest. There's a lot of people that have speculated that there's all kinds of issues going on." 
But he claimed that he just didn't want to rush into having sex.
"I'm almost 40 years old," he said. "I want to be in love. I know sex is an important part of love, but it's not everything like it used to be. My biggest goal was just building a foundation that I thought would be able to last because I don't want to be divorced. I've waited this long to get married. I've never been married. I think that's just strange that society just thinks if a man says no then he's gay. If a woman says no, it's fine. But it's like the double standard that society has. I kind of laugh about it. I do have some feminine traits. The gay thing was kind of out of left field for me."
Why did Tim Malcolm go on the show?
While Malcolm may have liked Tarazona, the real reason he wanted to be on the show was to get on reality tv.
"Well, to be honest, I was told my entire adult life that I was made for reality," he told Fox News when asked why he wanted to go on 90 Day Fiance. "I've got a very expressive face and I enjoy being in front of the camera. You know, I'd always wanted to be on TV so I thought that this was the perfect opportunity."
When he was chosen for the show, he got mixed reactions from his family and friends.
"It was split down the middle," he continued. "Half of them were very excited; the other half were very concerned. Obviously, there's a lot of negativity sometimes that can follow you when you're on reality TV and my parents just wanted me to be happy. They were supportive but they were cautious. Everybody knows I'm crazy and I'm a risk-taker so I don't think it was a surprise to anyone. "
Are Jeniffer Tarazona and Tim Malcolm still together?
Though the pair has never officially announced a breakup, fans seriously doubt that they are still together. Neither of them has posted the other on their social media since the show ended and Tarazona commonly posts videos with other men. But if Malcolm truly just went on the show to be on reality tv, the split might have been for the best.