'90 Day Fiancé': Tom Brooks Claims the Version of Darcey Silva He Wanted 'Never Turned Up'
Darcey Silva and her British ex, Tom Brooks, finally broke things off for good on TLC's 90 Day Fiancé: Before the 90 Days.
After several false starts—from the proposal-turned-house-key gift last season to Tom's impromptu trip from the UK to New York to visit Darcey on the East Coast—Darcey and Tom ended their relationship at last. Many 90 Day Fiancé fans were relieved, due to the protracted drama between the two and Tom's rude comments about Darcey's weights, lip fillers, and more.
On the May 17 episode of 90 Day Fiancé: Before the 90 Days, "The Pleasure Principle," Darcey and Tom looked back at their tumultuous relationship. Darcey, 45, talked about her dramatic breakup with her teen daughters, Aniko and Aspen Bollok, while Tom, 39, admitted he couldn't love Darcey the way she wanted to be loved.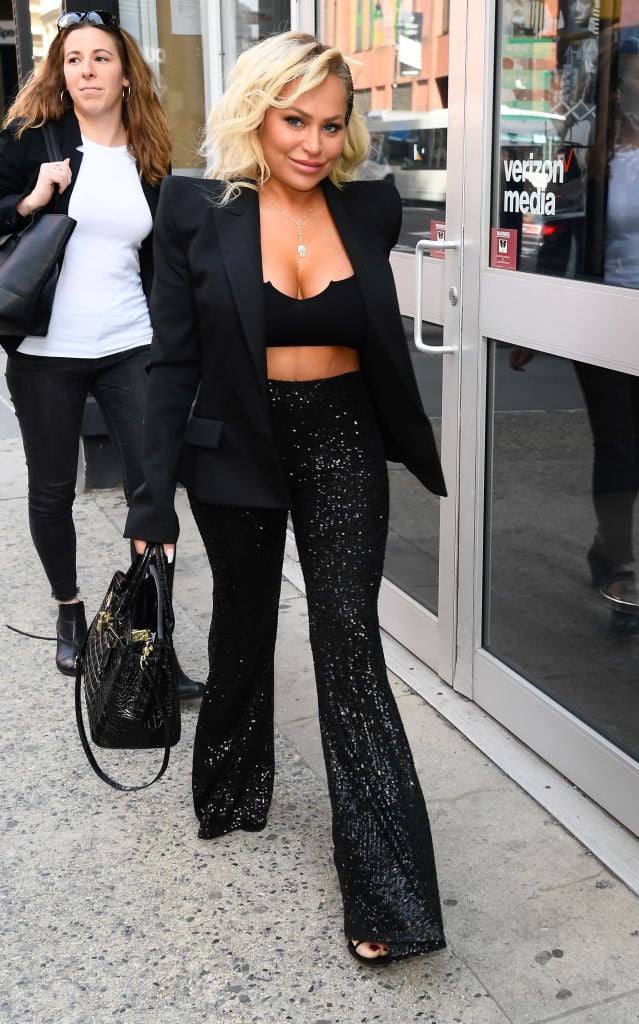 Darcey discussed her breakup with her teen daughters
After her breakup with Tom, Darcey did at-home facials with Aspen and Aniko in her home state of Connecticut.
The divorced mom of two joked about her recent heartbreak as she picked out a face mask. She quipped, "Mommy's gonna do the Miracle Mask. Because I need a miracle in my life."
The 90 Day Fiancé star told TLC producers that she'd gotten a lot of much-needed emotional support from her daughters, who wanted her to move on and find someone who would treat her with respect. "Ever since the breakup, the girls have been there for me," Darcey said. "They said, just stay empowered. Don't let a man get you down. You deserve better."
As they donned their face masks, Darcey's daughter Aspen joked, "You look like you came out of a Barbie factory."
"Mom is Barbie," Aniko agreed, adding: "Where's your Ken?"
Darcey seemed to have a bitter taste in her mouth about finding Prince Charming after her latest breakup. "Hopefully soon," she sighed, "because I'm not really happy with the last one. Or the last one before the last. Or any of them."
Still, she promised her daughters that she would keep them in mind as she continued to look for The One. "It's coming," Darcey said. "The right one. You guys would feel it too, I bet."
The '90 Day Fiancé' star said she was excited to start a new chapter without Tom
The 90 Day Fiancé star sheepishly apologized to her daughters for involving them in her relationship troubles. "I'm sorry, you guys. Mommy's trying her best," Darcey told them.
But her daughters were nothing but supportive. One said reassuringly, "Don't be sorry. Everything happens for a reason."
Darcey reminded her daughters that they would always come first in her life. "I want you guys to be happy, and that's all that matters," she said.
Reflecting on her relationship with Tom, Darcey admitted that she was still heartbroken. But, she added, she knew it was the right choice to start a "new chapter" without her ex—especially after he treated her. "Ever since I cut the cord with Tom, life has been great," Darcey told 90 Day Fiancé producers.
And while Darcey said her children had witnessed many of her troubles over the years, she insisted that she was doing the very best she could by them. "My girls have seen me go through heartache and pain and bad relationships," the 90 Day Fiancé star confessed. "But I think I've been the best role model I can for my daughters. I'm excited that Tom is out of my life for good."
Tom claimed that Darcey never turned out to be the person she thought he was
As Tom prepared to "follow his heart" and leave New York for Canada in pursuit of his newest girlfriend, Shannon, he shared his own perspective on his breakup with Darcey. Needless to say, his outlook on the relationship was very different from his American ex-girlfriend's.
The 90 Day Fiancé star defended his role in the breakup, saying, "I think I tried to do things in the right way, but they don't always go the right way."
Tom added that he had finally found closure and wanted to find the right woman to commit to. "It's not nice to have the arguments," Tom said, "but we know it's over, and we can move on with our lives."
Tom also explained that he had built up a fantasy of what Darcey would be like when they spoke online and after they first met. When the reality didn't match up with what he'd imagined it would be, he claimed, he tried to chase after the initial "high" of infatuation.
"When I came to New York, I think part of me was really wanting to get Darcey back," the 90 Day Fiancé star said. "It always felt like I had to get the Darcey I first met back." He complained, "She never did turn up."
As he prepared to head to Toronto, Tom admitted that he knew he wasn't the right one for Darcey, either, just as she wasn't right for him. "I wish I could have loved her the way she wanted me to," he said. "She deserves that."