'90 Day Fiancé': Watching Ariela on 'The Other Way' Is 'Red Flag City' According to Fans
TLC's cultural phenomenon 90 Day Fiancé has been rife with drama since it began in 2014. The show has had its fair share of controversial couples and now, on the heels of the second season premiere of 90 Day Fiancé: The Other Way, fans are extremely concerned about one couple in particular: Biniyam and Ariela. 
The unexpectedly pregnant — and recently divorced — Ariela is about to move permanently to Ethiopia to be with Biniyam in the show's first episode of the season. Ariela's complete lack of preparedness is only the first of many red flags fans have identified.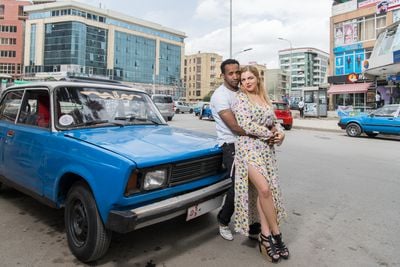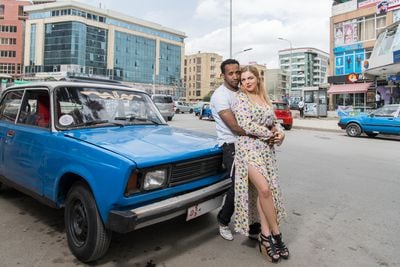 A timeline of Ariela and Biniyam's relationship
When Ariela met Biniyam while waiting for a taxi in Ethiopia, she was no stranger to traveling to foreign countries. She was also no stranger to meeting and falling in love — rather quickly — with men in those countries. Ariela had grown up traveling the world with her family and after a trip to Argentina when she was just 17, she refused to come home. 
After two years in Argentina, Ariela met Leandro, the man who became her husband just six months later. Leandro went back to the U.S. with Ariela and the couple was married for 10 years, though they were separated for the last three. Their divorce was finalized in 2019, with Ariela saying, "I was young and immature, and I definitely rushed into a responsibility that I wasn't ready for." Is anyone else already sensing a pattern?
Ariela jumped at the chance to travel to Ethiopia when she came across inexpensive flights, eager to move on from her divorce, and do some self-exploration. Shortly after arriving in the country, she met Biniyam and the attraction was immediate, although she's adamant that she was not looking for love. Despite reportedly trying to avoid Biniyam, Ariela found out she was pregnant after dating him for just three months. 
Red flags
In the 90 Day Fiancé: The Other Way season premiere, fans learn that Ariela returned to the U.S. for prenatal care, but will be moving to Ethiopia permanently to be with Biniyam. The couple hoped that Biniyam could come to America ahead of the birth of their child, but they realized the process would be too long and difficult. 
Ariela has been open about how afraid she is to give birth in Ethiopia, and her fears are not unfounded. Fans on Reddit noted that "Ethiopia has one of the highest childbirth death rates in the world" and "Babies dying is unfortunately seen as normal." While Ariela seems to be determined, she also seems to be ignorant about other aspects of her relationship with Biniyam — or perhaps in denial. 
The show also reveals that Biniyam was previously married to an American woman and has a 2-year-old son with her — and that she also got pregnant very early on in the relationship. Things ended so badly that his ex and child are in the U.S., and Biniyam doesn't have any contact with them. The circumstances are murky, but The Hawk Eye reports that the couple went to great lengths to get Biniyam to America for the child's birth.
Ariela admits there are similarities between herself and Biniyam's first wife, but states, "I don't know the specifics about why Biniyam and his ex-wife divorced, I do know that they are not on speaking terms," according to Entertainment Tonight. Reddit fans, of course, think it's odd that Ariela doesn't know the answer to that, but also raise proverbial red flags about the fact that viewers haven't been introduced to Biniyam yet. 
A tale of two cultures
Beyond the mounting drama surrounding Biniyam's first wife and child, Ariela is facing enormous cultural differences in Ethiopia. Ariela was raised in a Jewish family and assures her family that she plans to raise her son Jewish, despite the fact that Biniyam is an Ethiopian Orthodox Christian — two very different religions. Fans on Reddit took note, saying, "She literally said she hasn't looked into it [Biniyam's religion] and they don't discuss it."
Ariela comes from a fairly affluent background, but even if she hadn't, basic living conditions in Ethiopia are nothing like that of the U.S. While touring Biniyam's home on the show and realizing it lacks basic necessities, Ariela screams at Biniyam, "I don't know what we're gonna do. I can't live in a place that has no bathroom and no kitchen!"
It certainly leaves you wondering how on earth Ariela, who has traveled the world and spent several months in Ethiopia prior to the show, would not have known Bimiyan didn't have refrigeration or a working bathroom in his home. One Redditor in particular summed it up well when he wrote, "Omg, Ariella is red flag city. That is like a forest of red flags."