'90 Day Fiancé': What Sexy Detail Did Anny Let Slip to Robert?
Anny and Robert, stars of TLC's 90 Day Fiancé Season 7, have fought nearly constantly since Anny first arrived in the U.S. 
The 31-year-old from the Dominican Republic immediately moved in with her 41-year-old fiance, a single dad who lives with his five-year-old son Bryson in Florida. After clashing over Robert's spendthrift ways and his shocking confession that he had five kids with four different mothers, Anny and Robert butted heads over his social media pictures with various exes. 
On the Dec. 22 episode, "Judgement Day," Robert and Anny continued to clash. This time, Robert criticized Anny for having a little "too much fun" at her birthday celebration at a strip club.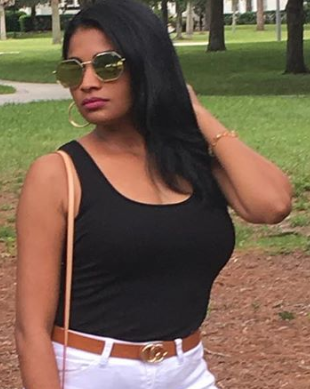 Anny's birthday celebration started out well 
Robert and Anny's segment on "Judgement Day" began with a cute family moment. Robert and Bryson surprised Anny with a birthday cake. 
Still, Robert admitted to having ulterior motives. "It's easy to deal with Anny. The only thing I try to do is try to butter her up a little bit, and she falls for it," the 90 Day Fiancé star grinned.
His plan seemed to work, though, as Anny toasted her "two new loves," Robert and Bryson, and said the little party made her feel appreciated. 
Robert wasn't thrilled with Anny's strip club plans
From there, things took a turn. Robert wanted to spend a quiet evening at a downtown Orlando bar, but Anny hoped for a wilder night while Bryson had a babysitter. "I want to do something nice like dancing place, strip club," she told her fiance. 
Robert was immediately unhappy about the idea. "I'm 41. I have a son. I'm just trying to chill…I'm done, I'm over it, and I just want to chill for the night, just me and my lady," the 90 Day Fiancé star said. 
Anny clapped back, joking that Robert was "boring" and adding that she could take a few dollar bills to the strip club herself if he didn't want to go. Robert reluctantly agreed to head to the strip club for Anny's birthday, musing that he didn't always like to get out much as a tired single dad. 
Anny got a birthday lap dance at the club
At the club, Robert was immediately shocked by Anny's behavior. Robert and Anny had very different experiences of the night.
Robert's fiancee was delighted by the pole dancers and even requested a lap dance from one of the strippers. As Anny playfully smacked the exotic dancer's butt, Robert looked on in disgust. 
"I really didn't enjoy myself," he told 90 Day Fiancé producers. "I tried, but I couldn't. Anny was having more fun than me, which is really odd."
The single father even admitted Anny's enjoyment of the strip club was a "red flag" to him. "I'm looking at Anny in a different light," Robert admitted. "That shows me Anny's got a little bit of freak to her side that she's not telling me."
"I don't know if Anny's into girls," Robert wondered, seeming like he wasn't exactly thrilled with the idea. 
Anny revealed she wanted a threesome
At a coffee shop the next morning, Robert and Anny fought over their differences once again. 
"I'm disappointed in you," he told her over a post-hangover coffee. "Last night was not cool at all." The 90 Day Fiancé star even said he didn't feel Anny was acting like his "future wife" or a "mother figure" for Bryson. Finally, he asked her if she'd been with a woman before. 
Anny told Robert she had, and would be willing to do it again. "Like me touch her? No. But she touch me? Yes," she said unapologetically. "We can do together with somebody else," Anny offered, suggesting a threesome for Robert's birthday in December. 
Robert was shocked by Anny's sexual history. "That's not a nice surprise at all!" the 90 Day Fiancé declared, looking horrified. "That's not something I want in my household. That's not something that I want around my kid." 
Robert criticized Anny for her sexual fantasy
Robert was disgusted by Anny's admission, saying he felt "disrespected." "Obviously this relationship to you is a joke," the 90 Day Fiancé star said harshly. "What I want is a good woman. A woman who wants just her husband."  
"Right now, what you're showing me? You're not what I want," the 90 Day Fiancé star spat out. 
Meanwhile, there was zero shame in Anny's game. She told Robert she wasn't about to let anyone hold her back. "I don't know if you're gonna give me what I want because I am [an] adventurous girl and I have fantasies and I wanna try," she told her fiance before leaving the table. "And you are so boring."