'90 Day Fiance': What Shocked Blake's Friends About Jasmin?
Blake Abelard and Jasmin Lahtinen have made some 90 Day Fiance fans wonder about the authenticity of their relationship. Lahtinen's sister lives in Abelard's home state of California, just minutes from him, making some Season 7 90 Day Fiance viewers skeptical about how genuine her love for him really is.
29-year-old Blake, a music producer and audio engineer from Los Angeles, and 27-year-old Jasmin, a model from Helsinki, Finland, met online. Abelard fell in love almost immediately and flew out to Finland to meet his potential girlfriend. After getting engaged, the couple agreed to live together for the 90 days before their wedding in Los Angeles.
But Jasmin's arrival in the United States didn't go quite as planned. On the Dec. 1 episode of 90 Day Fiance, "We Need to Talk," the couple clashed over a pool party with Blake's friends.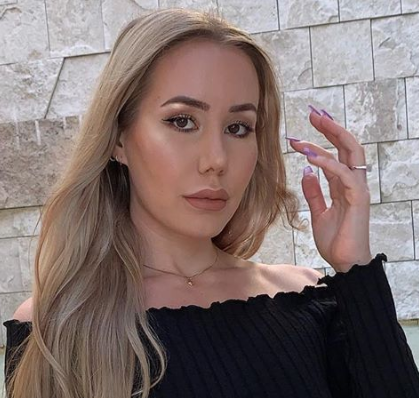 Blake brought Jasmin to a pool party despite her objections
The conflict between Blake and Jasmin began the day after her arrival in the U.S.
"Jasmin just arrived from America after a really long flight from Finland," Blake explained on "We Need to Talk." He continued, "Jasmin kinda made it clear that she wanted, like, a low-key day."
But extroverted Blake didn't exactly let that happen. Instead, he planned a pool party at the hotel with several of his good friends.
Jasmin, who is more introverted and quiet, admitted she wasn't thrilled about the idea. "I'm not that excited about the pool party because I just got here," she confessed. The 90 Day Fiance star added that she was tired and jet-lagged and really just needed to rest on her first day in a new country.
"I'm not excited about meeting everyone at once, and for the first day," she said. "I think he should know that my personality is more, like, calm." Still, she said she was prepared to try to get along with Blake's friends and have a good day.
Blake's friends were shocked that Jasmin didn't drink
Blake's friends seemed a little skeptical of his Finnish fiancee from the start. One of his friends said she wanted to make sure the Season 7 90 Day Fiance couple was together for "the right reasons."
Once the conversation started, it was immediately clear that Jasmin was uncomfortable and exhausted. "I don't want to question her and bombard her, I feel like I'm wearing her out," one of Blake's friends joked about the awkwardness.
When Blake and his friends all ordered cocktails to enjoy by the pool, Jasmin didn't join in, which raised some eyebrows around the table.
"Jasmin doesn't drink at all, and that's kind of the opposite of what we've got going on today," Blake explained to 90 Day Fiance producers. Jasmin said she didn't understand the point of alcohol and didn't like putting "poison" in her body.
Blake's buddies were more taken aback than Jasmin expected. "Blake's friends seem to be in shock that I don't drink," she said. "I mean, is it not normal that someone doesn't drink in LA? I don't know."
Jasmin left the party exhausted
Ultimately, Jasmin took a break from the pool party to get some rest. "I'm just not like feeling good right now…I just need to go lay down for a minute," the 90 Day Fiance model said quietly as she headed upstairs to the hotel room.
Blake was polite, but he wasn't too thrilled about Jasmin leaving the party. "I know she was jet lagged, I just wish she'd pushed through," he said of her exit.
The '90 Day Fiance' pair is still together
Despite their awkward first day in the United States together, Blake and Jasmin seem to be going strong. Just after Thanksgiving weekend, Jasmin shared photos of herself with Blake and took to her Instagram stories to show off the couple's recent mini-vacation.
The 90 Day Fiance star also captioned a recent photo of the two of them, "A love like no other," indicating that the pair is still very much an item.