'90 Day Fiancé: Why Did Brittany Banks Delete Her Instagram?
The new season of  90 Day Fiancé: The Other Way is in full swing and we are already getting to know the cast members quite well. One interesting relationship this season is the one between outgoing rapper Brittany Banks and her conservative Muslim boyfriend Yazan. From what we have seen of Banks on the show, she likes to go all out with her music career and outfits. Before the show premiered, her Instagram account had thousands of followers, but now, somehow it has disappeared.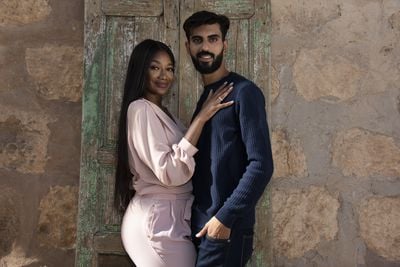 Brittany and Yazan's relationship
Banks and Yazan's relationship moved quickly. They had only known each other for five months when Banks moved to Jordan to be with Yazan.
They met completely by chance. Banks had been visiting her sister who happened to live in the same apartment building as Yazan's sister. One day, Banks walked into the room while Yazan was video chatting his sister and they were immediately attracted to one another. Four weeks after that first encounter, Yazan sent Brittany money to visit him in Jordan. He then proposed a week after she got there.
Brittany's lifestyle before '90 Day Fiancé'
Banks admittedly is used to dating older men with lots of money.
"You would have to be 45 and older to even talk with me and my braces have worked in my favor," she said on the show. "The older, settled gentlemen really like it."
The flashy lifestyle she lived made people wonder if Banks was a sugar baby.
Why did Banks delete her Instagram?
Before she deleted her Instagram, Banks addressed the concerns about how public her life was about to become.
"The Other Way premiering on TLC June 1st," she captioned a post. "Yes, I been very private recently cus it's about to get real public. I'm a savage, classy, boujie, ratchet.. forgot the rest cus the Tiger King version is stuck in my head but gon head and Enjoy."
First, she switched Instagram names from @itsbrittanybanks to @thebossbrittany.
Around this time, fans began to wonder if Banks was buying followers because she had over 30,000 followers yet her engagement on her posts was low.
"I took all my photos down & changed my name," she wrote in her Instagram story, according to Starcasm. "I changed my brand! That's why I have 327k followers and not a lot of likes or comments. If I post a booty picture I'll have like 39,000 likes. But I don't want to."
Banks also has two adult video accounts on OnlyFans under the handles @ItsBrittanyBanks and @ItsTheBrittany, according to the outlet but she hasn't posted anything on the site since January.
Image cleanup
From Banks' conversations with Yazan on the show, it's clear that his family is very conservative. They expect Banks to convert to Islam and marry Yazan almost as soon as she arrives in Jordan. Given their conservative views, it's clear that they would not have been happy with Banks' social media persona. She may have been able to hide her Instagram from Yazan's family before, but once the show aired, it was going to be a lot harder to keep all the things that she posted online away from his family. So, deleting her Instagram could have been a way to keep the peace with Yazan.
Banks has not yet spoken about her deleted account.