'90 Day Fiancé': Why Did Syngin Tell Tania She Was 'Crazy?'
90 Day Fiancé viewers were shocked by Tania Maduro's 30-day trip to Costa Rica for an intensive workshop in herbal medicine. Tania was gone for over a month, smack dab in the middle of her first 90 days in the U.S. with her South African fiance, Syngin Colchester. 
Because Syngin wasn't allowed to leave the country during that time, per the rules of the K-1 visa application, Tania headed out alone. The couple fought frequently during Tania's trip, as Tania struggled to stay in communication with Syngin amid her daily classes and nights out with the girls. Meanwhile, Syngin felt abandoned back in Connecticut, alone with Tania's mom in the she-shed behind her house.
Syngin and Tania reunited at the airport on the Jan. 12 episode of 90 Day Fiancé, "Choose Me." At first, the lovebirds were as romantic as romantic could be. But as they usually do with this couple, things quickly took a turn for the worse, resulting in an explosive argument during their road trip back to Connecticut from the airport.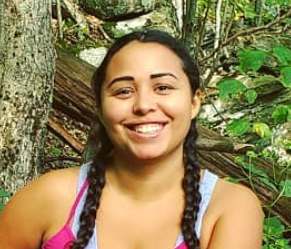 Syngin and Tania had a heartfelt reunion after her Costa Rica trip
At the beginning of "Choose Me," Syngin admitted things hadn't been great with Tania during her monthlong intensive in Costa Rica. 
"We got into a slight argument and we never got to the point of it," the 90 Day Fiancé star told producers. "I'm feeling a lot of mixed emotions, you know. I hate it when we argue and we're not together. It feels like nothing gets resolved."
But when Syngin met Tania at a New York City airport, tiger lily in hand, they shared an adorable reunion. "I just feel, like, bliss and happiness, man," he raved to 90 Day Fiancé producers. "I could probably jump right over the moon right now if I tried."
Tania even admitted she knew she hadn't acted right back in Costa Rica. "I know I'm a little extra. I am. I am," she confessed. "But we still have a lot to figure out before we get married. Are we gonna have the tools and the patience and the compassion to make it work?"
The '90 Day Fiancé' stars soon started fighting about the future
After what Syngin described as a "magical" night together in a hotel, the 90 Day Fiancé pair started to get back to reality as they drove back to Connecticut together.
When Tania and Syngin began discussing their future, everything changed. While both of them say they'd like to own land and grow their own food, Syngin admitted he didn't want all that on Tania's timeline. Instead, he said he wanted to reach those goals in around a decade.
But Tania pushed Syngin to start thinking about the future now. "I'm ready to start working on those goals and stuff," she told her fiance. "I really am craving stability."
"And you've got me," he responded, laughing. "A 30-year-old with an 18-year-old mindset." He shared that he was considering a wide (very wide) variety of careers, from firefighter or police officer to carpenter or woodworker.
Syngin said some traumatic experiences made him wary to join the conventional workforce
Tania told producers she was worried about Syngin's lack of focus in terms of his work. Once, she explained, his spontaneity had left them broke when he suddenly quit a stable bartending job with no prior notice and bought a ticket for Thailand on a whim. 
Despite Syngin's jokes, he confessed that his troubled past played a role in his fears about maintaining a stable job. 
Syngin worked in the South African mines for seven years as a young man, he explained, and lost several friends along the way to the dangerous job. He described the job as frightening and oppressive, requiring workers to go down miles into the earth in a "steel cage" for long hours and low pay. "It's very little money, it's not worth risking your life every single day," the 90 Day Fiancé Season 7 star said.
Tania, meanwhile, didn't have a lot of compassion for Syngin's past trauma. "That was so long ago, though," she complained. She added that he should have taken a woodworking course while she was in Costa Rica studying natural remedies.
Tania said she needed Syngin to be more of an 'adult'
As the conversation continued, the 90 Day Fiancé pair got more and more heated. Tania accused Syngin of not being an "adult."
"I am an adult," Syngin protested.. "I'm also a very free spirit."
"Well, I need you to be grounded right now," Tania demanded. "I'm getting to the edge," she shouted as the fight turned ugly.
"Well, jump over it, then," Syngin yelled back. "Do what you're gonna do." 
"Jumping over it means leaving you the f*** behind," Tania declared.
"Do it!" Syngin replied. "You might just set me free!"
"I will, Syngin!" Tania threatened, adding that she didn't have "much time." The couple bantered back and forth about Syngin jumping out of the window or Tania leaving him on the side of the road.
"Oh my god, you're f****** crazy!" Syngin yelled at one point, burying his head in his hands.
Tania eventually apologized, but it seemed like the damage was done. "I'm not feeling heard, so this is what happens," the 90 Day Fiancé star explained.
"You never feel heard, even when you are," Syngin shot back, as yet another fight ended between them with no closure.