'90 Day Fiancé': Why Was Azan's Visa Denied?
Azan Tefou and Nicole Nafziger have had a stormy relationship ever since they were first featured on 90 Day Fiancé. Over the course of their time on the show, there has been a variety of concerns over their relationship.

Despite all of that, Nafziger has been making motions at marriage recently. But the main question is — can Tefou get his visa?

Last year, Tefou was denied his visa for residency in the U.S., throwing a massive wrench into whatever plans Nafziger might have had for a U.S. wedding. Here's what went wrong.

Ghosts of girlfriends past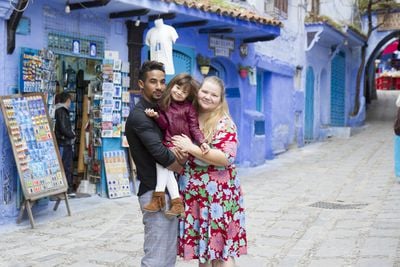 Tefou claimed that, when he went to get his visa hearing, he went in prepared and well-organized.

"You know that I did everything right with the papers and stuff," said Tefou.

However, that wasn't all there is to it. After more prodding, Tefou finally said that there was a past relationship involved.

"That guy kept like asking me a lot of about my last relationship," he explained.

Azan went on to say that, in the past, he had dated a woman in Belarus. Apparently at the time he had gone to Belarus to visit his then-girlfriend.

"I used to date this girl from Belarus and I went there before I knew Nicole. I think that the guy from [the] Embassy like, he keep asking about my trip to Belarus because he didn't believe the relationship between me and Nicole. He thought if I'm just like, trying to leave Morocco and go to Belarus and do the same thing like — just to leave Morocco and go to America."

So, could it be that his visa is getting denied due to doubts about his sincerity? Tefou's tell-all confessional gave us some additional insight.

Tefou's previous violations come to light
Recent allegations against Tefou have lead to a lot of questions regarding his character and the true reason for his visa denial.

YouTuber Keith Brooks released a now-deleted 45-minute video in which he interviewed a woman who claimed to be one of Tefou's many girlfriends.
This woman asked that her identity be kept private, but she claims to be a 23-year-old from Spain. She says she's learned that Tefou has girlfriends in a variety of countries.

According to her, his goal is to find a girlfriend in a country with easier access to the U.S. than Morocco. To this end, she claims he's had girlfriends in South Korea, Japan, England, and Russia.

"The whole relationship is really a joke," said the informant. "He plans on going over and marrying Nicole, as soon as he can he wants to just divorce her and then bring in his girlfriend from Morocco, bring her over to the states and marry her. Everything about it is just really shady."

At some point in the past, Tefou overstayed his welcome on a visa in a different country. Could this have been on one of his jaunts to visit one of his "other women"?

Either way, the point is moot — having overstayed a visa in the past eliminates Tefou from the running when it comes to consideration for a K-1 visa — which spells difficulty and possible disaster for his future goals with Nafziger.

The proof is in the pudding
It could also just be that Tefou and Nafziger's relationship itself is cause for concern when it comes to visa approval.

Acquiring a K visa involves a serious vetting process. Part of this process is aimed at determining how serious, genuine, and healthy a relationship is.

In Touch Weekly interviewed an insider source, who said that there are some definite red flags when it comes to vetting their relationship.

"Her hitting him on camera. Single mother supporting her child and her fiancé. Lack of affection. Differences in religion. If the immigrant has a history on social media, say, of possibly being unfaithful," listed the source.

Nafziger has floated some other plans for marrying Tefou and getting him over to the U.S., but only time will tell if these plans will pan out — and if they're a wise idea in the first place.